Bjornsen Siblings Win U.S. National 30k/50k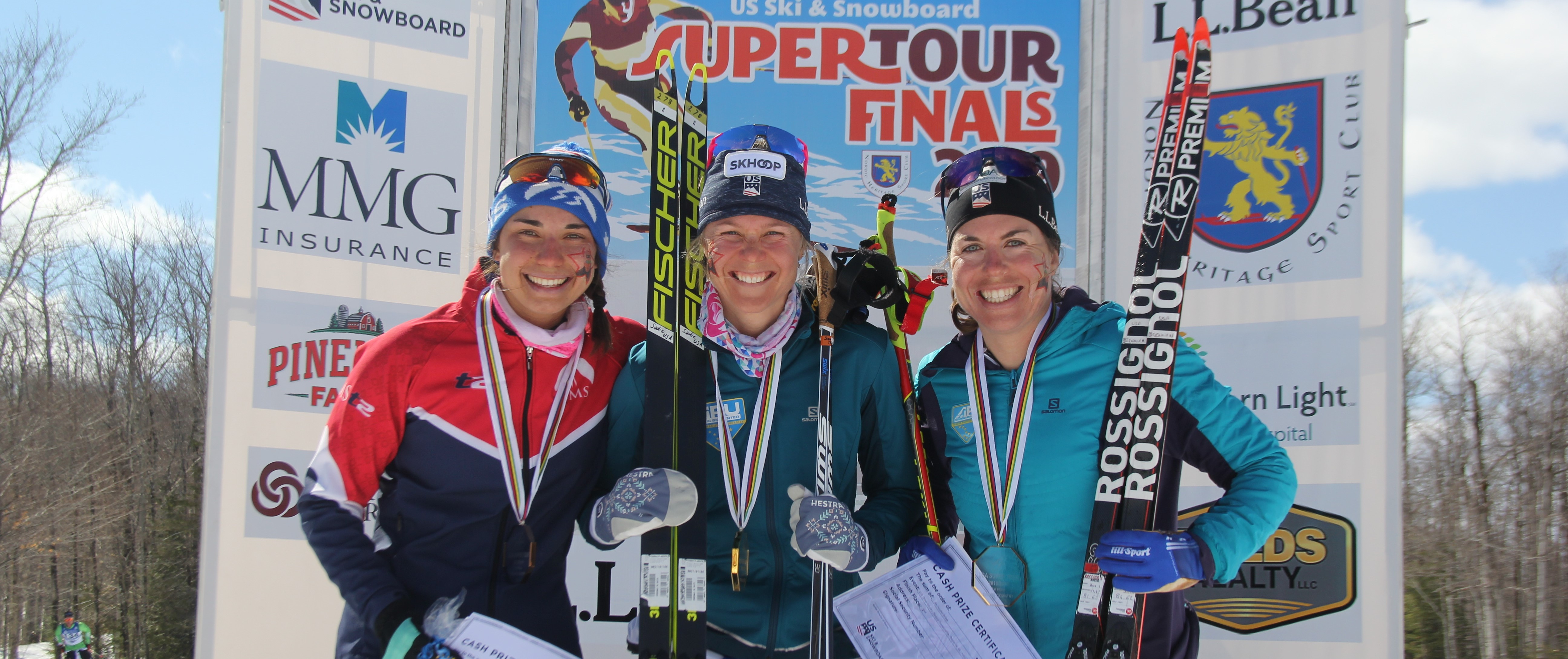 The Bjornsen (Winthrop, Wash.) siblings, Erik and Sadie once again dominated another event at the SuperTour Finals, both winning the distance races at the L.L.Bean U.S. Nationals in Presque Isle, Maine, Tuesday.  
Together, Erik and Sadie combined won seven of the eight gold medals of the SuperTour Finals.
"I'm very pleased with the racing the last few days," said Erik Bjornsen, who capped his season with a victory in the men's 50k freestyle Tuesday. "Excited to feel good at the end of the season. It's a great way to end, racing with your buddies. I got the opportunity to ski near the front for most of the race alongside my good friend and teammate Simi Hamilton. Then David came from the back and made a couple good surges and it became just the two of us for the last 10k. I had lots of energy for the finish which was what I needed to take the win."
"It was really exciting to finish the week with a National Title in the long-distance race," said Sadie Bjornsen, who took the victory in the women's 30k Tuesday. "The last time I won the long-distance title was in Anchorage about five years ago - I think - in 30k classic, so it means a lot to accomplish it in skate. Thanks to Presque Isle for putting on a fun final week of racing. It feels good to end the season on a high note here at home, and now it is time to take some rest and recovery before we start the whole process again for next season's goals. Thanks to every for the cheers and support this season!"
Erik Bjornsen was joined on the podium by David Norris (Anchorage, Alaska) in second, and Simi Hamilton (Aspen, Co.) in third.
For the women, joining Sadie Bjornsen was Rosie Brennan (Park City, Utah) in second, and Julia Kern (Waltham, Mass.) in third. For the junior men, Gus Schumacher (Anchorage, Alaska) took the win, followed by Luke Jager (APU), and Kai Meeks of Canada in third. The Junior women race was won by Shaylynn Loewen of Canada, followed by Sophia Laukli (SMS T2), and Charlotte Ogden (SMS T2)
RESULTS
Men's 50k
Women's 30k
SuperTour Overall Awards
·       Kaitlynn Miller = 2019 U.S. Super Tour Distance Champion
·       Caitlin Patterson = 2019 Overall Women's Grand Champion (This counts the 5 U.S. National races – 4 races in Jan & the 30km in March)
·       Julia Kern = 2019 U.S. Super Tour Sprint Champion & 2019 U.S. Super Tour OVERALL Champion (the latter provides her World Cup berths for 2019-20 World Cup Period 1)
SuperTour Overall Awards
·       Kyle Bratrud = 2019 U.S. Super Tour Distance Champion & 2019 U.S. Super Tour OVERALL Champion (the latter provides her World Cup berths for 2019-20 World Cup Period 1)
·       David Norris = 2019 Overall Men's Grand Champion (This counts the 5 U.S. National races – 4 races in Jan & the 30km in March)
·       Ben Saxton = 2019 U.S. Super Tour Sprint Champion