Henricksen, Anderson, Blunck Victorious at Mammoth Grand Prix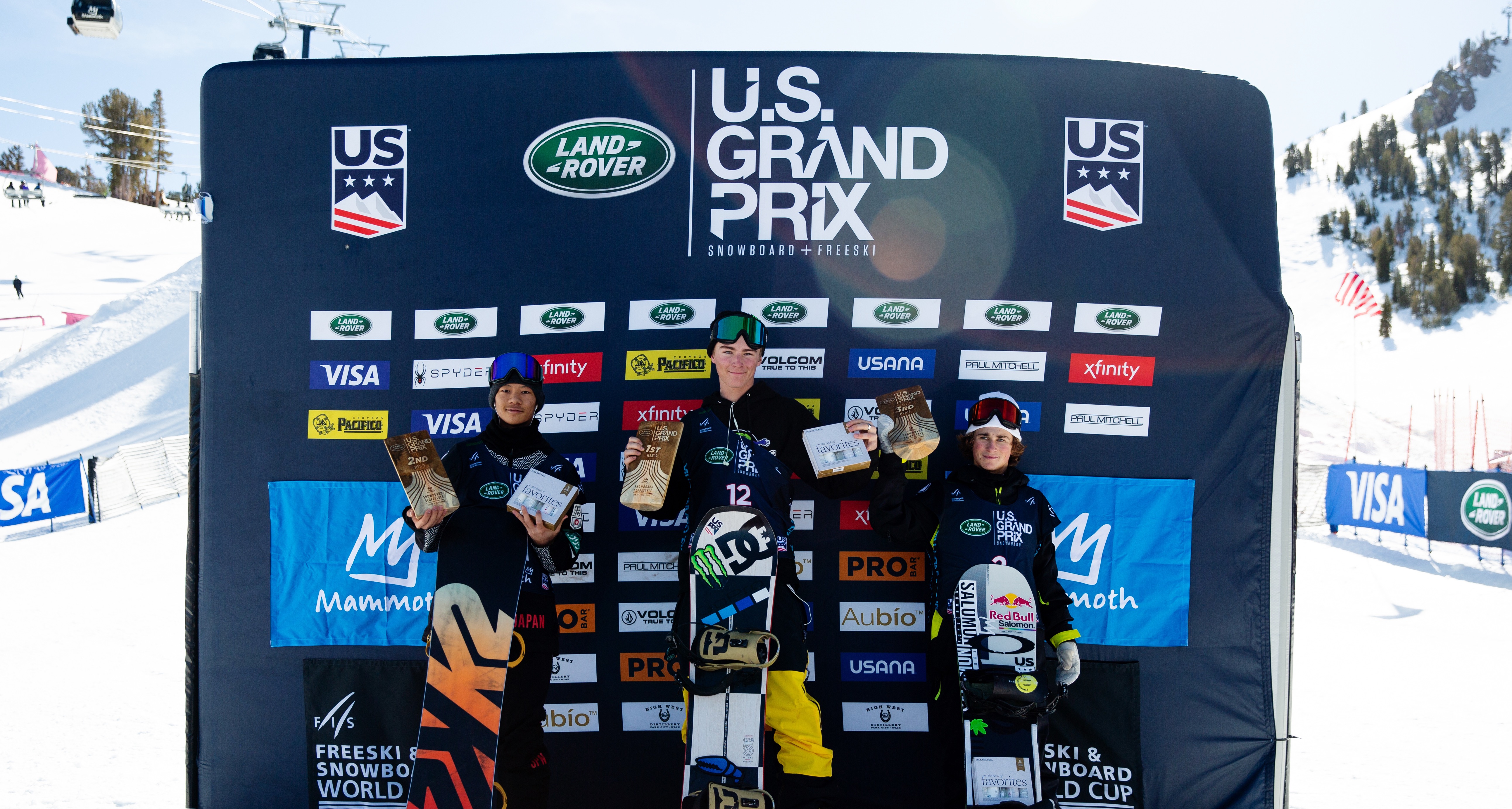 The final day of the Land Rover U.S. Grand Prix did not disappoint with U.S. skiers and riders claiming five podiums throughout snowboard slopestyle and freeski halfpipe World Cup competition. 
Despite a 4.4 magnitude earthquake in the midst of the event, U.S. Snowboard Team riders Jamie Anderson and rookie Dusty Henricksen took the top spots in slopestyle. Dusty, a Mammoth Lakes, Calif. local, earned his first-ever World Cup win in only his second World Cup final of his career.
"I'm ecstatic to pull up to Mammoth where I grew up riding and walk away with my first win," Dusty said in disbelief. "I honestly couldn't ask for more. It could not have been a better day or a better course. It's super flowy, fun, and fast. It meant the world to have all my boys and supporters out here watching."
After Dusty stomped the final run of the day to take the top spot with a beautiful backside triple cork 1440, you heard a loud, "We all knew" come from Dusty's fan base in the finish area. Coming off of Youth Olympic Games gold and then qualifying first at the Laax Open World Cup, Dusty's trajectory was clear to anyone who has been watching his progress. Dusty currently leads the FIS Snowboard World Cup slopestyle standings, followed by Judd Henkes in second.
Judd, who also calls Mammouth Mountain home, grabbed third. This is Judd's second podium in two years at the Mammoth Grand Prix and his second-consecutive podium in World Cup slopestyle competition this season after a third-place finish at the 2020 Laax Open. 
"I think being at home in familiar territory played a part in my success these last two Grand Prixs at Mammoth," said Judd. "I'm headed to Dew Tour next week and hope to improve on my performance here."
After earning his third World cup podium of his career, it's clear Judd's still hungry for the remainder of the 2019-20 competition season including pinnacle events like Dew Tour and the U.S. Open. 
For the women, Jamie Anderson earned her second win in two weeks following a gold medal performance at X Games Aspen. In her first World Cup slopestyle of the year, she came out firing with smooth style and consistency in classic Jamie fashion. 
"Coming to Mammoth after X Games is really nice because its really positive energy in California," said Jamie. "It's warm, our whole teams here, and I love competing in the Grand Prix. To be able to put down my first run and stay in first and have the chance to take a victory lap feels amazing. What made today even more special was my dad, my doctor, my first ever coach, and a lot of good people were able to come out to support today."
Competition continued on Saturday with arguably the best freeski halfpipe contest of the season where Aaron Blunck took the victory. Aaron has reached the podium in every contest he has competed in this season (five events) including an X Games silver medal performance last week. 
"After the first run today I was feeling it," said Aaron. "I just thought to myself, why not give it everything I got. I am feeling really good right now and I don't ever back down. That's just not the type of person I want to be. I thought my dad would be extremely proud of me if I continued to give it my all and that's what I did. Also, to share the podium with Noah Bowman and Lyman Currier is amazing, I look up to them both."
Head freeski judge Steele Spence described Aaron's runs as, "three of the best pipe runs of all time. They were the hardest runs and he executed them perfectly."
Aaron came out of the gate on a mission immediately putting down an incredible run, but that was just the beginning. Aaron improved each time he dropped into the pipe. His second and third runs were entirely made up of double-cork variations. Aaron owned the three highest scores of the day.
Teammate Lyman Currier stepped up on his last run to earn third place and his second World Cup podium of the season. 
"I'm feeling awesome to make the podium today," said Lyman. "It was such a heavy competition today and a beautiful day in Mammoth. It seemed to be a competition for second place today. Blunck was on one and it was insane."
The competition undoubtedly had some amazing moments including U.S. Freeski Team member Hunter Hess landing a 1620 on his run. Kiwi Nico Porteous landed a 1620 rotation at X Games last week for the first time in halfpipe competition. 
Led by Aaron, there are currently seven U.S. Freeski Team athletes in the top-10 of the FIS Freeski Halfpipe Cup Standings including Birk Irving, Lyman Currier, Taylor Seaton, Jaxin Hoerter, David Wise, and Hunter Hess. 
For the women, U.S. Freeski Team member Brita Sigourney finished in a respectable fourth place landing back to back 900's in her second and third run. U.S. Rookie Team member Hanna Faulhaber finished in seventh in her first-ever World Cup final. 
The U.S. Freeski and Snowboard Slopestyle and Halfpipe Team continue competition next week at the Dew Tour in  Copper Mountain, Colo. In addition, U.S. athletes are also heading to the Calgary World Cup for freeski halfpipe competition. 
CUP STANDINGS
Women's snowboard slopestyle 
Men's snowboard slopestyle 
Women's freeski halfpipe
Men's freeski halfpipe 
RESULTS
Women's snowboard slopestyle 
Men's snowboard slopestyle 
Women's freeski halfpipe
Men's freeski halfpipe