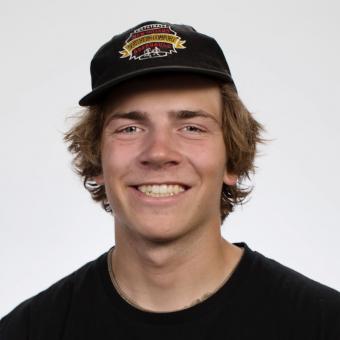 Hunter Hess
Pro Halfpipe - Freeskiing
USASA Series: Central Oregon Series
Hunter Hess has been steadily climbing the competitive ranks, earning his first U.S. Revolution Tour podium at Copper Mountain to start the 2016 season. After placing 12th at his first FIS World Cup appearance in 2016 he went on to rack up two more podium finishes: second in halfpipe at the Nor-Am Cup at Canada Olympic Park and third in slopestyle at the Winter Park stop of the Revolution Tour. 
A skier that found his start at Mt. Bachelor, Hess built his skills with the Mt. Bachelor Sports Education Foundation. 
Q: Who is your favorite band/artist?
A: Tribe Called Quest
Q: When you're not skiing, what are you doing for fun?
A: Swimming or skateboarding.
Team Info
Mt. Bachelor Sports Education Foundation
Results
U.S. GRAND PRIX
10th, HP, Mammoth Mountain, Calif., 2018
10th, HP, Mammoth Mountain, Calif., 2017
12th, HP, Mammoth Mountain, Calif., 2016
13th, HP, Copper Mountain, Colo., 2017
U.S REVOLUTION TOUR 
3rd, SS, Winter Park, Colo., 2016
7th, SS, Winter Park, Colo., 2016
9th, HP, Mammoth Mountain, Calif., 2016
3rd, HP, Copper Mountain, Colo., 2015
8th, HP, Copper Mountain, Colo., 2015
FIS FREESKI WORLD CUP
7th, HP, Cadrona, NZL, 2017
10th, HP, Mammoth Mountain, Calif., 2018
10th, HP, Mammoth Mountain, Calif., 2017
12th, HP, Tignes, FRA, 2018
12th, HP, Mammoth Mountain, Calif., 2016 (World Cup debut)