Ganong Leads Two in the Top 30 at Kitzbuehel Super-G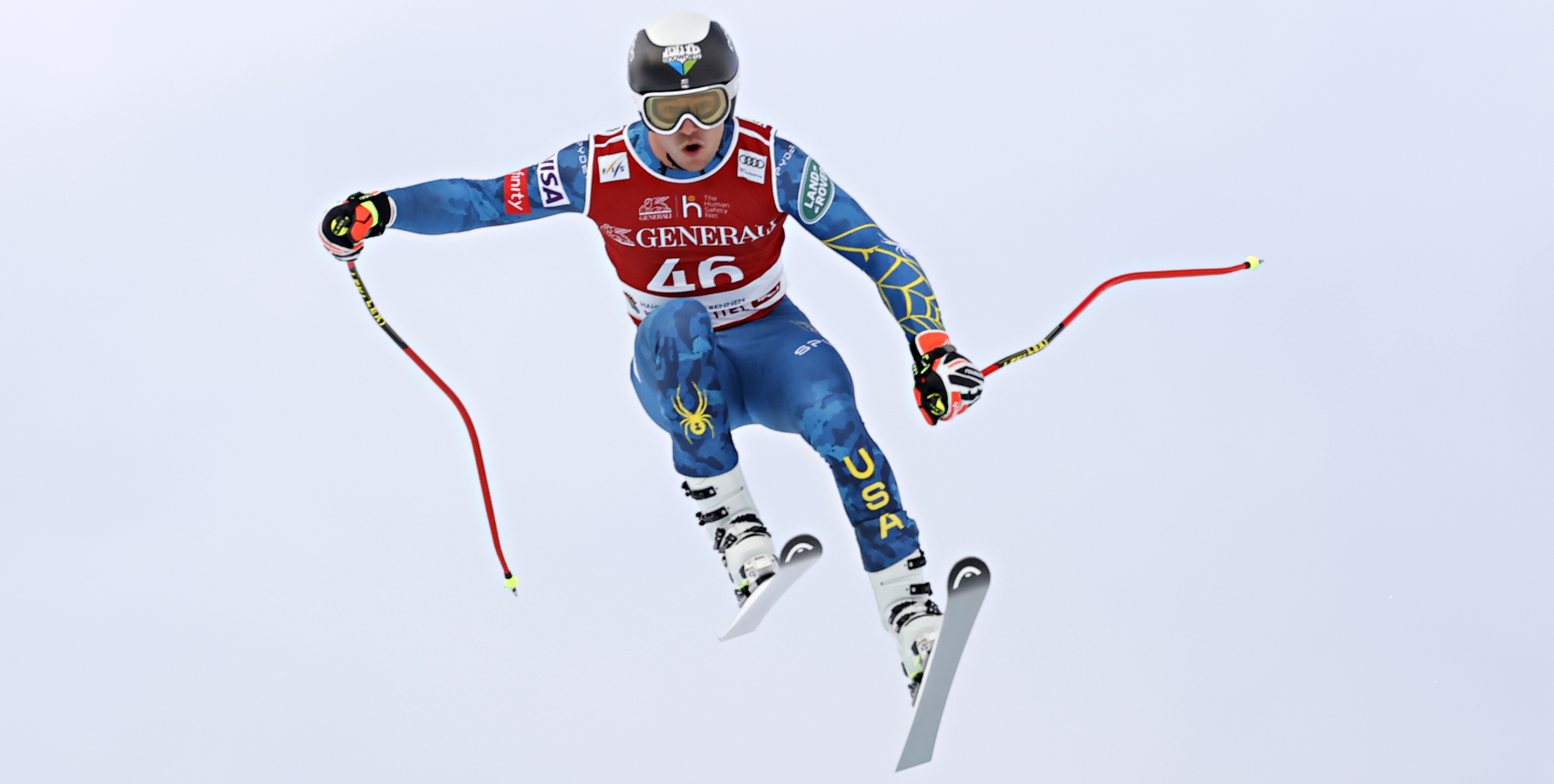 Travis Ganong was again the top Land Rover U.S. Alpine Ski Team member in Monday's rescheduled Hahnenkamm super-G in Kitzbuehel, Austria, finishing 27th. Jared Goldberg also finished in the points in 30th.
In a rescheduled super-G, pushed from Sunday to Monday due to weather on Saturday, the conditions changed drastically—from grippy snow to a sheet of ice—and there were 13 DNFs. The sun once again stayed behind the clouds...at least for most of the field. In a sport where there are more variables than one can fathom, the light can have a drastic difference from one racer to the next. Such was the case on Monday. This change enabled guys from the back of the pack to capitalize—including France's Matthieu Bailet, who went from bib 50 to eighth. Vincent Kriechmayr of Austria won, with Switzerland's Marco Odermatt in second and Austria's Matthias Mayer rounding out the podium in third, making it his third podium at Kizbuehel in this 81st edition. 
The #Streif is looking particularly...slick...this morning. 😳

Toe pick? @USFigureSkating pic.twitter.com/D6BcpHQFAL

— U.S. Ski & Snowboard Team (@usskiteam) January 25, 2021
Goldberg, who was "iced" (experienced a long course hold in the start gate) in both Friday and Sunday's downhills, had yet another long course hold, as the Italian who started before him crashed and was taken to the hospital by helicopter. Goldberg said about the guy who worked the start gate, "I've gotten to know him. Spent quite a lot of time with him over the last few days. He looked back at me today, and hesitantly said, 'stop-start'...and then he added, 'It's going to be a while.'" At the top of the course, Goldberg caught the most air he's ever caught in a super-G but was skiing fast and solid before a mistake on the bumpy and dark traverse at the bottom—the same place where teammate Ganong made a mistake and lost time. 
Ganong was once again the top American man in Kitzbuehel, grabbing points in 27th. Rounding out the Land Rover U.S. Alpine Ski Team, Jared Goldberg finished in the points in 30th from bib 48. Bryce Bennett was 36th. 
Up next for the men is the famed night slalom at Schladming, Austria on Tuesday night. The men's speed crew will get a short break before heading to Garmisch next weekend for a speed series. 
HOW TO WATCH 
*All times EST
Tuesday, Jan. 26
4:30 a.m. FIS Alpine World Cup Women's Giant Slalom, run 1 - LIVE, Kronplatz, ITA, Streaming Peacock
7:30 a.m. FIS Alpine World Cup Women's Giant Slalom, run 2 - LIVE, Kronplatz, ITA, Broadcast Olympic Chanel
7:30 a.m. FIS Alpine World Cup Women's Giant Slalom, run 2 - LIVE, Kronplatz, ITA, Streaming Peacock
11:45 a.m. FIS Alpine World Cup Men's Slalom, run 1 - LIVE, Schladming, AUT, Streaming Peacock
2:45 p.m. FIS Alpine World Cup Men's Slalom, run 2 - LIVE, Schladming, AUT, Streaming Peacock
11:30 p.m. FIS Alpine World Cup Men's Downhill (Sunday), Kitzbuehel, AUT, Broadcast NBCSN
12:30 a.m. FIS Alpine World Cup Women's Giant Slalom - same-day broadcast, Kronplatz, ITA, Broadcast NBCSN