Ford Sixth to Lead the Way for the Americans in Snowy Giant Slalom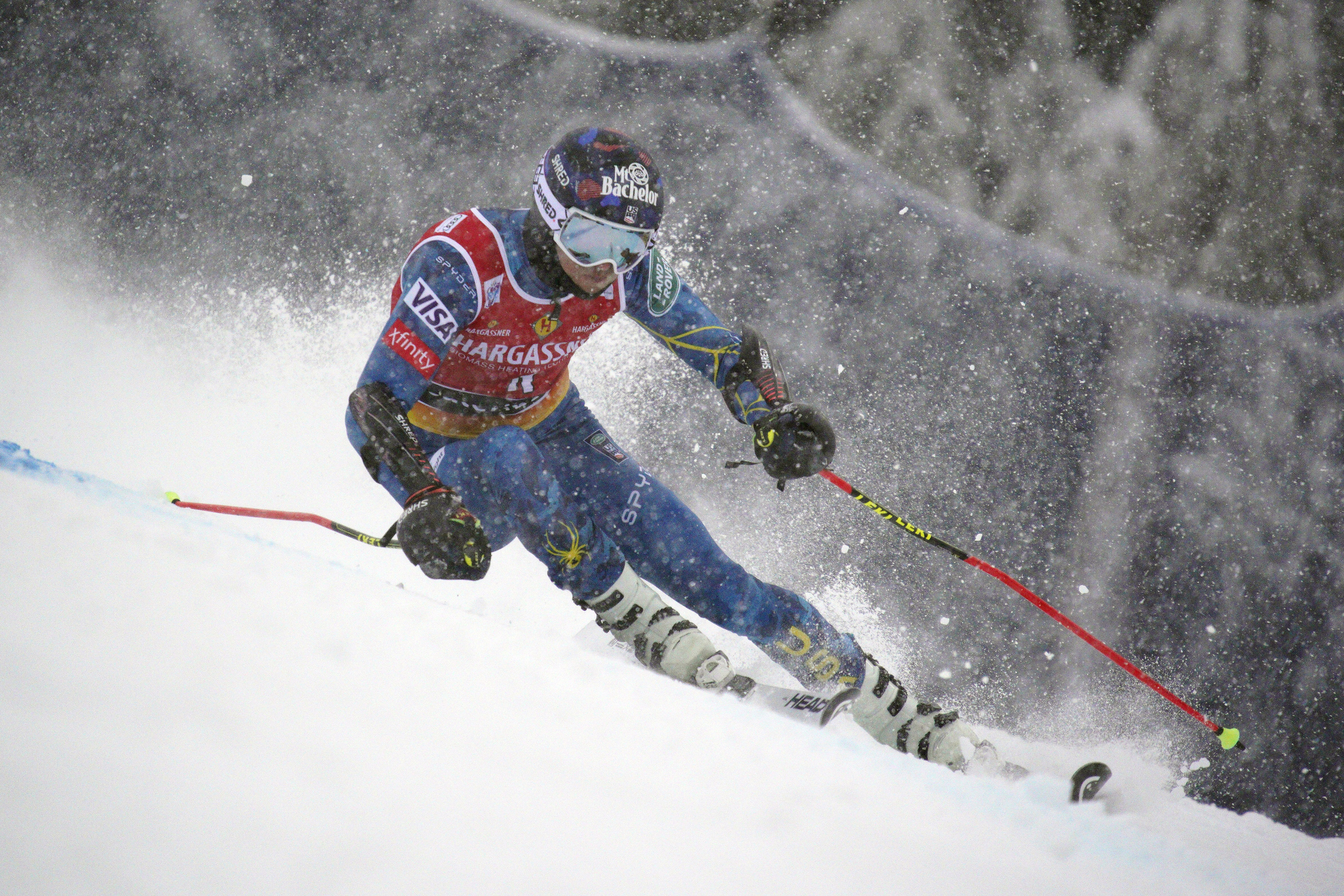 As heavy snowfall blanketed both FIS Ski World Cup venues on Saturday, forcing a cancellation for the Land Rover U.S. Alpine Ski Team women's speed team at St. Moritz, Switzerland, the men's tech crew was able to successfully get the first of two giant slalom races off in Santa Caterina, Italy. Two-time Olympian Tommy Ford led the way for the Land Rover U.S. Alpine Ski Team, in sixth place. 
After the first run, Slovenia's Zan Kranjec comfortably led the way with a sizable (nearly five-tenths) lead, while Switzerland's Marco Odermatt was sitting in second, followed by France's Alexis Pinturault, 0.48 seconds out, Switzerland's Loic Meillard 0.49 back, and Tommy in fifth, 0.60 seconds off the leading pace. With four athletes separated by a mere 0.14 seconds, Tommy was well within striking distance of a podium. 
Snow continued to fall heading into the second run, though the course crew did an excellent job clearing it so the men could ski a fair race. Croatia's Filip Zubcic, who was sitting in sixth just behind Tommy following the first run, .69 seconds off the lead, had a blazing-fast second run, coming down into first with a demanding lead. Despite a couple of bobbles, Tommy hung in there and ended up in sixth. No one else could catch Filip, who grabbed his second career World Cup victory by just 0.12 ahead of Zan, followed by Marco in third, 0.30 seconds out. 
"The conditions today were pretty dang good," reflected Tommy. "They had volunteers slipping most of the evening last night, and it looked a little bally and I was a little skeptical during inspection, but they scraped it nicely and it really turned into a pretty dang-good surface...just some bumps here and there...the hill, in general, was fun and rolly, and an arcfest. You really had to go clean and smooth...and that's what I did well first run. Second run was a little more spastic, I thought, but still steady and snapped off a couple of good turns. Leaned in a little bit at the bottom, but all in all, I kept it rolling clean and smooth."
Saturday's result was a solid finish for Tommy, who finished 22nd in Soelden, Austria, at the World Cup opener. Tommy, who finished the 2019-20 World Cup season ranked fifth in the giant slalom in the world, had been battling both a shoulder and back injury during the offseason. After a solid training block at Official Training Site Copper Mountain, Colo. Tommy looked and felt confident as he traveled over to Europe to tackle this unprecedented 2020-21 season. 
"I am psyched for today, for sure," Tommy continued. "It's nice to be skiing in general, so I'm psyched on that and psyched we can compete. It's been a challenging fall for me, getting my body in shape, and getting this feeling back in skiing. There's still some more work to do...got another day tomorrow. Psyched to see some of my teammates make some good turns today, all in all, a good day. It's been snowing hard all afternoon, and we'll see how it goes this evening," he said with a smile. 
Ted Ligety also qualified for a second run and ended up in 19th for the day. Ryan Cochran-Siegle and River Radamus started but did not qualify for the second run. Bridger Gile also started, but DNFed the first run (he is OK). 
With a double-header giant slalom that was originally scheduled for Val d'Isere, France, but moved to Santa Caterina due to a lack of snow, the men will tackle yet another giant slalom race on Sunday. Due to continued heavy snowfall throughout the Engadine and associated avalanche danger, St. Moritz has been closed and therefore Sunday's women's super-G has also been cancelled. 
RESULTS
Men's Giant Slalom
HOW TO WATCH 
*All times EST
Saturday, Dec. 5
12:30 p.m. Xfinity Birds of Prey Men's DH 2019 replay, Beaver Creek, Colo., Broadcast NBCSN
Sunday, Dec. 6
4:30 a.m. FIS Alpine Ski World Cup men's giant slalom, run 1 - LIVE, Santa Caterina, ITA, Streaming Peacock
7:00 a.m. FIS Alpine World Cup Men's Giant Slalom - LIVE, Santa Caterina, ITA, Broadcast Olympic Channel
7:30 a.m. FIS Alpine Ski World Cup men's giant slalom, run 2 - LIVE, Santa Caterina, ITA, Streaming Peacock
4:30 p.m. FIS Alpine World Cup Women's Slalom - Re-Air Nov. 21, Levi, FIN, Broadcast NBC