USA Third in Toblach Team Relay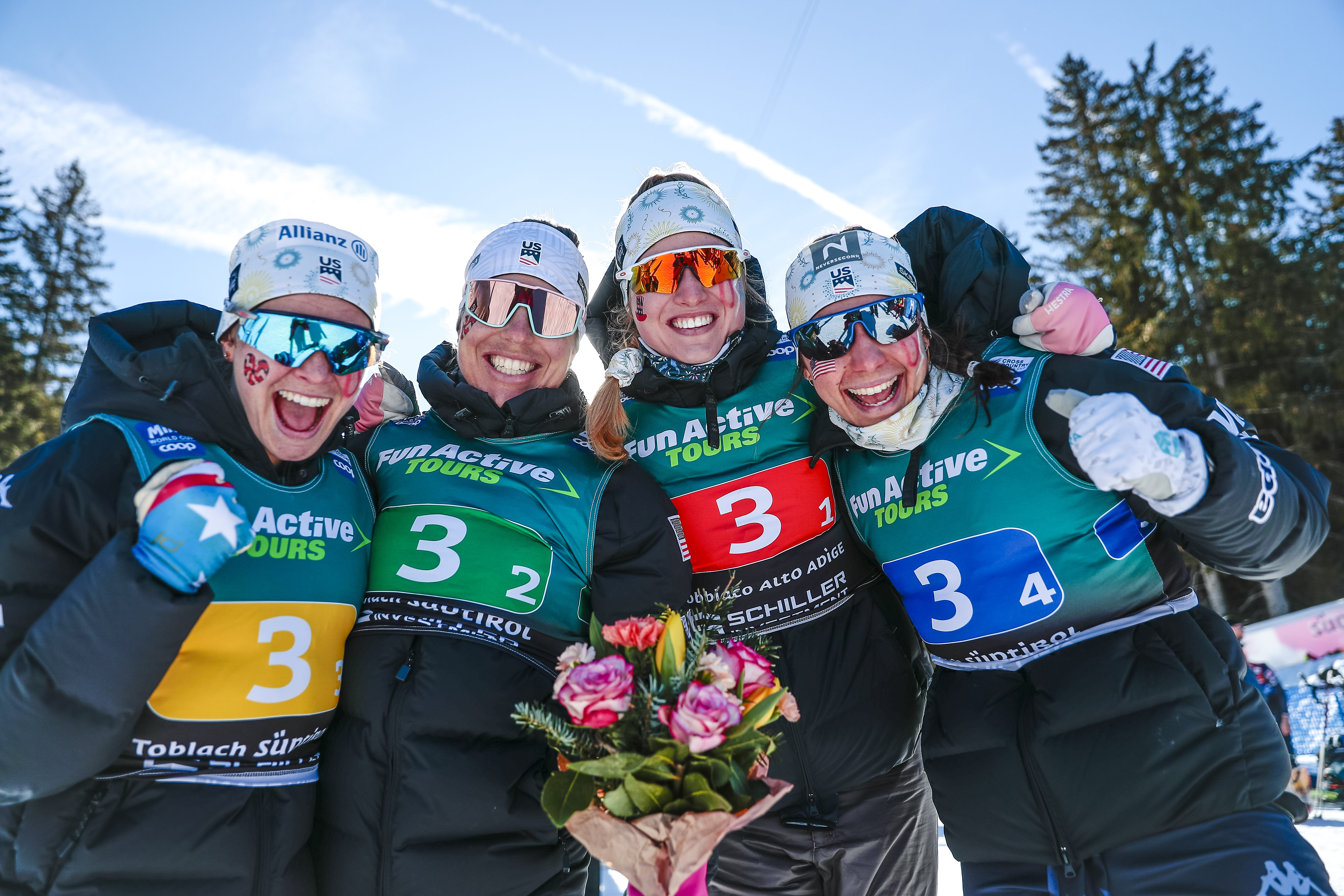 Another race weekend wraps up for the U.S. Cross Country team with the ever-so-exciting team relay. In the 4x7.5k relay format, both the men and women landed their teams in the top ten with the women leading the team on the podium in third.
It was another sunny day in Toblach, with fans lining the entire course, the vibes were high as they always are on team relay days. "We love relay days, we really do," said Diggins.
The U.S. Cross Country athletes Jessie Diggins, Julia Kern, Hailey Swirbul and Rosie Brennan skied a smart and fast race to end the day in third, while Alayna Sonnesyn, Lauren Jortberg, Sarah Goble and Alex Lawson were seventh. For the men, Finn O'Connell, Kevin Bolger, Hunter Wonders and Scott Patterson put the pieces together to land within the top ten in ninth place.
It was a challenging 7.5k course that allows little rest. With fourteen teams for the men and nine for the women, all athletes were quick out of the start with no signs of slowing down before tagging off their teammate. As the team relay format goes, there were two legs of freestyle and two of classic.
With little room for error, the U.S. teams capitalized on their fast transitions between each racer to post solid results to close out the three day race weekend. "I am so so proud of all of our teams," said Diggins. "Everyone skied their heart out. It was a really challenging course, especially if you were skiing alone. It was just so much working. Overall, I was really proud of the team today because everyone just pushed the limits."
Now, everyone will rest before they gear up for the FIS Nordic World Championships in Plancia, Slovenia at the end of February.
RESULTS