USA Best Moguls Team in the World, Sweeps Rookie of the Year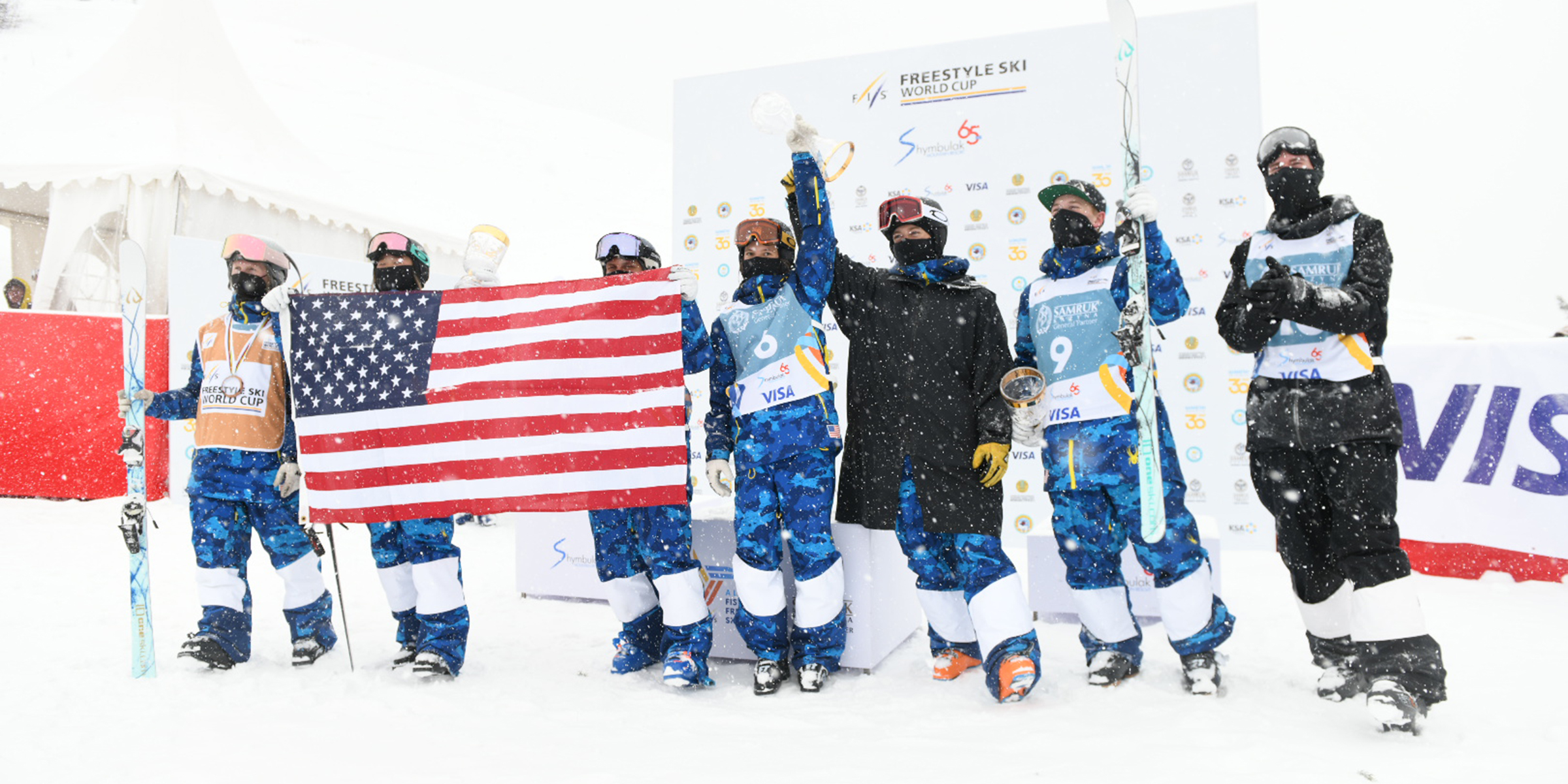 The FIS Freestyle Moguls World Cup Tour came to a close on Sunday with the cancellation of Dual Moguls World Cup Finals in Almaty, Kazakhstan. Athletes were hoping for one last shot in the start gates, but unfortunately, Mother Nature had other plans as weather and heavy fog prevented the competition from running. 
"The team wanted to get out there and compete today, it's what we came here for," said Head Moguls Coach Matt Gnoza. "They want to put the bib on and show the world what they're made of. Unfortunately we were battling through fog and weather delays, and it just got too late in the day to complete the event."
Although unable to compete, there was a lot to celebrate. The U.S. took home the FIS Freestyle Nations Cup in moguls for the first time since 2013, beating out Japan by almost 300 points. "I've been with the team for eight years and in my second year winning the Nations Cup was one of the goals I wrote down for myself as head coach," said Gnoza. "Every athlete that competed on World Cup this season contributed to the point total to earn it. Whether someone finished on the podium or scored their first World Cup points, they contributed to our success. Every one of the American athletes, whether U.S. Ski Team or not, contributed. It is a special award for the U.S. and our American moguls community. It shows that we have a bright future ahead of us in this sport."
With aerials' clinching their discipline's Nations Cup on Saturday, the U.S. now boasts the best Freestyle Ski Team in the world. (Unfortunately FIS electronic records only go back to 2007, so U.S. Ski & Snowboard is unable to confirm at this time if this is the first time this has been done.)
Seven athletes finished in the top-10 rankings overall. Hannah Soar led the U.S. in the standings with a third-place Grand Prix finish, besting her fifth place from last year's breakout season. Kai Owens finished fourth, Jaelin Kauf fifth and Tess Johnson sixth. The women's moguls team continues to demonstrate its dominance, the #PowHERhouse remains the best women's moguls team in the world for the third year running. 
"I'm proud of my ability to come out of [last year's] breakthrough season and have another really great season even under all of these crazy circumstances," reflected Soar. "We have faced a lot of adversity. I've been dealing with some chronic injuries, but have been able to push through and still come through with good results. I'm pretty proud of my ability to keep focused in times when there has been a lot of distractions."
"I think the fact that we finished 3, 4, 5, 6 is pretty cool. We're pretty tight as far as points go, there's not a huge difference there. I think that it just goes to show how strong we are going into an Olympic season as a women's team. We all have different strengths in different areas and those come through at different events at different times. I'm excited to see what next year brings."
Brad Wilson finished eighth overall, Nick Page ninth and Dylan Walczyk 10th, a strong showing from the men. The last time three American men finished in the top-10 overall was 2015.
The U.S. also swept the Rookie of the Year awards, with Owens and Page each earning the honor. Rookie of the Year not only takes into account an athlete's results, but their character and conduct off course. Rookie of the Years have to "embody the spirit of Freestyle," Gnoza explained.
From the beginning of the 2020-21 season, Owens put the world on notice when she made her first super finals appearance at the World Cup opener in Ruka, finishing sixth. Owens qualified for finals in every World Cup she entered this season and earned her first podium with a win during dual moguls at Deer Valley in February. She also earned the best American finish in World Championships with a fifth place in moguls. 
"There are a lot of amazing skiers out there, our women's field as a whole has been getting so good and competitive," said Owens. "To be here and to be competing and amongst all of these veterans is really cool. I've been working really hard to improve my weak points, for me that's my base score, so I've been doing a lot of ski work. I played my strength, which is jumping. I'm honored to be up there as one of the best female jumpers, so that's really exciting for me." 
"I really wanted Rookie of the Year, it was definitely a goal. I wasn't sure if I was within the criteria this season. So my main goals were just performing and skiing my best, seeing where that put me, and building confidence for next season. Rookie of the Year is kind of a cherry on top. I also just want to say a big thank you to everybody (here and at home) for being here for us and making [the season] happen."
Page stepped up his game this season earning five top-10 finishes, including his first podium in third place in Idre Fjall, Sweden, in December. 
"[Earning Rookie of the Year] was a nice reassurance that I am where I am supposed to be," said Page. "Last year there were some really nice highs, I had some great success, but also there were times where it was really easy to doubt if I was really the one that was supposed to be [on World Cup]. Coming into this season and performing at the level I knew I was capable of was really nice."
Page noted that following the award ceremony Canada's Mikael Kingsbury (winningest moguls skier of all time) congratulated him and the two discussed what an honor Rookie of the Year meant. "We were talking about how Rookie of Year was the hardest piece to get because you just get one shot. If you're trying to get Rookie of the Year, overall globes, World Championships wins and Olympic wins, etc, all of those you have multiple shots at except for Rookie. To really complete your whole resume by the end of your career you kind of have to start it off on a hot streak. So it was a nice compliment he gave to me at the end of the day."
Sunday marks the end of what Gnoza describes as the most trying season of his career. "In my 28 years of coaching this has by far and away been the most challenging with the added stress of COVID-19 protocols and precautions," he said. "You wear that stress every day. You are constantly worried for the athletes' safety and well-being but are also constantly motivating their progression and performance. That challenge has been especially difficult with COVID-19. I'm looking forward to the days when this pandemic is behind us and we can get after it some more, but with some more peace of mind."
Although ending on a cancellation is not how the team wanted to end their season, athletes are already looking ahead to the next. Soar reflects that while this season was especially hard, she acknowledges that each year brings its own set of challenges. And she is ready to take on what 2022 has in store. "Every year there is something that is going to stand in your way. In certain ways [this season] will help me next year because I worked through and overcame. There's always a reason to not do well. Every event there was stress outside of the competition: wanting to test negative [for COVID-19], having to quarantine away from the team, or within the team… there was a lot of stress that wasn't just on the mogul course. Today when they cancelled the event, knowing that we had that Nations Cup in hand and I had that third place in hand, just knowing how hard we worked and the stress we went through, I was almost in tears. I wish times were normal and we could all celebrate together but we will celebrate together another day."
Moguls Standings
Women's Moguls
Men's Moguls
Nations Cup