U.S. Junior Men Strike World Championship Relay Gold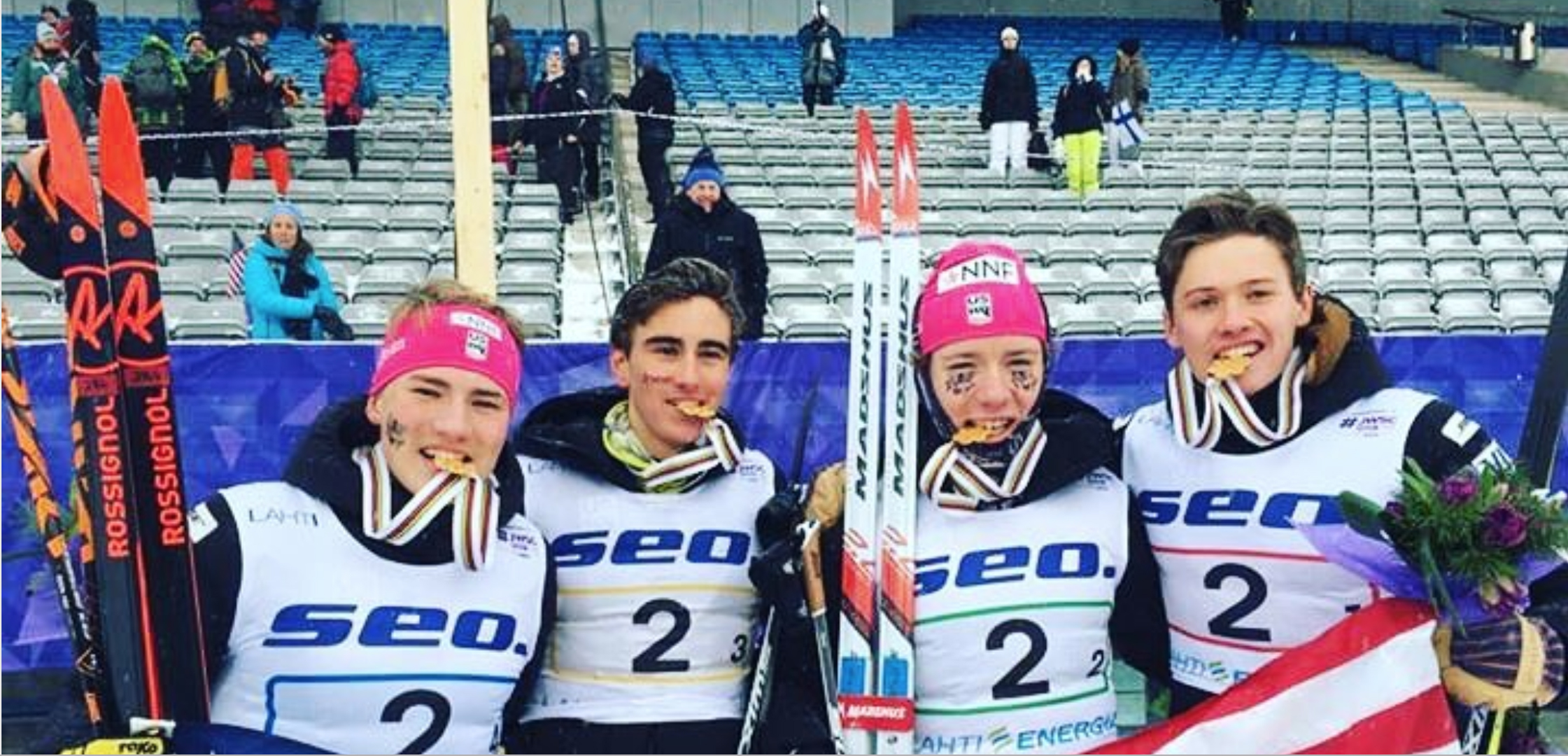 The U.S. Men's Junior Worlds Team took gold on Saturday in the 4x5k relay, the final event of the FIS Junior World Cross Country Championship in Lathi, Finland. The team of Luke Jager (APU/Anchorage, Alaska), Ben Ogden (UVM/Landgrove, Vt.), Johnny Hagenbuch (Sun Valley SEF/Sun Valley, Idaho) and Gus Schumacher (Alaska Winter Stars/Anchorage, Alaska) edged-out the second-place Russia by 3.8 seconds, and third-place Germany by 6.3 seconds.
This is the best Junior World Championship result of a U.S. Men's Team, surpassing the silver medal won in Goms, Switzerland, in 2018.
Jager was the lead skier who skied very confidently with the font pack, injecting some of his own pace to start dropping teams and handed off to Ogden in a good position. Ogden pushed the pace stringing out the front group to just three. Hagenbuch skied a strong let putting Schumacher in a good position.
"I started a couple seconds behind Germany and Norway and caught them pretty quickly, which was nice, and just kind of tucked in with them," said Schumacher.  "It was a six-person group about halfway through, then the German pushed the pace and started to break open the field and I just hung onto him and put in a surge around 3k. I cruised into first on the second to last downhill and then went super hard up the last hill, got a bit of a gap and held that to the finish. Overall every leg was so good and I couldn't really imagine a better way of this going."
The women's team of Mara McCollor (Minneapolis Ski Club/ Plymouth, Minn.), Kendall Kramer (NSCF-FXC/ Fairbanks, Alaska), Sydney Palmer-Leger (Sun Valley SEF/Park City, Utah) and Novie McCabe (Methow Valley Nordic/Winthrop, Wash.) also had a strong result finishing fourth.  The race was won by Norway 1, followed by Russia 1 in second and Sweden in third.