The Toyota U.S. Rev Tour Series Finishes Strong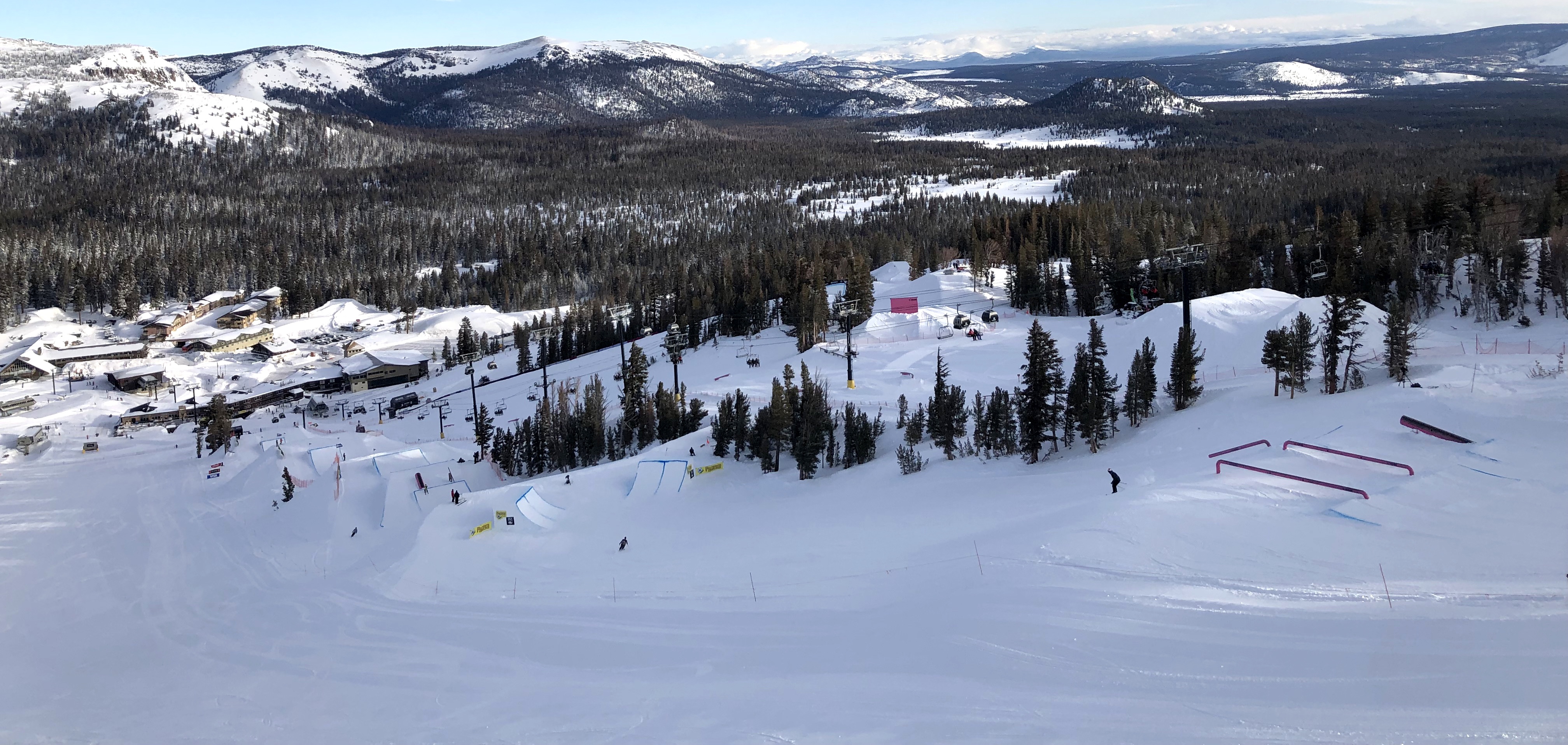 The fifth and final event of the Toyota U.S. Rev Tour series concluded at Mammoth Mountain Ski Area last weekend. The event hosted NorAm sanctioned snowboard and freeski halfpipe, slopestyle and big air competitions from March 12-16.
The competition kicked off with the snowboarders taking over Mammoth's Unbound Terrain Park for slopestyle competition. U.S Snowboard Rookie Team member Sean Fitzsimons (Mt. Hood, Ore.), who was said by the Snowboard and Freeski Head Coach Mike Jankowski to have "won" U.S. Snowboard Team Camp in Saas Fee, Switzerland, in October, finished third for the men. Teammate Jade Thurgood (Salt Lake City, Utah) finished second for the women.
"There was good weather, a really fun course and it felt great to make the podium," said Fitzsimons. "It's been a great season on the Rev Tour and I hope I continue to have this much fun riding and competing."
Competition continued with snowboard halfpipe where Kolman Lecroy (Big Bear Lake, Calif.) finished second and U.S. Rookie Team members Lucas Foster (Telluride, Colo.) and Tessa Maud (Carlsbad, Calif.) also earned spots on the podium.
"I've been competing for about eight years now, but this podium feels especially great," said Lecroy. "I landed a new trick that I have never tried before, so to be rewarded and get on the podium is amazing. My ultimate goals are compete in X Games and the Olympics one day."
The snowboarding program was capped off with an impressive men's big air competition where U.S. Rookie Team member Dusty Henricksen (Mammoth Lakes, Calif.) took the win.
"It feels really nice to put down a run," said Henricksen. "It definitely was a huge relief. I hope I can continue to progress, compete in the Olympics, and hopefully be at the top of the sport one day."
The freeskiers picked right up where the snowboarders left off as they dropped in for big air. Coming off a double-FIS World Cup podium season, Kiernan Fagan (Brownfield, Maine) continued his success by taking the Rev Tour win. Tim Ryan (Gilford, N.H.) finished right behind Fagan in second-place. Ryan, ecstatic after his podium, may have very well been the most excited skier on the hill.
"It feels great to be on the podium," said Ryan. "It was a fun day out there with my friends. My ultimate goals in skiing are to have the best time I possibly can, and keep hanging out with the amazing community that makes these competitions so fun."
For the women, Lake Tahoe local Marea Adams (Truckee, Calif.) finished in third place.
"This is only my fourth year competing, so to land on the podium today felt really good," said Adams. "I'm stoked, it was my first Rev Tour podium and I thought everyone was killing it. I want to continue to have fun, stay safe and healthy, and continue to ski my best."
Freeski competition continued in halfpipe where it was a full U.S. Rookie Team sweep for the men. Dylan Ladd (Lakewood, Colo.) topped the podium in first, Jaxin Hoerter (Breckenridge, Colo.) finished second, and Sammy Schuiling (Steamboat Springs, Colo.) finished in third.
"It feels awesome to take first place today," said Ladd. "I honestly didn't think I was going to be able to pull through today, so to make it happen feels great. I hope I can make the U.S. Freeski Pro Team, compete in X Games, and also win an Olympic medal one day."
For the women, another U.S. Rookie Team member Svea Irving (Winter Park, Colo.) won the event after struggling in practice for a couple weeks at Mammoth Mountain. Despite challenging training sessions, Irving never lost sight of the most important element of freeskiing.
"I was struggling all practice at the Rev Tour and at the Grand Prix last week," said Irving. "I just couldn't land my runs. Finally, I was able to put it down. I would love to one day compete at X Games and the Olympics, but I also want to make sure competition doesn't take away from my love of the sport. I want to continue to have fun for as long as I can."
Finally, a week of Rev Tour competition came to end with freeski slopestyle. Young American skiers continued to deliver as Hunter Henderson (Madbury, N.H.) and U.S. Rookie Team member Marin Hamill (Park City, Utah) took the top spots.
"I couldn't be happier," said Hunter Henderson (Waterville Valley, N.H.). "This is my second win of the season and it feels amazing. My ultimate goals are to always stay positive win or lose, but career wise, I would like become a true pro skier and compete at the highest level."
The event at Mammoth Mountain signals the end of the first season with the improved athlete pipeline in place for the Rev Tour series. This season, the passion and motivation amongst Rev Tour athletes was undeniable. With the improved athlete pipeline throughout the Rev Tour Series, athletes have a chance to compete at the correct level of competition against their peers, continue to hone their skills and climb the competition ladder in an enjoyable atmosphere. It is safe to say that athletes are happy about the increased competition opportunities.
"It feels really good to finish first and ski well, especially at a NorAm level Rev Tour," said Hamill. "My ultimate goals in skiing are to have fun and continue to compete at bigger and better events."
Hamill is referring to the two different levels of FIS sanctioned competition now available to athletes as a result of an important decision made by U.S. Ski & Snowboard. Rev Tour events are divided into two different levels, two FIS sanctioned Rev Tour, and three FIS NorAm Sanctioned Rev Tour Elite events.
"As the Revolution Tour has grown in popularity over the last several years we recognized a demand to split the tour in order to provide appropriate competitive opportunities for athletes looking to progress through the development pipeline," said U.S. Ski & Snowboard Halfpipe, Slopestyle, and Big Air Sport Development Manager Ashley Deibold. "With this new split in the Revolution Tour, the development pipeline for athletes starts with regional USASA events, moving to the Revolution Tour, then the Revolution Tour Elite, from which athletes can qualify into World Cups and other major competitions."
This change has been well received by athletes, parents, coaches, and other industry constituents. Along these lines, there has also been a consistent theme among Rev Tour athletes this year and it's one that is right on par with the goals of the event series. Athletes want to have fun skiing and riding, while also progressing and climbing the competition ladder with admirable goals of competing at the highest level in their sport. Stay tuned for more Toyota U.S. Rev Tour action coming next season!
RESULTS
SNOWBOARD
Wednesday, March 13.
Men's slopestyle
1. Liam Brearly (Canada)
2. John Macdougall (Canada)
3. Sean Fitzsimons (U.S. Snowboard Rookie Team; Mt. Hood, Ore.)
Women's slopestyle
1. Addison Gardner (Riegelsville, Penn)
2. Jade Thurgood (U.S. Snowboard Rookie Team; Salt Lake City, Utah)
3. Danielle Weiler (Highlands Ranch, Colo.)
Men's snowboard slopestyle
Women's snowboard slopestyle
Thursday, March 14.
Men's halfpipe
1. Shawn Fair (Canada)
2. Kolman Lecroy (Big Bear Lake, Calif.)
3. Lucas Foster (U.S. Snowboard Rookie Team; Telluride, Colo.)
Women's halfpipe
1. Brooke Dhondt (Canada)
2. Tessa Maud (U.S. Snowboard Rookie Team; Carlsbad, Calif.)
3. Kinsley White (Santa Clarita, Calif.)
Men's snowboard halfpipe
Women's snowboard halfpipe
Friday, March 15.
Men's big air
1. Dusty Henricksen (U.S. Snowboard Rookie Team; Mammoth Lakes, Calif.)
2. Sam Koven (Canada)
3. Kolman Lecroy (Big Bear Lake, Calif.)
FREESKI
Friday, March 15.
Men's big air
1. Kiernan Fagan (Brownfield, Maine)
2. Tim Ryan (Gilford, N.H.)
3. David Stine (Mosinee, Wisc.)
Women's big air
1. Constance Brogden (Great Britain)
2. Lauren Bendixen (Keystone, Colo.)
3. Marea Adams (Lake Tahoe, Calif.)
Men's freeski big air
Women's freeski big air
Saturday, March 16.
Men's halfpipe
1. Dylan Ladd (U.S. Freeski Rookie Team; Lakewood, Colo.)
2. Jaxin Hoerter (U.S. Freeski Rookie Team; Breckenridge, Colo.)
3. Sammy Schuiling (U.S. Freeski Rookie Team; Steamboat Springs, Colo.)
Women's halfpipe
1. Svea Irving (U.S. Freeski Rookie Team; Winter Park, Colo.)
2. Yujin Jang (Korea)
3. Constance Brogden (Great Britain)
Men's freeski halfpipe
Women's freeski halfpipe
Sunday, March 17.
Men's slopestyle
1. Hunter Henderson (Waterville Valley, N.H.)
2. Porter Maclennan (Canada)
3. Ryan Mcelmon (Park City, Utah)
Women's slopestyle
1. Marin Hamill (U.S. Freeski Rookie Team; Park City, Utah)
2. Skye Clark (Canada)
3. Megan Cressey (Canada)
Men's freeski slopestyle
Women's freeski slopestyle
REV TOUR ELITE OVERALL STANDINGS (NOR-AM)
SNOWBOARD
Men's slopestyle
Women's slopestyle
Men's Halfpipe
Women's Halfpipe
FREESKI
Men's slopestyle
Women's slopestyle
Men's halfpipe
Women's halfpipe
REV TOUR OVERALL STANDINGS (FIS)
SNOWBOARD
Men's slopestyle
Women's slopestyle
Men's Halfpipe
Women's Halfpipe
FREESKI
Men's slopestyle
Women's slopestyle
Men's halfpipe
Women's halfpipe
NOR-AM STANDINGS
SNOWBOARD
Men's slopestyle
Women's slopestyle
Men's halfpipe
Women's halfpipe
Men's big air
Women's big air
FREESKI
Men's slopestyle
Women's slopestyle
Men's halfpipe
Women's halfpipe