Top Athletes, Coaches Honored for 2018-19 Season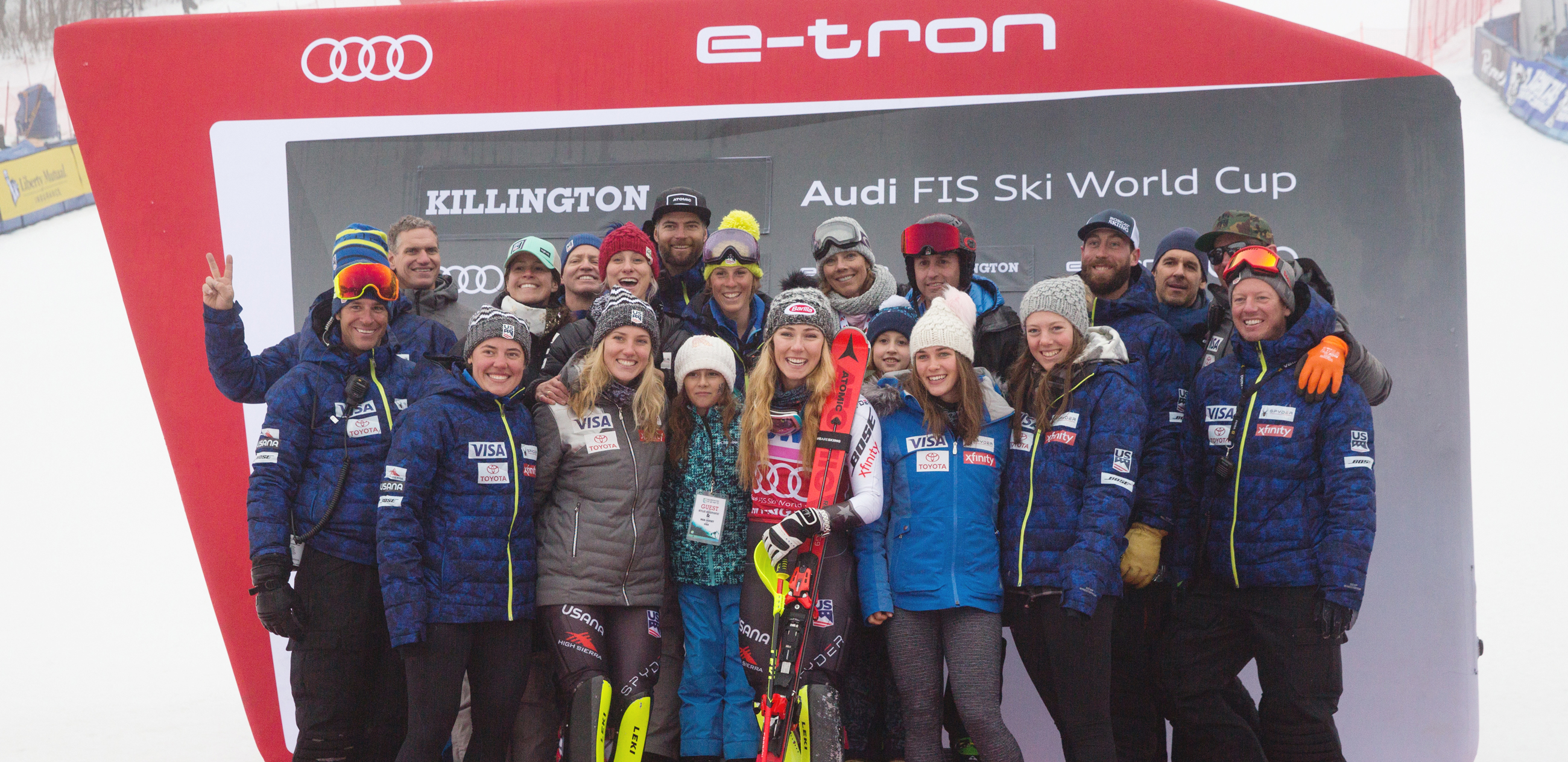 Record-setting alpine ski racer Mikaela Shiffrin (Avon, Colo.) headlined a host of athletes and coaches honored by U.S. Ski & Snowboard for the 2019 season. Shiffrin was named the winner of the Beck International Award as the top athlete across all sports. U.S. Ski & Snowboard snowboardcross coach Jeff Archibald (Salt Lake City) was named Coach of the Year while freeski coach Ryan Wyble (Park City, Utah) was recognized as the Development Coach of the Year.
Shiffrin had yet another historic season with 17 World Cup wins in 26 starts, bringing her career victory total to 60. She won season titles in the overall FIS World Cup as well as slalom, giant slalom, and super-G - the first skier ever to accomplish that feat.
"While we had some tremendous athletic success across our sports, Mikaela's accomplishments this past season were truly unprecedented," said U.S. Ski & Snowboard Chief of Sport Luke Bodensteiner.
"This past season still feels like a dream to me," said Shiffrin. "Winning one World Cup is no small feat – but sustaining that level of excellence 17 times wouldn't have been possible without the tirelessly hardworking and supportive group of people I am honored to call my team."
One of Shiffrin's fondest memories of the season was the huge outpouring of support with 35,000 fans on home snow at Killington where she picked up a slalom win.
"A special thank you goes out to all of the club coaches and volunteers out there who pour themselves into their work for the love of the sport, in order to make dreams come true," she added. "I was one of those kids in the past and I wouldn't be here without all that kind of support."
Archibald, a former international competitor himself, has built one of the strongest snowboardcross teams in the world leading his athletes to 112 World Cup podiums including 40 wins, plus four Olympic medals. This past season his athletes rode to five World Cup podiums and won double gold at the World Championships with Mick Dierdorff taking men's gold and then teaming with Lindsey Jacobellis to win the first mixed gender team event.
"I knew I was stepping down from my coaching position after the season so to do so well at World Championships on home snow and getting nominated as coach of the year is extra special," said Archibald.  
Wyble, the head freeski coach at Park City Ski & Snowboard, has developed athletes at all levels in his eight years coaching. This past season he had six athletes named to Junior World Championship teams. Most notably, he has distinguished himself by extending his leadership on the regional and national level.
"There are many coaches working at this level who all do an incredible job so it's an honor to be recognized amongst that group," said Wyble. "I have a unique job, where I get to work with a lot of great athletes at different levels, and it's always rewarding to watch these kids progress as athletes and as people in general."
"Recognition of coaches for their accomplishments is a vital part of our education and certification process," said U.S. Ski & Snowboard Director of Sport Education Gar Trayner. "Our overall and sport coaches of the year have set an outstanding example for others as role models."
U.S. Ski & Snowboard recognized the top athlete, international coach, and development coach in each of its sport programs. The awards will be presented Thursday, May 16 during the U.S. Ski & Snowboard Congress in Park City, Utah.
 
ATHLETES OF THE YEAR
Adaptive - Thomas Walsh
Paralympian Thomas Walsh had a strong season on the Para Alpine World Cup with four podiums including a win, along with two Para Alpine World Championship bronze medals. He is a strong five-discipline skier who also lead Team USA to bronze in the first-ever World Cup team event. Walsh capped his strong season with national titles in slalom and giant slalom.
Alpine - Mikaela Shiffrin (see above)
Cross Country - Junior Worlds Men's Relay Team
In a storybook ending to a very successful Junior World Championships, the men's 4x10k relay team took gold - the first ever gold won by the USA at the FIS Junior World Cross Country Ski Championships. Three of the four athletes had set the stage a year earlier winning silver. The team included: Gus Schumacher (Anchorage/Alaska Winter Stars), Ben Ogden (Landgrove, Vt./Stratton Mountain School), Johnny Hagenbuch (Ketchum, Idaho/Sun Valley Ski Education Foundation) and Luke Jager (Anchorage/Alaska Pacific University Nordic Ski Center)
Freeski - Aaron Blunck
Two-time Olympian Aaron Blunck had a standout season, claiming a repeat gold in halfpipe at the World Championships and winning the opening Toyota U.S. Grand Prix at Copper Mountain and finishing second a week later at the Dew Tour.
Freestyle - Bradley Wilson
Olympian Bradley Wilson is known for his sportsmanship, work ethic and orientation to goals. This past season he led the men's moguls team winning his second consecutive World Championships silver medal in dual moguls.
Ski Jumping/Nordic Combined - Tara Geraghty-Moats
Nordic combined skier Tara Geraghty-Moats (W. Fairlee, Vt.) played a vital role in the rapidly-growing women's nordic combined international field, winning 10 Continental Cups and taking the season title in a year where the international field more than doubled. Geraghty-Moats also took the U.S. title and landed a berth as a special ski jumper on the U.S World Championship Team. As an athlete advocate, she served an important pioneering role with women's nordic combined which will join the World Championships in 2021.
Snowboard - Mick Dierdorff
Veteran Mick Dierdorff (Steamboat Springs, Colo.) rode to a pair of stunning gold medals in the 2019 World Championships at Solitude Mountain Resort. Dierdorff opened the championships with the men's gold then came back to pair up with teammate Lindsey Jacobellis to win the first ever mixed gender team event title.
SPORT INTERNATIONAL COACHES OF YEAR
Alpine, Paul Kristofic, Head Women's Alpine Coach
Working at the international level for over two decades, Paul Kristofic has gained the respect of peers around the world. This past season he provided leadership to support Mikaela Shiffrin in her record-setting season with 17 World Cup wins and four crystal globes, as well as the women's team's four World Championship medals between Shiffrin and Lindsey Vonn.
Cross Country - Jan Buron, Alaska Winter Stars
A veteran club coach, Jan Buron of the Alaska Winter Stars program has developed many top athletes. This past season his work with junior skier Gus Schumacher, whom he has coached for the athlete's entire career, led to the USA winning gold in the men's relay at the Junior World Championships.
Freestyle - Caleb Martin, U.S. Ski Team Moguls Coach
Olympian Caleb Martin's leadership, professionalism, and commitment to a winning culture have led to strong success of his U.S. Ski Team moguls athletes over his years as a coach.
Freeski - Dave Euler, Freeski Rookie Team Coach
In his first season at the helm of the Freeski Rookie Team, Dave Euler brought in an inspiring enthusiasm and positivity which quickly translated to his athletes. It was a strong season at every level, led by Mac Forehand's overall World Cup title plus a dominating performance at Junior World Championships.
Ski Jumping/Nordic Combined - Jan Druzina, Junior/Continental Cup Ski Jumping Coach
Jan Druzina came to USA Nordic as a Junior Team and Continental Cup coach for men's ski jumping a year ago. Since then, he has visited every club to speak with coaches and parents, working together to build a strong junior program. The result was a definitive step up this year with Andrew Urlaub and Patrick Gasienica qualifying for their first World Championships and Urlaub taking a top-30 at Junior Worlds plus three top-30 Continental Cups.
DOMESTIC COACHES OF THE YEAR
Alpine - Matt Underhill, Independent
A longtime Ski & Snowboard Club Vail coach, Matt Underhill (Minturn, Colo.) branched out on his own this past season as an independent coach. Two of his athletes established themselves as best in their age class and qualified for nomination to the U.S. Ski Team.
Cross Country - Alasdair Tutt, Nordic Ski Club of Fairbanks
Kendall Kramer, coached by Alasdair Tutt,  was 4th in the 15km mass start classic in her first time at Junior World Ski Championships.  Kendall will also represent USA at the 2020 Youth Olympic Games.
Freeski - Ryan Wyble (see above)
Freestyle - Bryon Wilson, Wasatch Freestyle
Olympian Bryon Wilson has transformed from bronze medalist to an outstanding moguls coach for Wasatch Freestyle. His athletes are benefiting from his ability to translate his own experience as a successful athlete into leadership and skills he is passing on.
Ski Jumping - Karl Denney, Steamboat Springs Winter Sports Club
Karl Denney is having a strong impact on junior ski jumping and nordic combined athletes. In his tenure, two of his ski jumpers and three nordic combined skiers have made the national team. An additional six athletes were named to the Junior National Team and seven qualified for Junior Worlds. His athletes took 15 podiums at Junior Nationals including seven wins.
Snowboard - Chris Waker, Kirk's Camp
A level 200 coach with over six seasons coaching, Chris Waker of Kirk's Camp had multiple Rev Tour podiums this season and graduated two athletes to the Rookie Team.
Adaptive
Lane Clegg - Team Utah Snowboarding/National Ability Center 
Lane Clegg (Salt Lake City) has taken an innovative approach integrating his adaptive athletes into his able-bodied program to raise their level of competitiveness. Clegg works with a host of athletes including Paralympic champion Brenna Huckabee and 2019 Para World SBX Champion Noah Elliott, as well as a host of rising stars in his partnership between Team Utah Snowboarding and the National Ability Center.