Top-10 for Johnson in World Champs Downhill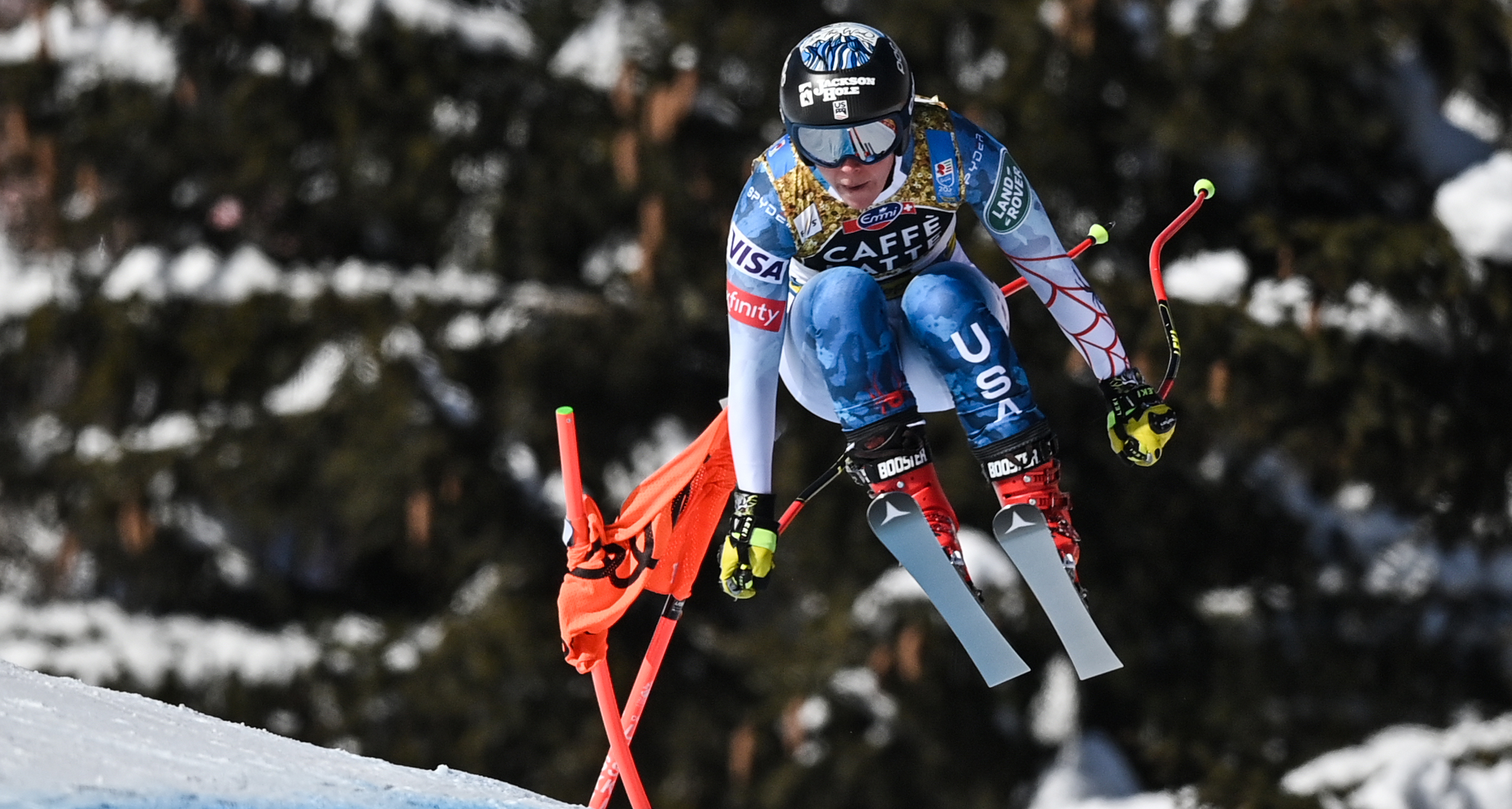 Breezy Johnson led the way for the Land Rover U.S. Alpine Ski Team women in the FIS Alpine World Ski Championships downhill in ninth place, a career-best World Champs result.
The Swiss women had another impressive day with Corinne Suter snagging gold—her second medal of the 2021 World Champs—and super-G winner Lara Gut in third place for the bronze. Kira Weidle of Germany was second for her first World Championships medal. Suter's win made her only the second woman to win a medal in both downhill and super-G in two World Championships—former U.S. Alpine Ski Team star Lindsey Vonn was the only other skier to achieve the feat in 2007 and 2009.
While weather issues at the beginning of the week canceled the first two races, the day was as picturesque as one could ask in Cortina d'Ampezzo, Italy. Hero snow created the perfect track with a bit of wind whipping around the course. Johnson, who had been on the podium in the last four out of five downhills on the FIS World Cup circuit, came into the race confident and hunting for her first World Championships medal, but a mistake at the top of the course nearly took her down and lost her significant time. She pulled off an impressive recovery and continued making up time throughout the run to put her into ninth place overall.
"I knew the wind was kicking a lot and I lost sight of being over the outside ski a little bit more than I should have," said Johnson. "I thought the rest of my run was really good and I really thought I executed my plan everywhere and skied as well as I could. Mistakes happen when you're going for it!"
Isabella Wright, in her first-ever World Championships, snagged an impressive 21st place. Jackie Wiles was 24th and Laurenne Ross 26th.
The men race downhill on Sunday, followed by both alpine combined races on Monday.
RESULTS
Women's World Championships downhill
HOW TO WATCH 
All times EST
Saturday, Feb. 13
2:30 p.m. FIS World Alpine Championships Women's Downhill - same-day broadcast, Cortina d'Ampezzo, ITA, Broadcast NBC
4:30 p.m. FIS World Alpine Championships Women's Downhill - same-day broadcast, Cortina d'Ampezzo, ITA, Broadcast NBCSN
Sunday, Feb. 14
5:00 a.m. FIS World Alpine Championships Men's Downhill - LIVE, Cortina d'Ampezzo, ITA, Streaming Peacock
5:00 a.m. FIS World Alpine Championships Men's Downhill - LIVE, Cortina d'Ampezzo, ITA, Broadcast Olympic Channel
12:00 p.m. FIS World Alpine Championships Men's Downhill - same-day broadcast, Cortina d'Ampezzo, ITA, Broadcast NBC
4:30 p.m. FIS World Alpine Championships Men's Downhill - same-day broadcast, Cortina d'Ampezzo, ITA, Broadcast NBCSN