Patterson 19th To Lead U.S. At Oslo 50k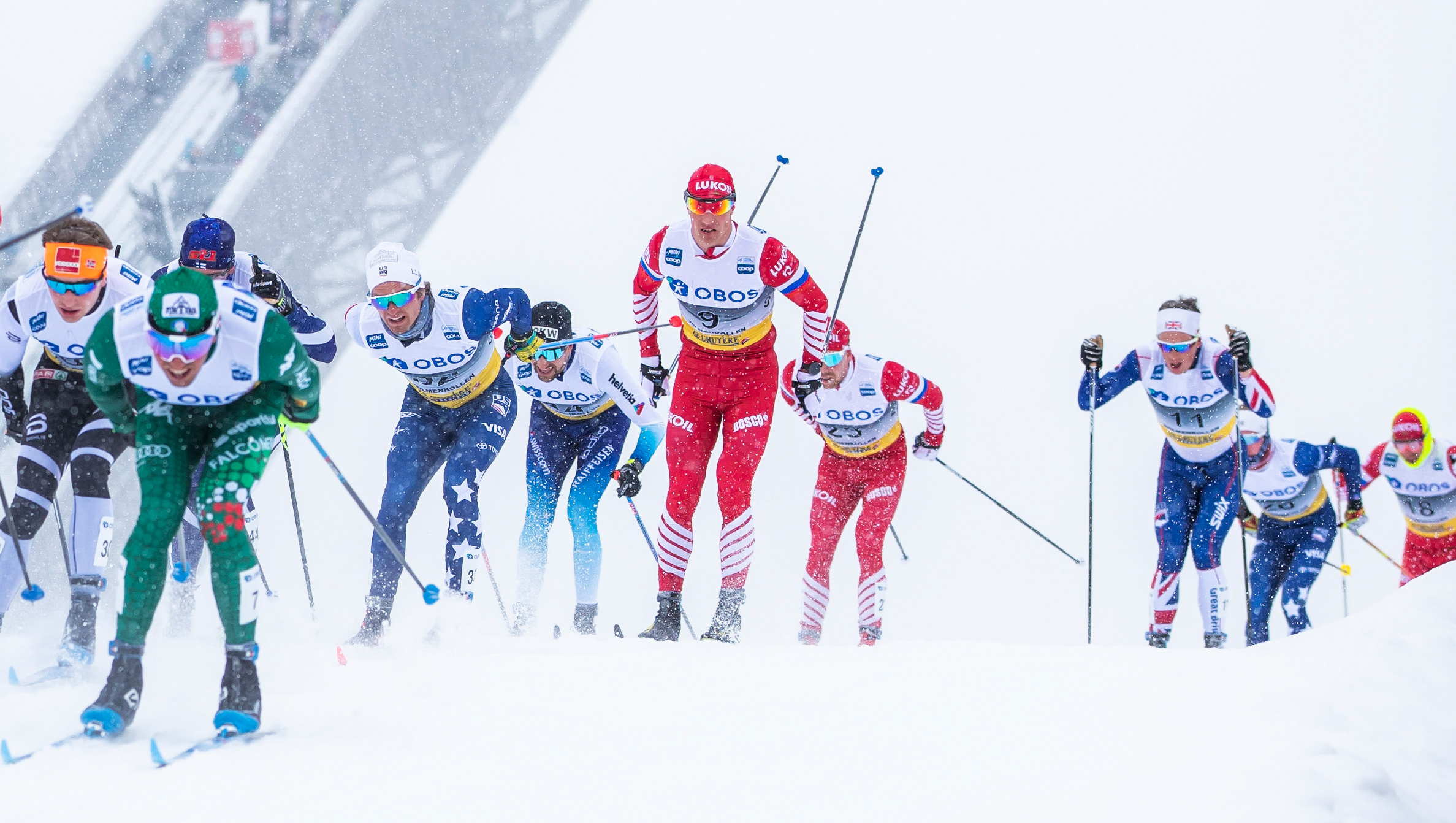 Scott Patterson (Anchorage, Alaska) skied with the lead pack the entire race and posted the top U.S. result in 19th at Saturday's FIS Cross Country World Cup 50k classic in Oslo Norway. David Norris (Fairbanks, Alaska) also skied into the points with a 24th-place finish, and Adam Martin (Wausau, Wis.) skied to a World Cup personal best of 31st.
"I chased pretty hard with about 14k to go to make the split for the lead pack," said Patterson. "I hung on to the group quite well for the last time up to Frognesetern, but when we went back to the stadium with 3k to go, I was struggling. While I fought with the 3 others who were struggling, I didn't manage to outsprint any of them."
Russian Alexander Bolshunov becomes the youngest winner of the legendary 50k race at Oslo's Holmenkollen. He shared the podium with his teammates Maxim Vylegzhanin in second and Andrey Larkov in third.
"We had four guys staying with the lead pack for a good part of the race with Scott, David, and Adam putting together some strong results," said U.S. Cross Country World Cup Coach Matt Whitcomb. "With about 3k to go, Scott in the lead group popped a bit and was not able to fight for a top 10. David had a strong race and we were super excited to see Adam come so close to a to 30 finish."
"The first three laps went really well for me," said Norris. "During the fourth lap, I started to struggle a bit and dangled off the lead group a few times. Starting the fifth lap I did a ski exchange and lost contact with the leaders. My skis for the last two laps were really good, but I couldn't close the gap to the lead pack. I felt pretty tired today, but overall the race went pretty well and I'm happy with my performance."
On waxing for the day, Whitcomb said, "we woke up today expecting to see perfect klister conditions, but instead it just snowed all day. It went from straight klister to hard wax, wetter in the stadium and dryer up top. I was super encouraged by the was staff today with a complex schedule that included feeds and ski exchanges. We also had two additional snowboarder cross techs join us today and help with the gliding out and feeds.  Interestingly, they test wax for their snowboard athletes on cross country skis."
The action continues Sunday with the women's 30k classic where starters include Jessie Diggins (Afton, Minn.), Sadie Bjornsen (Winthrop, Wash.), Rosie Brennan (Park City, Utah), Rosie Frankowski (Minneapolis, Minn.) and Kaitlynn Miller (Craftsbury, Vt.)
RESULTS
Men's 50k classic
HOW TO WATCH
All times EST
*Same-day broadcast
Sunday, March 10
6:45 a.m. - Women's 30k mass start - Oslo, NOR - OlympicChannel.com & NBC Sports Gold
1:00 p.m. - Women's 30k mass start - Oslo, NOR - Olympic Channel-TV*
All streams are available via desktop (NBCSports.com/Live, NBCSports.com/Gold and OlympicChannel.com) as well as mobile, tablet and connected television platforms. The NBC Sports app, NBC Sports Gold app and Olympic Channel app are available on the iTunes App Store, Google Play, Windows Store, Roku Channel Store, Apple TV and Amazon Fire. Exclusive commercial-free coverage will be available for subscribers of the NBC Sports Gold Pass.