Palmer-Leger, McCabe, McMullen Bring Youthful Energy To Cross Country World Cup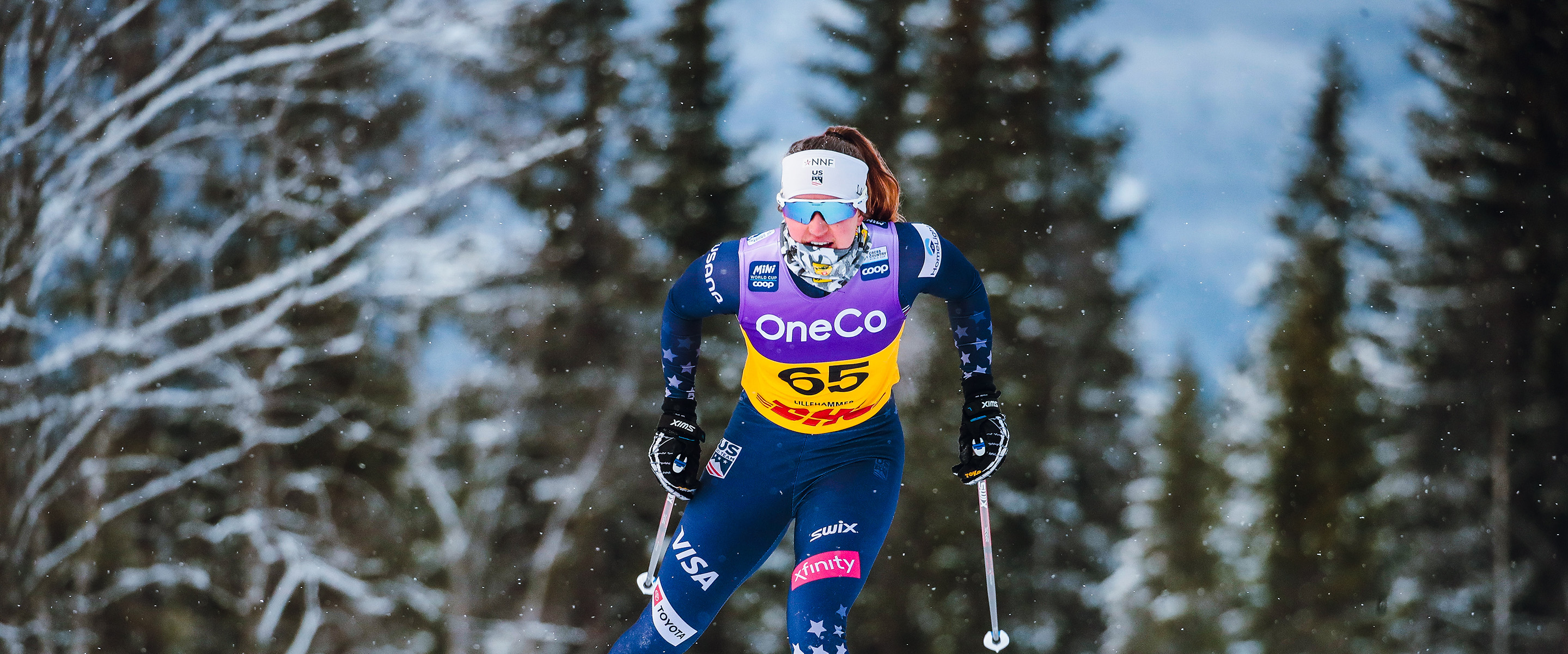 For a number of young athletes on the Davis U.S. Cross Country Ski Team, their first taste of FIS World Cup Cross Country racing has been an eye-opening experience, both in terms of the racing, and of course, the extensive travel required to reach the opening events in Scandinavia from all corners of the United States.
Zanden McMullen, Novie McCabe, and Sydney Palmer Leger kicked off their World Cup careers north of the Arctic Circle in Ruka, Finland, Thanksgiving weekend, then traveled to Lillehammer, Norway, for the second race weekend of the season. Now, six races into the season, all three have experienced the highs and lows of World Cup racing, but overall they have succeeded in bringing a youthful energy to the team while learning what it takes to be a professional athlete.
"Having retired three veterans last year, Sadie (Maubet Bjornsen), Simi (Hamilton) and Sophie (Caldwell Hamilton) all over (age) 30 and replaced them in some ways with one junior, Sydney Palmer-Leger, another one who was a junior last year, Zanden McMullen and...Novie McCabe, who is also a first-year senior, the average age on our team has dropped considerably," said Davis U.S. Cross Country Team Head Coach Matt Whitcomb. "But the youthful energy is really amazing to have around."
Full-time racing on the FIS Cross Country World Cup Tour is no easy task. Being away from home for an extended period of time, living out of a duffle bag, and sleeping in a different bed week after week can certainly take its toll on a young athlete. 
"It has been really tough the past two weeks of racing," Palmer-Leger said. "Learning to race qualifiers at the World Cup is a lot different than in the States. Coming from the States where we do well, to World Cups where you are fighting to not get last is mentally challenging. But, I'm excited to be over here, and get the shot to race with the best in the world at (age) 19."
Palmer-Leger, the 2021 NCAA Champion, is used to winning. Top results are always the goal for her. But, for new athletes to World Cup racing, Whitcomb says it's more about learning and building for the future than posting immediate results.
"The result that I look for in Period 1 with new athletes, regardless of age but just people that are new to the World Cup, is trying to nail the process. There's a little bit of extra stress that they don't feel when they're back home. You're pretty exposed over here and you have to put together nearly perfect races to challenge this competition." 
– Davis U.S. Cross Country Team Head Coach Matt Whitcomb,
"What we are trying to do is make sure that we know the process and make sure that they're enjoying the daily life of a professional racer on the road," Whitcomb continued. "So far, with three weeks behind us, it has been really fun. It's been a good balance, and these new rookies, this new youth, has been such a great addition to the team with regards to chemistry and just great energy."
"One of the main things I've learned is that reflecting on each race is great, but it's important to move on and treat every race as a new opportunity, especially when there are so many race days," McCabe said. "My body is feeling a bit tired for sure, but it's been so much fun to be here and it's made me super stoked to just keep trying to improve a bit each weekend."
With six race starts so far this season, McCabe has made steady progress. Toss in a team relay in Lillehammer as a member of USA 2 with Palmer-Leger, and two athletes who have a bit more World Cup experience in Sophia Laukli and Katharine Ogden, and the fun factor was certainly alive.
"I am almost unconcerned with results, except for the fact that a good ski result can make them happy and it adds to the fun," Whitcomb said. "We will start to be a bit more predictable with our results starting this coming weekend (in Davos) and moving forward now that we're settled in, we're not jet-lagged, people have had quite a bit of on-snow time, and so I think even as recently as this last week and you some more people racing well in Lillehammer than in Ruka."
For McMullen, his intro to World Cup racing has not only been a huge eye-opening experience but rewarding as well when he posted the 29th-fastest time of the day in the 15k freestyle pursuit in Ruka.
"I've actually learned a lot more than I thought I would," McMullen said. "A lot about what it takes for high-level racing at such an early point in the season; venue familiarity; course strategy; everyday life at hotels the team always stay; race tactics; and a lot more confidence throwing down with the best in the world."
Both McCabe and Palmer-Leger traveled with the team to Davos, Switzerland for this weekend's World Cup sprint and distance races, while McMullen traveled back to the United States for finals week at the University of Montana, and to prepare for the upcoming SuperTour and L.L.Bean U.S. Cross Country Championships next month at Soldier Hollow. 
"My body feels great, and I feel like I will soon sharpen up my body for the important races of the season," McMullen said, adding that he looks forward to being "so much more mentally prepared for the next stage of my ski career."
And will that career include a shot at making Team USA for the 2022 Olympic Winter Games?
"There's always a chance that an 18 or 19 or 20-year-old could make the Olympics for us, and if they do, that's great," Whitcomb said. "But that is something that is certainly not high on my priority list. What I would rather see happen is that we establish an environment on the World Cup where they really love this profession and they're still around in 2026 (Olympics in Val di Fiemme, Italy) and in 2030 for, who knows where that Olympics will take place. That is the real focus for these young athletes. It is very long-term."