No Time Like Hahnenkamm Time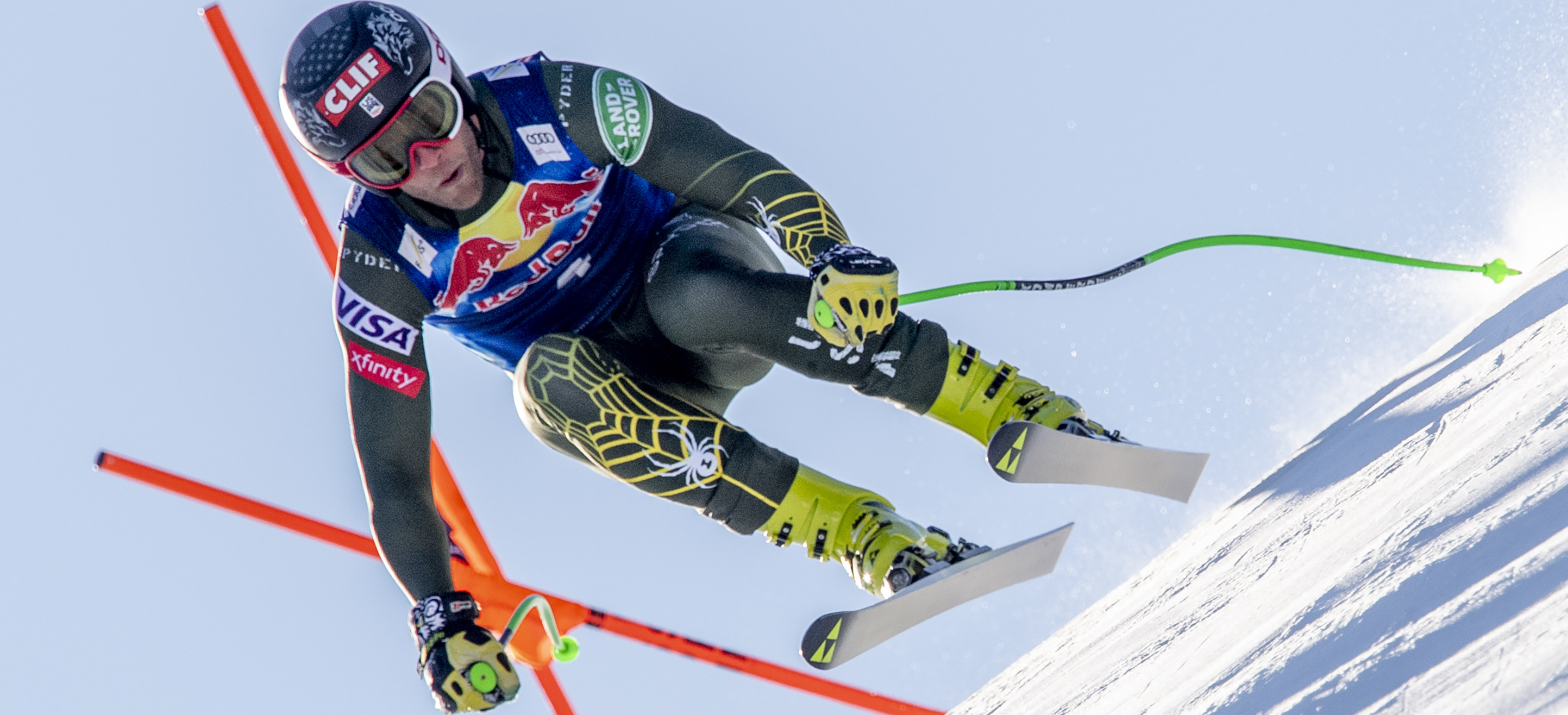 FIS Ski World Cup action continues at the revered Hahnenkamm in its 80th anniversary in the scenic mountain town of Kitzbühel, Austria, for the men, while the women head eastward to Bansko, Bulgaria, for a speed series. 
The men will take on the Streif: arguably the most famously challenging super-G and downhill, along with a slalom on Sunday. Austrian fans come out in droves to watch their sport gods, and those who emerge victorious on the Streif in Saturday's downhill, specifically, become etched in history—both figuratively, and literally on the sides of the gondolas on the Hahnenkammbahn. Soon enough, the magical Kitzbühel fairies will be hard at work cleaning the streets up after the 70,000 glühwein and beer-imbibing Austrian superfans have overtaken the town. Speaking of legends of the Streif, Italy's Dominik Paris has done won four times on this track (three times in downhill, and once in super-G), though he, unfortunately, was injured in a training session prior to the downhill training runs this week. That makes Switzerland's Beat Feuz a clear favorite...but don't count the Land Rover U.S. Alpine Ski Team boys out...they've been skiing fast and committed in downhill training runs. 
After laying down the fourth-fastest time in Thursday's second and final downhill training, veteran Steven Nyman—whose best Hahnenkamm finish was fifth in 2015—felt positive going into the race weekend. "The snow is super positive coming into carousel turn, I kind of relaxed—but there's no point on this course where you can just relax...on the Steilhang or in the carousel, or off the Mausefalle or any of the technical parts," he explained. "You have to just continually drive and I got that reminder right in the beginning. I can make up a lot of time up there. I felt comfortable...wasn't fully committed down here through the Hausberg, but I have a plan and I executed that little thing that I'm trying—don't want to reveal too much. I feel a lot more comfortable on my skis...willing to drive, willing to commit to turns better...so I'm happy. It's a work in progress, and with that feeling and that confidence I'll start pushing more and be willing to charge more on race day."
Bryce Bennett, who had a career-best venue result of 14th in last year's downhill, is feeling like the experience he's gained with age is allowing him to fully commit to it. "It was fun," he said, "Everyone is skiing pretty well. The five guys we have in the top 30 now are solid...I think we're all just skiing well and it's clicking." Travis Ganong echoed sentiments that teammate Bryce had said in the finish...that the course was really "fun" this year. The snow is probably the most consistent and "easiest it's been in three years," he added. It's smooth all the way down. 
Ryan Cochran-Siegle, who has had the best and most consistent season of his career, laid down two solid training runs and is feeling good about the weekend. "There is a nice flow to the hill, so having fun with it is important," he said. "You get into the start gate and it's intimidating, and you don't really know how it's going to go...you think it's just going to be kind of chaos and there's a little bit of chaos, but I think also within yourself and a controlled ability. So, trusting that going into the races, is important. I feel like the track is a little more on the fun side and a little less on the fear side. It is a challenging downhill and there's a lot going on, so you have to respect the mountain and respect the challenges that it throws at you."
Jared Goldberg has been struggling with a bit of the flu, but after some good rest and Netflix time, he was able to bounce back and ski the second-fastest training run on day one, just four hundredths behind Attacking Viking Kjetil Jansrud. 
On "Slalom Sunday" all eyes will be on the young Luke Winters...because, well, #WintersIsComing after all. Luke has scored consistently and has had flashes of brilliance all season. The guys have had some great training in Folgaria - Alpe Cimbra at our European training base in the Trentino region of Italy, and they'll be ready to take on both Kitzbühel and Schladming. 
The women return to Bansko, Bulgaria, for two downhills and super-G, including a rescheduled downhill from Val d'Isere, France. Bansko's track is a bit more technical, which will play to the favor of skiers like current World Cup overall and slalom leader Mikaela Shiffrin, who was the third-fastest in Thursday's first and only downhill training run, and Italy's Federica Brignone, who was the second-fastest. Though Thursday was the first time Mikaela put on downhill skis since Lake Louise, she felt positive coming out of the downhill training run. "I like this track a lot. It's definitely one of the more technical tracks on the speed circuit, which plays into my favor a little bit more because I obviously do a lot more technical skiing than speed skiing. So I was really excited coming here, and was looking forward to this first training run and getting on the track."
Mikaela knows what she needs to do in order to find the speed podium, and she and teammates—including Alice McKennis, Breezy Johnson and Jackie Wiles, will get three chances to show what they've got. "I had some trouble in a couple of spots, like dragging my turn long enough and making long enough turns, but it's super fun," she commented. "The surface is a little rattly and bumpy in some spots, but just rock solid and it's such a good surface to push on the ski and really lay the ski over, so it was really fun to ski today. It's also a new-ish track, some of the girls have been here before, but there haven't been many races here, so everybody is sort of learning it, and in that sense, we're all in the same boat learning a new track. I had so much fun today, and I feel like there are some spots I can clean up a little bit and, for sure, will be better just knowing how it feels to ski down and how it feels to be back on my downhill skis, and how the speeds feel in the course, too, so all in all - it's awesome." 
Mikaela will head into the weekend with a 249-point lead in the overall standings over Slovakian rival Petra Vlhova, and a 260-point lead over Federica, who sits in third in the standings. 
Check out how and who to watch below. 
MEN'S STARTERS
Bryce Bennett
Ryan Cochran-Siegle
Sam Dupratt
Travis Ganong
Jared Goldberg
AJ Ginnis
Sam Morse
Kyle Negomir
Steven Nyman
Ben Ritchie
Luke Winters
WOMEN'S STARTERS
Alice McKennis
Alice Merryweather
Mikaela Shiffrin
Jackie Wiles
Alix Wilkinson
Isabella Wright
RESULTS
Women's Downhill Training Run
Men's Downhill Training Run 1
Men's Downhill Training Run 2
START LISTS
Women's Downhill
Men's Super-G
HOW TO WATCH 
All times EST

Friday, Jan. 24
3:30 a.m. - Women's downhill, Bansko, BUL - Olympic Channel, Olympic Channel.com, NBC Sports Gold
5:30 a.m. - Men's super-G, Kitzbühel, AUT - NBC Sports Gold
Saturday, Jan. 25
3:30 a.m. - Women's downhill, Bansko, BUL - Olympic Channel, Olympic Channel.com, NBC Sports Gold
5:30 a.m. - Men's downhill, Kitzbühel, AUT - NBC Sports Gold
9:00 a.m. - Women's downhill, Bansko, BUL - NBCSN*
Sunday, Jan. 26
3:15 a.m. - Women's super-G, Bansko, BUL - Olympic Channel.com, NBC Sports Gold
3:30 a.m. - Women's super-G, Bansko, BUL - Olympic Channel*
4:30 a.m. - Men's slalom run 1, Kitzbühel, AUT - NBC Sports Gold
7:30 a.m. - Men's slalom run 2, Kitzbühel, AUT - NBC Sports Gold
12:30 p.m. - Women's super-G, Bansko, BUL - NBCSN*
Monday, Jan. 27
1:00 p.m. - Men's downhill & super-G, Kitzbühel, AUT - NBCSN**
3:00 p.m. - Men's slalom, Kitzbühel, AUT - NBCSN**
*Same-day broadcast
**Next-day broadcast
Note: All televised events to stream across NBCSports.com, NBC Sports app, OlympicChannel.com, and Olympic Channel: Home of Team USA app. 
Exclusive commercial-free coverage will be available for subscribers of the NBC Sports Gold Pass, available here: https://www.nbcsports.com/gold/snow. 
Why isn't Kitzbühel available live on NBCSN or Olympic Channel?
The reason Kitzbühel is available via Gold Pass rather than NBCSN or Olympic Channel is that World Cup events held in Austria are not part of the TV agreement that NBC Sports has with FIS. They are controlled and sold by a different rights holder and were purchased by NBC Sports Gold for exclusive use within "Snow Pass." If you have any further questions, please reach out to NBC Sports Gold's help desk at support@nbcsports.com. 
Why doesn't "Snow Pass" have commentary?
In order to provide 900+ hours of content at an affordable price, we rely on the world feed (a video feed provided by the rights holder), which often does not include English commentary. Commentary is available on all television coverage provided by NBC, NBCSN and Olympic Channel: Home of Team USA, and live streaming via authentication at NBCSports.com and the NBC Sports app.