Irving Takes World Championships Halfpipe Bronze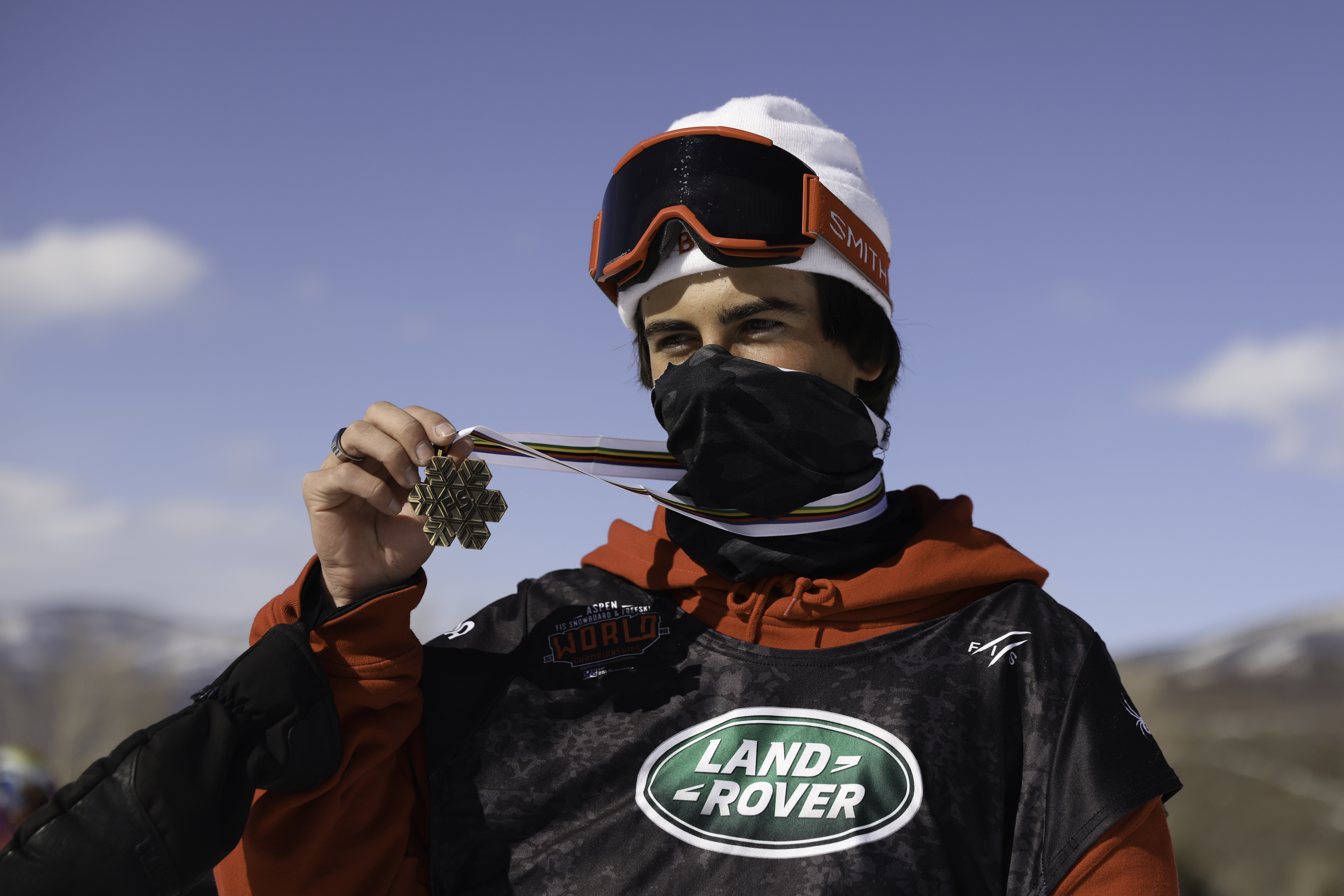 U.S. Freeski Team member Birk Irving took halfpipe bronze at the Aspen 2021 FIS Snowboard and Freeski World Championships, featuring the Visa Big Air presented by Land Rover. Alex Ferreira and Hanna Faulhaber each finished fourth for the U.S.
The day presented difficult spring pipe conditions for athletes, including an icy left wall and soft sun-splashed right wall. Regardless, the U.S. Team made an impressive showing of style across women's and men's teams.
"I didn't put down all the runs I wanted to, but for my first run to hold all the way through, with this level of skiing, is so insane," said Irving. "I couldn't have asked for a better day, the pipe was so good, and the level of skiing right now is so gnarly."
Twenty-one-year-old Irving was able to show a true sense of confidence competing in the pipe, with the best skiing we've seen from this young man. While his second and third runs did not prove as strong, Irving came out of the gate on his first run with a left double 1440, reserving his spot on the podium.
Defending his home turf, Alex Ferreira took home fourth place with a solid second run, including a clean left double 1080 and right double 1080.
"It was awesome to do the contest today and I think everyone is having a great time," said Ferreira. "What more could you ask for? Obviously, I am biased: I think Aspen is the greatest place in the world."
Teammates Aaron Blunck came in fifth, David Wise in 10th, and Lyman Currier in 11th.
On the women's side, Faulhaber - a sixteen-year-old and Basalt local - put on an impressive show of amplitude while claiming fourth in women's halfpipe in her first World Championships. All three runs for Faulhaber included immense airtime and back-to-back flairs showcasing her best in her hometown pipe. 
"It was amazing to be with the U.S. Freeski Team and compete against them, " said Faulhaber. "I've always looked up to my teammates growing up, so competing against them at such a big event is amazing."
Teammates Brita Sigourney and Devin Logan were fifth and sixth respectively.
RESULTS
Men's Freeski HP Finals
Women's Freeski HP Finals
START LISTS
Men's Freeski Halfpipe
Women's Freeski Halfpipe
HOW TO WATCH 
All times EST
Saturday, March 13   
11:30 a.m. FIS Snowboard and Freeski World Championships - Freeski Slopestyle - LIVE, Aspen, Colo., Streaming Peacock
12:00 p.m. FIS Snowboard and Freeski World Championships - Snowboard Slopestyle - next-day broadcast, Aspen, Colo., Broadcast NBC
1:00 p.m. FIS Snowboard and Freeski World Championships - Freeski Slopestyle - same-day broadcast, Aspen, Colo., Broadcast Olympic Channel
3:00 p.m. FIS Snowboard and Freeski World Championships - Snowboard Halfpipe - LIVE, Aspen, Colo., Broadcast Olympic Channel, Streaming Peacock
Sunday, March 14
12:00 a.m. FIS Snowboard and Freeski World Championships - Freeski Halfpipe - next-day broadcast, Aspen, Colo., Broadcast NBCSN
11:55 a.m. FIS Snowboard and Freeski World Championships - Women's Snowboard Big Air Qualifying - LIVE, Aspen, Colo., Streaming Peacock
12:00 p.m. FIS Snowboard and Freeski World Championships - Snowboard Halfpipe - next-day broadcast, Aspen, Colo., Broadcast NBC
2:10 p.m. FIS Snowboard and Freeski World Championships - Men's Snowboard Big Air Qualifying, heat 1 - LIVE, Aspen, Colo., Streaming Peacock
4:25 p.m. FIS Snowboard and Freeski World Championships - Men's Snowboard Big Air Qualifying, heat 2 - LIVE, Aspen, Colo., Streaming Peacock
Monday, March 15
11:55 a.m. FIS Snowboard and Freeski World Championships - Women's Freeski Big Air Qualifying - LIVE, Aspen, Colo., Streaming Peacock
2:10 p.m. FIS Snowboard and Freeski World Championships - Men's Freeski Big Air Qualifying, heat 1 - LIVE, Aspen, Colo., Streaming Peacock
4:25 p.m. FIS Snowboard and Freeski World Championships - Men's Freeski Big Air Qualifying, heat 2 - LIVE, Aspen, Colo., Streaming Peacock
Tuesday, March 16
12:00 p.m. FIS Snowboard and Freeski World Championships - Freeski Big Air - LIVE, Aspen, Colo., Broadcast NBCSN, Streaming Peacock
1:30 p.m. FIS Snowboard and Freeski World Championships - Freeski Slopestyle - delayed broadcast, Aspen, Colo., Broadcast NBCSN
3:30 p.m. FIS Snowboard and Freeski World Championships - Snowboard Big Air - LIVE, Aspen, Colo., Broadcast NBCSN, Streaming Peacock
Sunday, April 11
2:00 p.m. FIS Snowboard and Freeski World Championships - Championships Event Recap, Aspen, Colo., Broadcast NBC
SCHEDULE
Aspen 2021 FIS Snowboard and Freeski World Championships
Slopestyle, Halfpipe, and Big Air
March 10-16
Snowboard:
March 13 - Halfpipe finals
March 14 - Big air qualifications
March 16 - Big air finals
Freeski:                      
March 13 - Slopestyle finals
March 15 - Big air qualifications
March 16 - Big air finals
 
FOLLOW
Instagram - @ussnowboardteam
Instagram - @usfreeskiteam
Facebook - @usskiandsnowboard
 
 Interested in organization, athlete, and event related news?
Sign up for our Daily or Weekly Update
Learn more about how to support the U.S. Freeski & Snowboard Teams