Golden Sweep for Patterson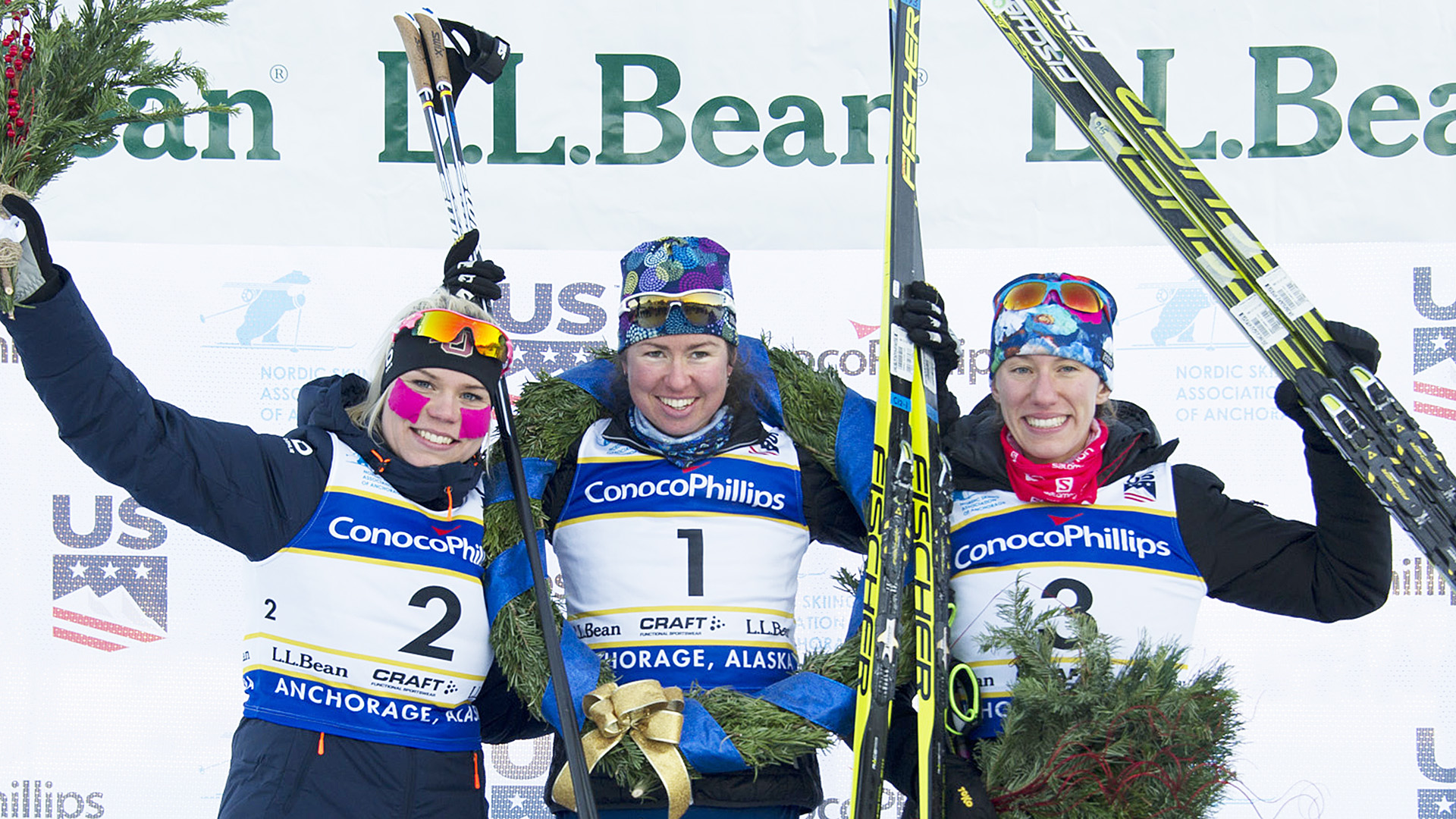 Caitlin Patterson (Anchorage/Craftsbury Green) finished a golden four-race performance at the 2018 L.L.Bean U.S. National Cross Country Ski Championships at Anchorage's Kincaid Park on Monday sweeping to a fourth straight gold medal. Her dramatic come-from-behind win in the women's classic sprint final capped a run of four national titles in four races over six days. Reese Hanneman (Anchorage/APU Nordic) swept both sprint events with his men's classic sprint. He edged APU Nordic teammate Tyler Kornfield (Anchorage/APU Nordic) by a mere two tenths of a second to earn his fourth career sprint title – two freestyle, two classic.
But the U.S. Championships belonged to Patterson, a 27-year-old from Vermont and formerly of Anchorage. She won all four U.S. Championship gold medals, taking three of the four races outright. She finished second to Sweden's Hedda Baangman (University of Colorado) in Sunday's 20k classic mass start event, but took gold as top American. These four races, and Monday's race in particular, illustrated her mix of talent, strength, stamina, versatility, wit and grit. The classic sprint silver went to Kaitlyn Miller (Craftsbury Common, Vt./Craftsbury Green) with bronze to Becca Rorabaugh (Fairbanks, Alaska/APU Nordic). It was Miller's third medal of the Championships.
Patterson's four titles matches the golden streak set by Anchorage native Kikkan Randall at the 2010 U.S. Championships, also at Kincaid Park. Randall went on to make it a five medal year winning the long distance event that March in Fort Kent, Maine.
 
"It's hard to put into words," said Patterson, who leaves Anchorage a six-time national champion. "Amazing. Beyond what I could have imagined."
 
Her Craftsbury Green Project Racing coach Pepa Miloucheva wasn't surprised, though, saying, "She worked hard for this and she deserves this. It's her nationals," he said.
 
Patterson's younger brother, Scott, a three-time U.S. champion who won on opening day, was impressed, and humbled, by his sibling's week. "It's been pretty incredible to see, and she's rubbed it in all week," he said smiling.
 
Patterson arguably saved her best for last. In Monday's lassic sprint final she was two ski-lengths behind University of Denver's Jasmi Joensuu in the final downhill with just 200 meters to go. Using tactics she gathered from earlier heats, her familiarity of that stretch of Kincaid Park's trails from her high school and juniors racing days, and some vicious double-poling, Patterson quickly overtook and then dusted Joensuu. Patterson came across the line with both poles pumping in the air, winning by two seconds (3 minutes and 39.58 seconds to Joensuu's 3:41.94).
 
"When I passed her, I felt like I carried more momentum," Patterson said. "And I got out of there as fast as I could."
 
Not bad for a skier who claimed that she'd never won a big sprint race before this week. When asked if she's a sprinter now, she smiled and said, "I guess so."
 
Her brother Scott has been a believer for a long time. "She's such a killer finisher," he said. "When I saw her two ski-lengths back (on the final downhill), I thought, 'Oh, that's (nationals title) number four.'"
 
The Pattersons are South Anchorage High School grads and former members of the local Alaska Winter Stars ski program. After the Championships, both are hopeful to be teammates at the 2018 Olympic Winter Games. Selections will be announced the week of January 22. This weekend she's back to the World Cup in Germany.
 
Hanneman is hopeful for his own ticket to PyeongChang. He certainly beefed up his resume this week. First, he put up Friday's freestyle sprint win. Then Monday morning, he clocked the day's fastest classic sprint qualifying time, gaining him critical Olympic Winter Games points that are among the many factors considered in determining national teams.
 
Then Hanneman muscled his way through a gauntlet of hungry skiers in the quarterfinals, semifinals and final rounds. His biggest roadblock to the win was Kornfield, a tall sprinter with two classic sprint national crowns (2010 and 2012) and momentum from his exciting – and somewhat unexpected – win in Sunday's 30k classic mass start.
 
In Monday's final, Hanneman and Kornfield broke away from a tight pack on the last major hill climb and speedy downhill of the 1.6k course. It was Hanneman who popped up first into the 100-meter flat stretch to the finish line, with Kornfield behind him in the same tracks. As both double-poled furiously, Hanneman stayed just far enough ahead to negate Kornfield's frantic finishing move. The win was decided by the length of a ski pole handle, Hanneman clocking 3:20.62 to Kornfield's 3:20.82. Ben Saxton (Lakeville, Minn./Stratton Mountain School) took bronze.
 
"I couldn't let off at all," Hanneman said. "Tyler is cranking right now - impressive skiing by him all week. It definitely motivated me to just drive that thing so hard in the final. It was awesome."
 
Kornfield, as thoughtful as he is competitive, said, "We're at a point where Reese and I just kinda nod heads before the final and we know that it's me against him now. Sometimes it's hard to be racing your teammates but like any training session, we just go hard, try to race clean, race fair, and go as hard as you can. And Reese had it today. I was trying to catch him in the end and didn't quite have that last push. But it was a lot of fun."
 
The week's events were extra fun for the host state of Alaska and its nordic ski community, clubs and training groups. All eight of the National titles were won by Alaskans or skiers with Alaska roots.
 
Monday's hill-filled sprint courses mirrored the crazy-quick loop used in Friday's freestyle sprints. The men skied a 1.6k course with the women going 1.4k. The course started at the south end of Kincaid's stadium and immediately took a sharp, steep right to gain the top of the wild and winding Gong Hill area, which led to the chilly Frog Pond, briefly back near the stadium, and then to a sharp left on the backside of the Gong Hill. There, the women turned to the stadium while the men made an extra 200-meter loop before reaching the stadium. A big, sweeping turn and gradual uphill led skiers to a flat 100-meter straightaway and the finish line.
In addition to national titles, teams were selected for the upcoming FIS Junior World Ski Championships, U23 World Championships and U18 Nordic Nations' Championships, as well as points towards possible selection to the 2018 Olympic Team.
 
RESULTS
Men's Classic Sprint
Women's Classic Sprint