Diggins Third in Falun Freestyle 10k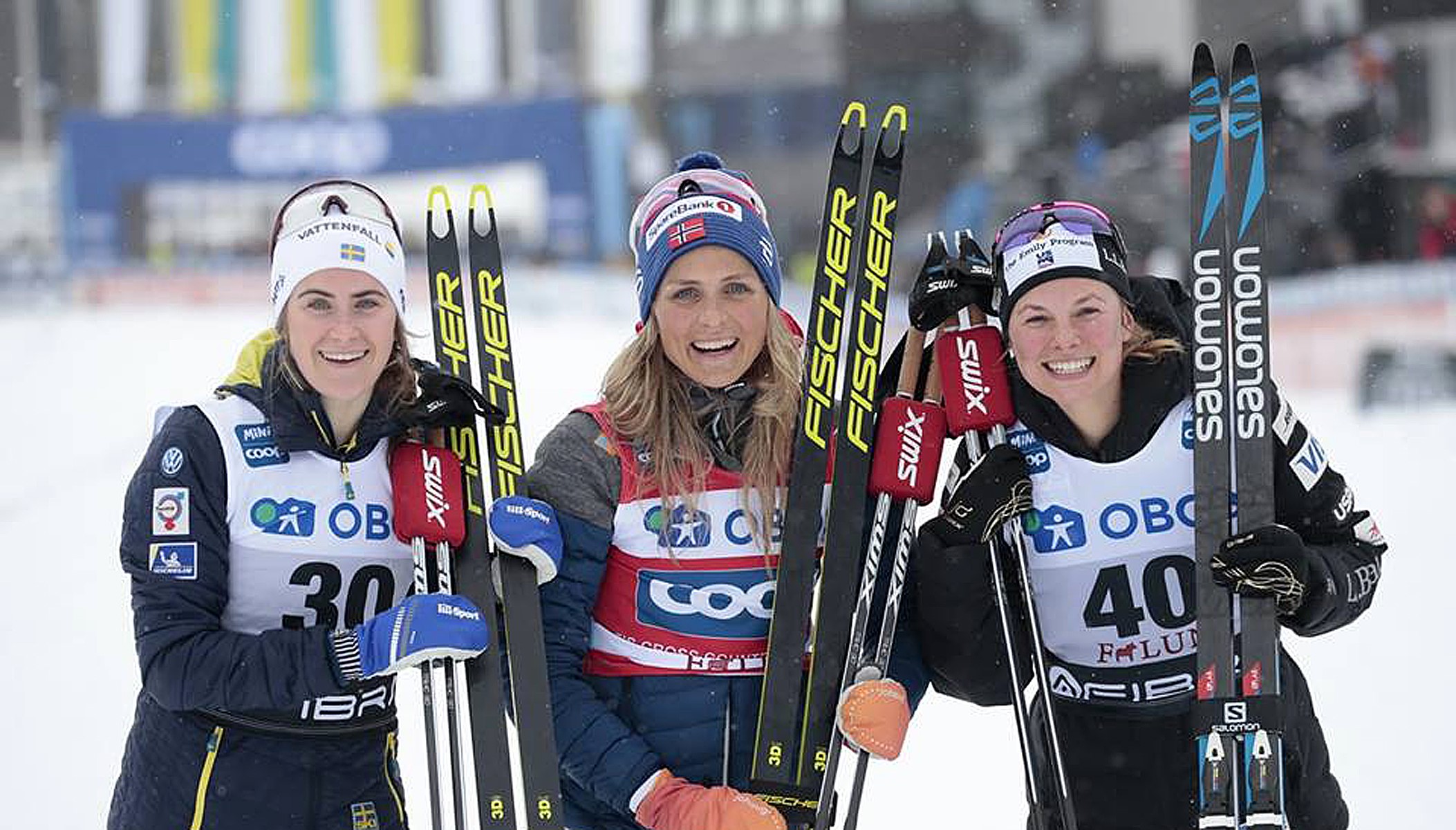 Jessie Diggins (Afton, Minn.) skied to a third-place finish Sunday to lead four U.S. Cross Country Team athletes into the points at the FIS Cross Country World Cup 10k in Falun, Sweden.  
"I knew my fitness and energy were in a great place going into today, and I love this course because it's so twisty with a lot of turns and places to continue working the downhills all around the course," said Diggins, who beat Norway's Ingvild Flugstad Østberg in the final stretch by 0.5 seconds to secure the final podium position. "I focused on even pacing because it was slower with all the new snow and pushing as hard as I could in the V2 sections where it was easier to ski without the deeper snow. I was psyched to have great skis and even when the visibility on the downhills was a little sketchy in the snow, it was fun to send it."
Also finishing in the points were Sadie Bjornsen (Winthrop, Wash.) in 12th; Julia Kern (Waltham, Ma.) skiing to an impressive 25th, and Rosie Brennan (Park City, Utah) 27th. Kaitlyn Miller (Craftsbury, Vt.) finished just outside the points in 34th, and Rosie Frankowski (Minneapolis, Minn.) was 35th
The women's race was won by Therese Johaug of Norway, with Ebba Andersson of Sweden in second.
I the men's 15k freestyle, David Norris (Fairbanks, Alaska) was the top finisher in 16th, followed by Kevin Bolger (Sun Valley, Idaho) in 45th and Scott Patterson (Anchorage, Alaska) in 54th.
The men's race was won by Alexander Bolshunov of Russia followed by a pair of Norwegians, Martin Johnsrud Sundby in second and Didrik Toenseth in third.
The World Cup heads to North America for the World Cup Finals with three races in Quebec City, Canada, March 22-24 with a sprint freestyle, mass start classic and a pursuit freestyle.
RESULTS
Men's 15k
Women's 10k
HOW TO WATCH
All times EST
*Same-day broadcast
Friday, March 22
1:20 p.m. - Men and women's sprint - Quebec City, CAN - OlympicChannel.com & NBC Sports Gold
1:30 p.m. - Men and women's sprint - Quebec City, CAN - Olympic Channel-TV
11:00 p.m. - Men and women's sprint - Quebec City, CAN - NBCSN*
Saturday, March 23
9:15 a.m. - Women's 10k mass start - Quebec City, CAN - OlympicChannel.com & NBC Sports Gold
11:00 a.m. - Men's 15k mass start - Quebec City, CAN - OlympicChannel.com & NBC Sports Gold
5:00 p.m. - Women's 10k mass start - Quebec City, CAN - Olympic Channel-TV*
Sunday, March 24
9:30 a.m. - Women's 10k pursuit - Quebec City, CAN - OlympicChannel.com & NBC Sports Gold
10:45 a.m. - Men's 15k pursuit - Quebec City, CAN - OlympicChannel.com & NBC Sports Gold
4:00 p.m. - Women's 10k pursuit - Quebec City, CAN - Olympic Channel-TV*