Diggins Third, Brennan Fifth in Les Rousses 10k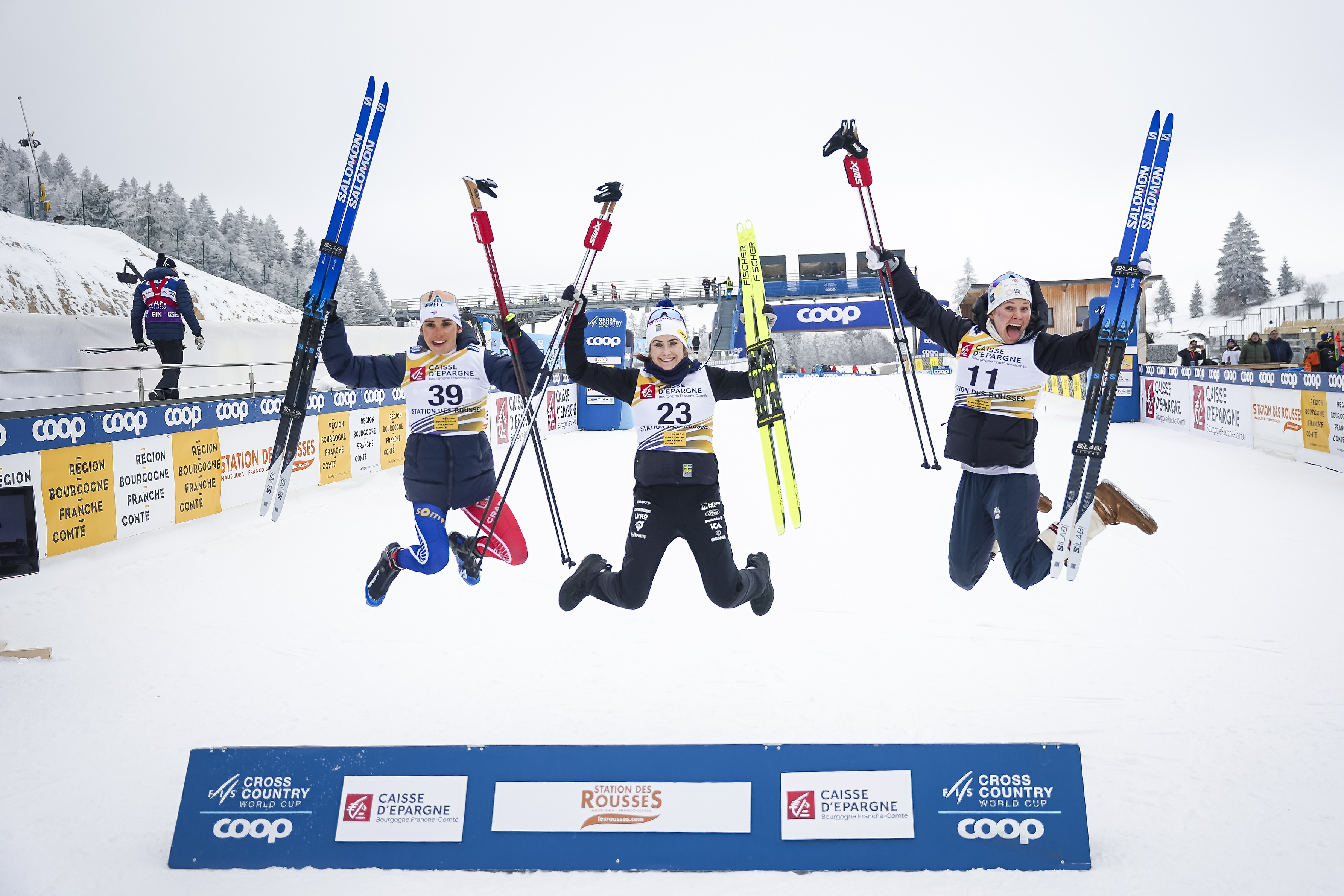 Jessie Diggins was back on the podium in the Les Rousses 10k skate individual start, ending the day in third place. Diggins had a strong race, maintaining a top-three time throughout every kilometer marker on the course. Rosie Brennan was within reach of podium and powered through for a fifth-place result among the strong field of women. 
"It was so fun to be back on the podium and honestly so happy for the whole team," said Diggins. "It's been so cool this week and last weekend to see the first World Cup starts for some of our team. Today, I made a promise to myself that I was going to go out there and ski it like it was my first World Cup start and feel all the emotions. I made sure to appreciate all the really good parts of getting to race and the feelings of representing your country."
Julia Kern was just out of top ten in 11th. Hailey Swirbul made her 2023 World Cup debut and finished 23rd, Alayna Sonnesyn 32nd, Sarah Goble 34th and Alex Lawson 35th. This was Goble and Lawson's first World Cup start of their careers.
"It was such a fun day! The whole experience was completely different which made for a lot of excitement," said Goble. "The energy out on the course was wild with all the fans. It was also pretty cool to see how dialed team USA is with everything on race day, and how supportive the women of each other. I feel proud of my first World Cup race. I paced well and kept fighting, so overall I'm happy with how it went."
"It was unlike anything I've ever experienced before! So much excitement and fun vibes from both the team and fans at the venue," Lawson said post-race. "It was definitely different than racing in the US, and took a bit for me to get my bearings. The staff and other athletes were so helpful and supportive though and I'm super excited to be here and keep the momentum rolling."
For the men, Scott Patterson led the way finishing the 10k skate within the top 30, in 24th. Finn O'Connell was next in 50th, Peter Wolter (first World Cup start!) in 56th, Will Koch in 63rd and Zak Ketterson in 65th.
Next up: individual classic sprint tomorrow, Jan. 28. Watch live on skiandsnowboard.live.
RESULTS