Collegiate Skiing and the U.S. Ski Team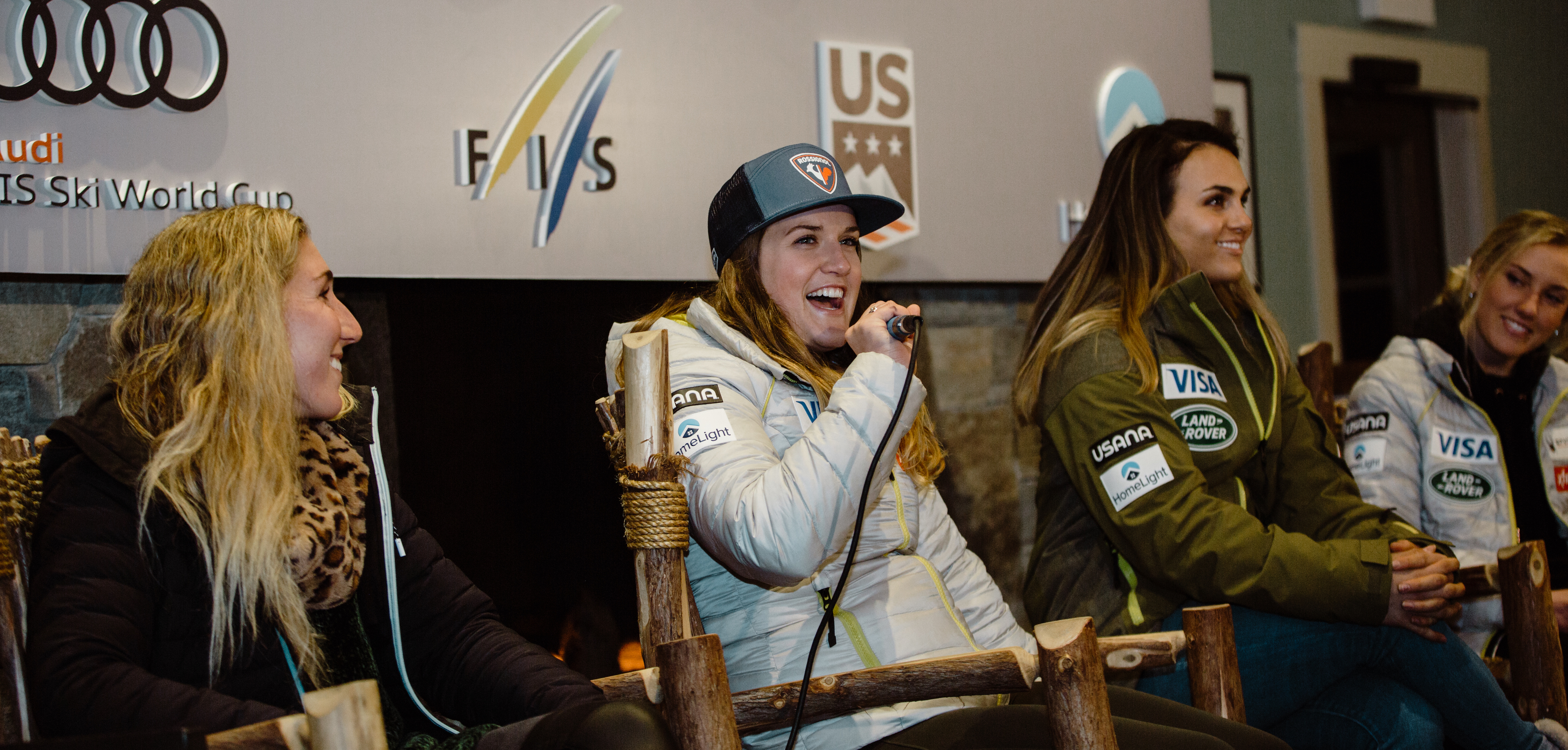 Collegiate skiing has a long and storied history in the United States, from the Dartmouth Outing Club hosting the country's first ski race on the slopes of Mt. Moosilauke in 1927 to Bob Beattie moving from CU to coach the National Team in 1961, and then starting the World Cup in 1967. Early Winter Olympic teams consisted almost entirely of collegiate athletes before the dawn of the World Cup and the professionalization of modern ski racing as we know it today. Tiger Shaw is an example from the 1980s of an athlete who was on the U.S. Ski Team, left the team to race D-1 for Dartmouth, and then made it back onto the National Team where he went on to have World Cup success and compete in the Olympics.
In the mid-1990s, college races became FIS sanctioned for the first time. This allowed college athletes to compete for their school while continuing to work on lowering their international FIS ranking. And with that connection to the international gold standard, athletes could also continue to compete in regional FIS races, NorAms, and even World Cups when their schedules allowed. As a result, college competition regained relevancy as a high-level circuit for athletes who still wished to compete at an elite level.
One of the early pioneers in legitimizing this new pathway was Thomas Vonn, a 2002 Olympian who was named to the National Team, dropped, and then returned to the U.S. Ski Team to ultimately score two top-15 results after dominating the NCAA circuit for a year at St. Lawrence in 1999. Jimmy Cochran, a 2006 and 2010 Olympian who had five career top-10 World Cup results, also paved the way from college to the U.S. Ski Team after competing in the NCAA ranks for Middlebury and UVM in the early 2000s. On the women's side, one of the biggest success stories has been Leanne Smith, who competed for UNH in 2006 before making the National Team and going on to achieve two World Cup podiums in her career. Dave Chodounsky later utilized the pathway from NCAA to the U.S. Ski Team in a whole new way, completing a four-year degree at Dartmouth in 2008 before forging a 10-year career with the National Team and earning eight top-10 World Cup results.
In recent years, the collegiate FIS-U circuit in the U.S. has become the highest level of domestic competition below the NorAm Cup. Many international athletes have recognized the opportunity to earn a top-notch education, sometimes even on scholarship, while continuing to ski race at a very high level. Combined with the opportunity to also attend NorAm races and score minimum FIS point results, the U.S. collegiate circuit has become an attractive option for athletes who have either not yet qualified for or did not achieve criteria to remain on their national teams. Leif Haugen, Roni Remme, Jonathan Nordbotten, Laurence St.-Germain, and Tanguy Nef are all recent international success stories who have spent time competing in the United States' collegiate ranks. Americans like Paula Moltzan have seized this opportunity too, making the leap to the U.S. Ski Team's B Team and achieving World Cup success during or after racing NCAA.
The U.S. Ski Team values the collegiate circuit for providing high-level competition increased domestic density, and an enduring pathway for athletes to continue to develop their skills in the sport of ski racing. Not only does it provide a bounce-back option for athletes like Thomas Vonn, and also Paula more recently, but also a development route for "late bloomers" like Jimmy Cochran and Dave Chodounsky. Moreover, collegiate racing has proven to be instrumental in inspiring a team mentality and long-term love of the sport for many of our best coaches and club leaders.
Still, collegiate skiing is not the World Cup. There are important benefits of college racing that the successful athletes all mention—having balance in their lives, skiing for a team, learning to perform consistently, and rekindling the passion for the sport. But it requires extraordinary desire and commitment to make the jump from the collegiate ranks to those of the World Cup. The international success stories have almost all been athletes who were identified early by their national team but fell off due to either poor performance, injury, or budget cuts. And then they fought tooth and nail to claw their way back to the top. Haugen, Remme, Nordbotten, St.-Germain, and Nef are all examples of this, and of athletes who missed consecutive weeks of school at a time to chase NorAm results and ultimately compete in Europe.
Many of our National Team athletes also appreciate the benefits of college even if they do not race NCAA. Over half of our adult alpine National Team members are currently enrolled in college, and we support them with up to $6,000 a year in tuition reimbursement. Tommy Ford did not race NCAA but has four terms remaining en route to a Dartmouth degree. He also has two World Cup podiums to date. Andrew Weibrecht has a Dartmouth degree, and two Olympic medals. Laurenne Ross just graduated from the University of Oregon this spring and has two World Cup podiums in her career so far. Nina O'Brien is already a junior at Dartmouth and on her way to graduating while still in the prime of her career. These are just a few of the many examples of athletes who are balancing the pursuit of higher education with a full-time World Cup schedule.
In recognition of our mutual interest, U.S. Ski & Snowboard works collaboratively with representatives from the two collegiate leagues, RMISA and EISA, to be transparent about NorAm and national calendar planning and the myriad considerations involved—including the needs of Canada and our resort partners, the National Team, and those of emerging development athletes. At the NorAm level, U.S. races are typically scheduled early-season in Colorado, where many teams are already training and within driving distance for most of the western schools, and mid-winter on the East Coast, where the majority of collegiate athletes attend school. The National Championships are scheduled to take place in the same side of the country as the NCAA Championships, to limit cross-country travel as much as possible.
Understanding the whole picture, from the value of high-level domestic collegiate competition to the cut-throat level of World Cup competition, the U.S. Ski Team also works with collegiate athletes to provide them with high-level exposure opportunities to spark their athletic development. Sam DuPratt (UU), Jett Seymour (DU), and Jimmy Krupka (DAR) are successful examples of recent collegiate D-1 athletes who worked closely with the U.S. Ski Team World Cup and Europa Cup teams to achieve impressive results in the last year and ultimately earn a berth on the National Team for next season. Katie Hensien is on the National Team but is also racing for DU. At the Development level, collegiate athletes are routinely invited to regional and national training projects to help foster their skillset and provide supplemental training opportunities outside of NCAA regulations.
While there is often negative commentary that pits the U.S. Ski Team against NCAA skiing, as well as a real difference between the level of collegiate and international competition, the two circuits have a long history of successfully working together. We will continue to seek ways to collaborate on a robust domestic collegiate racing series as well as provide a viable alternate pathway to the World Cup.
—Tiger Shaw, Jesse Hunt, and Chip Knight, U.S. Ski & Snowboard