Brennan Sixth in Dark, Cold Ruka Classic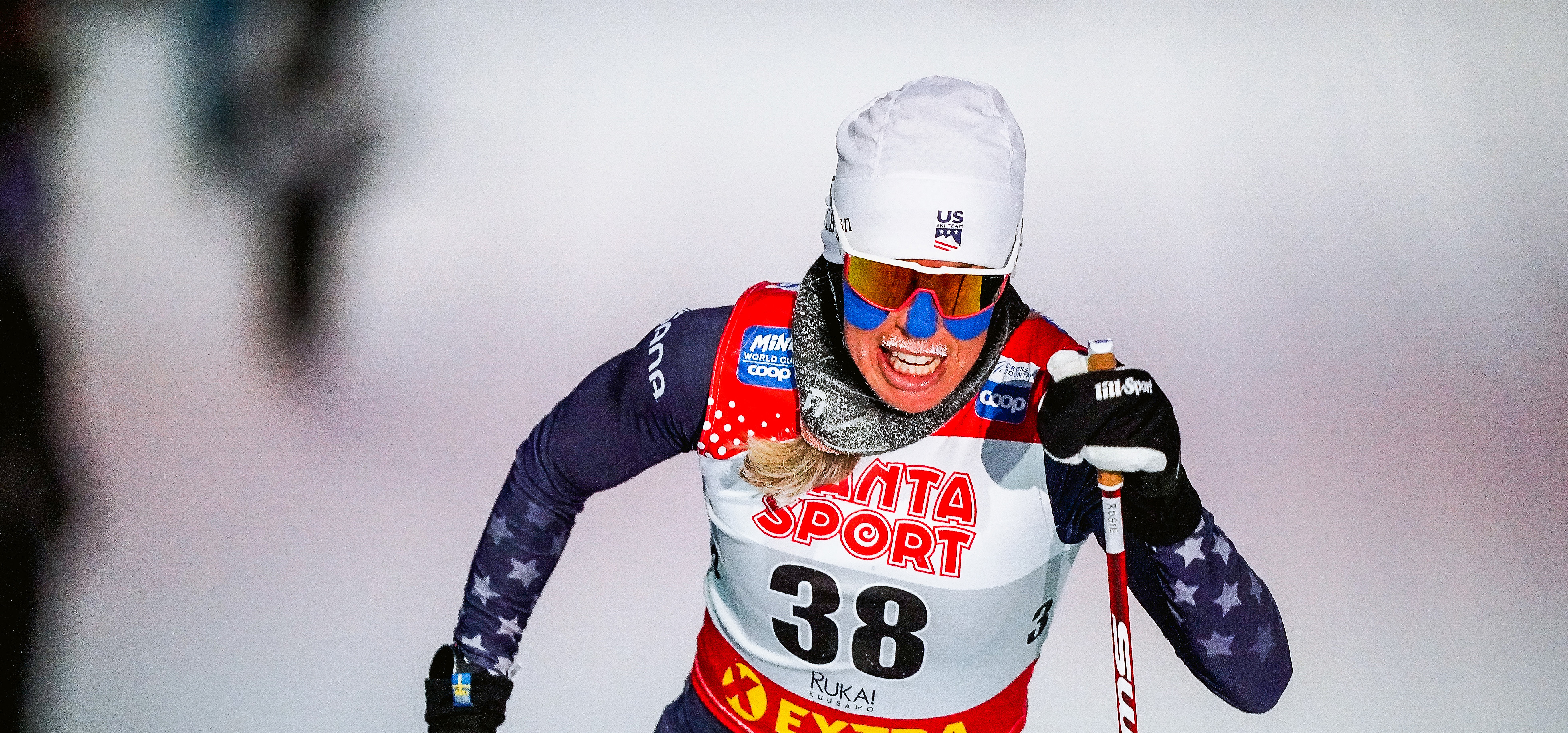 Racing under the late afternoon darkness, on cold, hard snow, Rosie Brennan put her head down, settled into a fast pace, and led the Davis U.S. Cross Country Team with a sixth-place finish in the women's FIS World Cup 10k classic in Ruka, Finland, Saturday.
Starting bib 38, Brennan settled into a comfortable pace and flirted with the podium at each interval, tickling fourth place at the 3.1k, 5k, and 6.1k marks. However, Sweden's Frida Karlsson, starting bib 52, lit up the dark sky to earn her second World Cup victory, and in the process, relegated the legendary Norwegian Therese Johaug into second place. Germany's Katharina Hennig was third.
"We had a solid morning of worrying about what layers to wear and how dark it was going to be," Brennan said. "All worked out in the end and I stayed warm out there and only had a few moments where it was truly too dark to see where I was going. I had really good skis and tried to just dig in and see where my body was at. I didn't quite have the extra push I needed in the end but stayed consistent and strong to hold on for a good result. I am really happy to be in the mix and to have a strong group to go chasing with tomorrow."
Among the other eight Americans, Jessie Diggins was 18th; Katharine Ogden 38th; Hailey Swirbul 41st; Caitlin Patterson 43rd; Novie McCabe made her World Cup debut finishing 53rd; Julia Kern was 55th, and Sophia Laukli was 61st.
"It was pretty good!" McCabe said of the World Cup debut. "For sure a bit overwhelming at times but luckily I always have great teammates around to point me in the right direction and I'm excited for tomorrow and the next few weekends over here!"
In the 15k classic men's race, Gus Schumacher was the top Davis U.S. Cross Country Team finisher, just missing the points in 32nd after rebounding from a slow start. Schumacher hit the 1.1k mark of the 15k race in 59th position. At the 5k mark, he moved up to 29th, and then 24th just past the midway point of the race. 
"I tend to do better when I hold it in at the start and keep my lap times more consistent, and that felt like it worked for me today," Schumacher said. "Generally, I felt like I had energy but didn't quite have the shape to push super hard yet. Excited for tomorrow, and looking forward to having some higher gears."
Finland's Iivo Niskanen won, followed by Russia's Alexey Chervotkin in second and Alexander Bolshunov in third. David Norris was 51st; Zanden McMullen finished 55th in his World Cup debut; Luke Jager was 60th; Ben Ogden 62nd; and Hunter Wonders in 67th.
"My performance wasn't as I would have hoped dealing with 'first race of the season sluggishness' and some side cramps on the last lap," McMullen said of his inaugural World Cup experience. "But nonetheless it was very cool racing right next to skiers I've watched on TV since I was in middle school - surreal experience to say the least. I even laughed a little on the very first downhill of the race out of awe being in a World Cup race! Overall today only made me more pumped for tomorrow knowing I have more in me!"
Racing concludes Sunday in Ruka with a 10k women's freestyle pursuit and a 15k men's freestyle pursuit.
RESULTS
Women's 10k Classic 
Men's 15k Classic
STANDINGS
Women's World Cup overall
Men's World Cup overall
Women's World Cup distance
Men's World Cup distance
FIS Cross Country World Cup
Ruka, Finland
Schedule/U.S. Starters
Sunday, Nov. 28
Men's 15k freestyle pursuit
Gus Schumacher

Hunter Wonders

Zanden McMullen

Ben Ogden

David Norris

Luke Jager
Women's 10k freestyle pursuit
Jessie Diggins

Rosie Brennan

Hailey Swirbul

Katharine Ogden

Sophia Laukli

Julia Kern

Novie McCabe

Caitlin Patterson
HOW TO WATCH 
All times EDT
Sunday, Nov. 28, 2021
4:20 a.m. FIS Cross Country World Cup Women's 10k Pursuit - LIVE,  Ruka, FIN, Streaming Peacock, Ski and Snowboard Live
6:30 a.m. FIS Cross Country World Cup Men's 15k Pursuit - LIVE,  Ruka, FIN, Streaming Peacock, Ski and Snowboard Live
Current television broadcast and streaming schedules for all sports are available here. 
Sport-specific broadcast and streaming schedules are available below:
Broadcast and streaming are updated on the U.S. Ski & Snowboard website throughout the season.
2021-22 FIS World Cup Schedule
2022 Olympic Winter Games Schedule
Follow the Davis U.S. Cross Country Team:
Instagram: @usskiteam
Facebook: @usskiandsnowboard
TikTok: @usskiandsnowboard
Twitter: @usskiteam