Brennan First Recipient of U.S. Nordic Olympic Women's Inga Award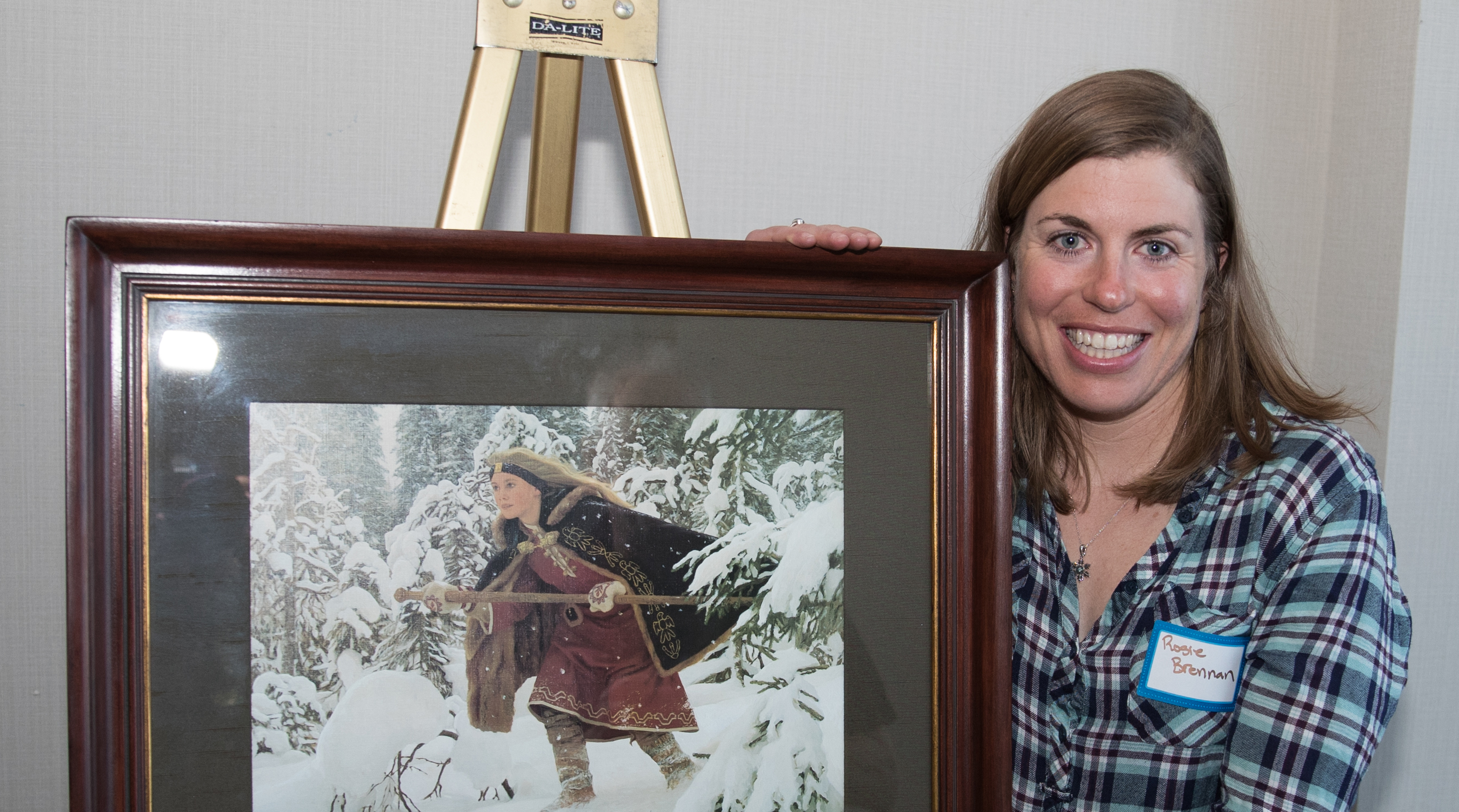 Since women's cross country skiing was added to the Olympic Winter Games in 1952, a passionate group of 50 American women have been named to Olympic teams since the U.S. began fielding teams in 1972. Those women have come together under the banner of U.S. Nordic Olympic Women (US NOW) to begin recognizing the stars of today with a new award. The Inga Award draws on noted cross country skiing heritage dating back to the 13th century.
The Inga Award is named in honor of Inga Varteig, the legendary mother of the Norwegian child prince Haakon IV who was carried to safety on cross country skis by Birkebeiner soldiers, known for their birch bark leggings, during a civil war in the winter of 1205-06. The first Inga Award was presented to Rosie Brennan (Park City, Utah/Alaska Pacific University Nordic Center) during the FIS World Cup Finals in Quebec City to close out the 2019 season. Brennan was honored during a reunion of women's Olympians.
Brennan had a career-best season coming back from a bout with mononucleosis that wreaked havoc with her a year earlier. She was a unanimous selection, being cited for her diligent and patient efforts working back from illness, showing courage, fortitude, grit, determination and raw talent to achieve an extremely high level of success on the international ski racing circuit this season.
"This is extremely special to me," said an emotional Brennan. "This group is incredibly accomplished and has been through so much.To be recognized by them is incredibly meaningful to me - it means much more than any race result could mean."
What's really cool is starting a plan to get this group together and recognizing the great history we have in women's skiing. A lot of it has been this perseverance spirit. Marty Hall came up with this idea of the Inga Award and presented it to Alison a year ago. We thought this should be a revolving tradition.
"As we thought about performances this year we right away honed in on Rosie," said recently-retired Olympic champion Kikkan Randall (Anchorage). "Rosie bounced back from frustration last year - having to change the way she came into the season not being on the national team, having to find support. "She really came through with some fantastic performances. That really embodies the Inga Award."
The legend of the Birkebeiners is well known across the sport of cross country skiing. The rescue of the child prince is re-created each year with the Birkebeiner Rennet between Lillehammer and Rena, Norway, and was the inspiration for American visionary Tony Wise when he started the American Birkebeiner in 1973.
Legend has it that the child prince was the son of Inga Varteig and King Haakon III, who died before the child's birth. During a brutal civil war between Bagler and Birkebeiner factions for control of Norway, Inga showed the courage and grit to entrust her baby boy to a group of Birkebeiner soldiers and to ski along with them during a brutal winter from Lillehammer over the mountains to safety. He went on to become one of Norway's most beloved kings.
The concept of the award came from Olympian Alison Owen Bradley, who won the very first FIS Cross Country World Cup in December, 1978. She presented a photograph of Inga from Varteig to U.S. Cross Country Ski Team coach Marty Hall to celebrate his induction into the U.S. Ski & Snowboard Hall of Fame in April, 2018.
"Marty played an enormous role in getting U.S. nordic women racing in international events and onto training programs that would make it possible to compete with the best women in the world," said Bradley. "The Inga Award represents the spirit and grit that our coach instilled in us."Hall was the U.S. head coach in the mid-70s, playing a significant role in the birth of the FIS World Cup and increased prominence for U.S. women on the international circuit.
Hall, his wife Kathy and Bradley established the basis of an award to continue honoring U.S. Nordic Olympic Women with the presentation of an Inga photograph, and monetary gift, each year. "Alison and the entire group of U.S. nordic women in the 70s were inspirational," said Hall. "This award will be a great way to bring together generations of skiers who keep that spirit alive."
Owen Bradley, a native of Wenatchee, Wash., made history winning a FIS World Cup in December, 1978 at the Telemark Ski Area in northern Wisconsin. Kikkan Randall (Anchorage) opened new doors winning three season-long World Cup sprint titles. Randall combined with Jessie Diggins (Afton, Minn.) to win Olympic gold in 2018. In the past decade, the depth of the U.S. women's program has expanded dramatically, with today's female stars very cognizant of their nordic roots dating back to the 1970s.
"I think it's so awesome that we can finally be able to more publicly recognize that women's cross country skiing didn't just pop up out of nowhere," said Olympic champion Jessie Diggins (Afton, Minn.). "All of these women paved the way for us. Their hard work and perseverance are why we get to be here today. Rosie winning the Inga Award is so well deserved."
Around 30 of the 50 Olympians attended the first reunion, where they watched current stars like Diggins and Sadie Bjornsen (Winthrop, Wash.). Leading into the 2018 Olympics, U.S. coach Matt Whitcomb organized a project where current team athletes reached out to those of the past to develop a sense of history. So for the current team, it was an opportunity to get face-to-face with their own heroes of the past.
 
U.S. NORDIC OLYMPIC WOMEN
Listing of all U.S. women who have competed in Olympic Winter Games
Morgan Arritola, 2010, Bend, Ore./Ketchum, Ida., Sun Valley Ski Education Foundation
Leslie Bancroft-Krichko, 1980, 1988, Paris, Maine, Oxford Hills High School/Univ. of Vermont
Tessa Benoit, 2002, South Pomfret, Vt., Mansfield Nordic Club/Univ. of Vermont
Sadie Bjornsen, 2014, 2018, Winthrop, Wash., Alaska Pacific University Nordic Ski Center
Rosie Brennan, 2018, Park City, Utah, Alaska Pacific University Nordic Ski Center
Barbara Britch, 1972, Anchorage, Nordic Ski Club of Anchorage
Holly Brooks, 2010, 2014, Redmond, Wash., Alaska Pacific University Nordic Ski Center
Ingrid Butts, 1992, 1994, Denver, Crested Butte Nordic Council
Sophie Caldwell, 2014, 2018, Peru, Vt., Stratton Mountain School
Caitlin Compton Gregg, 2010, Duxbury, Vt.
Dorcas DenHartog-Wonsavage, 1988, 1992, 1994, Hanover, N.H., Ford Sayre Ski Club
Jessie Diggins, 2014, 2018, Afton, Minn., Stillwater High School/Stratton Mountain School
Rebecca Dussault, 2006, Gunnison, Colo.
Nancy Fiddler, 1988, 1992, Schenectady, N.Y., Bates College
Sue Forbes, 1992, Fairbanks, Alaska
Rosie Frankowski, 2018, Minneapolis, Alaska Pacific University Nordic Ski Center
Betsy Haines, 1980, Anchorage, Nordic Ski Club of Anchorage
Twila Hinkle, 1976, Denver, Summit Nordic Ski Club
Jana Hlavaty, 1976, Keystone, Colo.
Trina Hosmer, 1972, Watertown, N.Y., Kongsberg Ski Club
Kristina Joder, 2002, Springfield, Vt., Mansfield Nordic Club
Barb Jones, 2002, Stillwater, Minn., St. Paul Central/Dartmouth College
Nina Kemppel, 1992, 1994, 1998, 2002, Anchorage,  Alaska Pacific University Nordic Ski Center
Suzanne King, 1994, 1998, Bend, Ore.
Sarah Konrad, 2006, Hanover, N.H., Dartmouth College
Abby Larson, 2006, Saint Paul, Minn.
Susan Long, 1984, Mountain Lakes, N.J., Stratton Mountain School/Middlebury College
Margie Mahoney, 1972, 1976, Anchorage, Nordic Ski Club of Anchorage
Laura McCabe, 1994, 1998, Bozeman, Montana
Kelly Milligan, 1984, Livingston, Montana
Alison Owen, 1972, 1980, Wenatchee, Wash.
Caitlin Patterson, 2018, McCall, Ida., Univ. of Vermont / Craftsbury Green Racing Project
Beth Paxson, 1980, Burlington, Vt.
Aelin Peterson , 2002, Unalakleet, Alaska, Nordic Ski Club of Fairbanks
Karen Petty, 1994, 1998, Townshend, Vt.
Terry Porter, 1976, Cambridge, Mass.
Judy Rabinowitz, 1984, Fairbanks, Alaska, Harvard University
Kikkan Randall, 2002, 2006, 2010, 2014, 2018, Anchorage, Alaska Pacific University Nordic Ski Center
Martha Rockwell, 1972, 1976, Putney, Vt., Putney Ski Club
Patricia Ross, 1984, Middlebury, Vt., Univ. of New Hampshire
Ida Sargent, 2014, 2018, Barton, Vt., Craftsbury Green
Liz Stephen, 2010, 2014, 2018, East Montpelier, Vt., Burke Mountain Academy
Leslie Thompson, 1988, 1992, 1994, Stowe, Vt., Stratton Mountain School/Dartmouth College
Lynn von der Heide-Spencer-Galanes, 1976, 1980, 1984, Anchorage, Nordic Ski Club of Anchorage
Wendy Wagner, 2002, 2006, Park City, Utah, Western State College
Lindsey Weier, 2006, Saint Paul, Minn., Minneapolis Ski Club
Brenda White, 1992, Burlington, Vt., Univ. of Vermont
Lindsay Williams, 2006, Saint Paul, Minn., Northern Michigan University
Laura Wilson, 1994, 1998, Montpelier, Vt., Sun Valley Ski Club/University of Vermont
Betsy Youngman, 1988, 1992 , Cleveland, Ohio, Bowdoin College