Brennan 7th in Tour de Ski Stage Two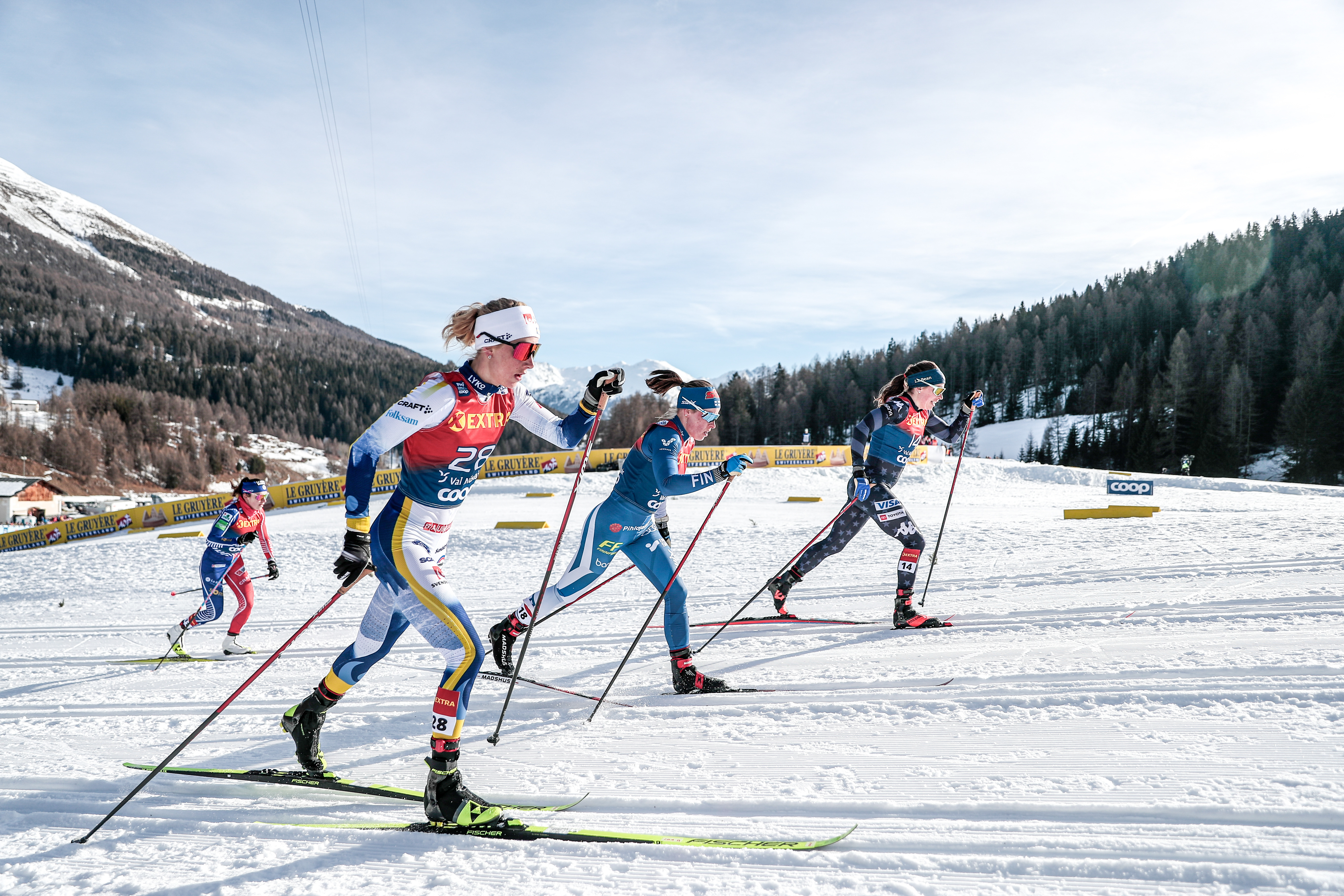 Rosie Brennan led the U.S. Cross Country Ski Team in the second stage of the Tour de Ski in Val Mustair, Switzerland, taking seventh place in the 10k classic pursuit. Ben Ogden was the top U.S. man in 18th place.
"I had a strong race today," Brennan said in a post-race interview. "I'm not sure I've ever done a pursuit start after a sprint so I wasn't sure how that would unfold especially on a short 2.5km at altitude with very gradual climbing. The altitude and gradual climbing played to my strength and I was able to settle into a steady pace and pick people off. I made up some good ground early but in the later part of the race, the leaders turned it up a notch so my overall time didn't make up quite as much ground as I had hoped but there were lots of good signs and a race I am very happy with."
Julia Kern continued her strong showing at the Tour, snagging 12th, and Jessie Diggins was 30th. Rounding out the women, Sophia Laukli was 50th and Alayna Sonnesyn 53rd.
Behind Ogden, Hunter Wonders was 53rd, Zak Ketterson 57th, Scott Patterson 59th, Gus Schumacher 62nd, Finn O'Connell 70th, Kevin Bolger 85th and JC Schoonmaker 88th.
The Tour de Ski now packs up to head to Germany, for a 10k classic and a 20k skate pursuit in Oberstdorf. The stage race continues on Tuesday, Jan. 3.
Tour de Ski Explained
The Tour de Ski is back! Each year, to begin period two of the FIS Cross Country World Cup circuit, a grueling race series takes athletes to three countries in less than ten days and includes seven different races. Based on the format of the Tour de France bike series, the Tour de Ski spans nine days, with seven stages of the competition and the overall winner dawns the yellow bib. 
For the past few years, the Tour de Ski has begun in Switzerland and historically concludes less than 10 days later with the infamous final climb up the Italian slope of Alpe Cermis. While the Tour de Ski races are considered FIS Cross Country World Cups with the standard point scoring system, the overall standings are decided based on time. But, the week is not just focused on individual performances - there is a team angle too. The best times of the two best athletes per gender, per country, are added together for the team competition. 
In 2020, Jessie Diggins won the Tour. Proving herself to be an all-around skier, winning in both sprint and distance races, Diggins is looking forward to the week but taking it one race at a time. After her 40th-place result in stage one, Diggins is only looking forward. "I think it's important to realize you don't know what is going to happen in every race. But now, I am going to focus on rest, recovery, food, hydration and all the things that are important in having a good Tour," said Diggins, post-race. "I am going to focus on moving forward and am excited for the 10k tomorrow!" 
As the rules state, if an athlete does not start or complete a race, they are eliminated from the Tour. For the U.S. team, five women and eight men will compete throughout the week.
Women
Jessie Diggins
Rosie Brennan
Julia Kern
Sophia Laukli
Alayna Sonnesyn
Men
Ben Ogden
JC Schoonmaker
Scott Patterson
Hunter Wonders
Zak Ketterson
Gus Schumacher
Kevin Bolger
Finn O'Connell
RESULTS
Women's 10k classic pursuit
Men's 10k classic pursuit
TOUR DE SKI SCHEDULE 
Val Müstair, Switzerland 
Stage 1 - Saturday, Dec. 31, 2022: 1.5k freestyle sprint
Stage 2 - Sunday, Jan. 1, 2023: 10k classic pursuit 
Oberstdorf, Germany
Stage 3: Tuesday, Jan. 3, 2023: 10k classic interval start
Stage 4: Wednesday, Jan. 4, 2023: 20k freestyle pursuit 
Val di Fiemme, Italy 
Stage 5: Friday, Jan. 6, 2023: 1.5k classic sprint
Stage 6: Saturday, Jan. 7, 2023: 15k classic mass start 
Stage 7: Sunday, Jan 8, 2023: 10k freestyle final climb mass start 
HOW TO WATCH
All races will be LIVE with commentary on skiandsnowboard.live. 
Stage 3, Tuesday, Jan. 3, 2023
5:45 a.m. FIS Cross Country World Cup, Tour de Ski, 10k Classic Interval Start, men's, Oberstdorf, Germany, streaming on skiandsnowboard.live
8:45 a.m. FIS Cross Country World Cup, Tour de Ski, 10k Classic Interval Start, women's, Oberstdorf, Germany,  streaming on skiandsnowboard.live
Stage 4, Wednesday, Jan. 4, 2023
5:15 a.m. FIS Cross Country World Cup, Tour de Ski, 20k Skate Pursuit, men's, Oberstdorf, Germany, streaming on skiandsnowboard.live
8:15 a.m. FIS Cross Country World Cup, Tour de Ski, 20k Skate Pursuit, women's, Oberstdorf, Germany,  streaming on skiandsnowboard.live
Stage 5, Friday, Jan. 6, 2023
4:00 a.m. FIS Cross Country World Cup, Tour de Ski, 1.5k Classic Sprint, men's and women's, qualifiers, Val di Fiemme, Italy, streaming on skiandsnowboard.live
6:30 a.m. FIS Cross Country World Cup, Tour de Ski, 1.5k Classic Sprint, men's and women's, finals, Val di Fiemme, Italy, streaming on skiandsnowboard.live
Stage 6, Saturday, Jan. 7, 2023
5:45 a.m. FIS Cross Country World Cup, Tour de Ski, 15k Skate Mass Start, Women's, Val di Fiemme, Italy, streaming on skiandsnowboard.live
7:30 a.m. FIS Cross Country World Cup, Tour de Ski, 15k Skate Mass Start, Men's, Val di Fiemme, Italy, streaming on skiandsnowboard.live
Stage 7, Sunday, Jan. 8, 2023
5:00 a.m. FIS Cross Country World Cup, Tour de Ski, 10k Skate Mass Start Final Climb, Women's, Val di Fiemme, Italy, streaming on skiandsnowboard.live
6:45 a.m. FIS Cross Country World Cup, Tour de Ski, 10k Skate Mass Start Final Climb, Men's, Val di Fiemme, Italy, streaming on skiandsnowboard.live