Bjornsen 10th, Caldwell 11th in Falun Freestyle Sprint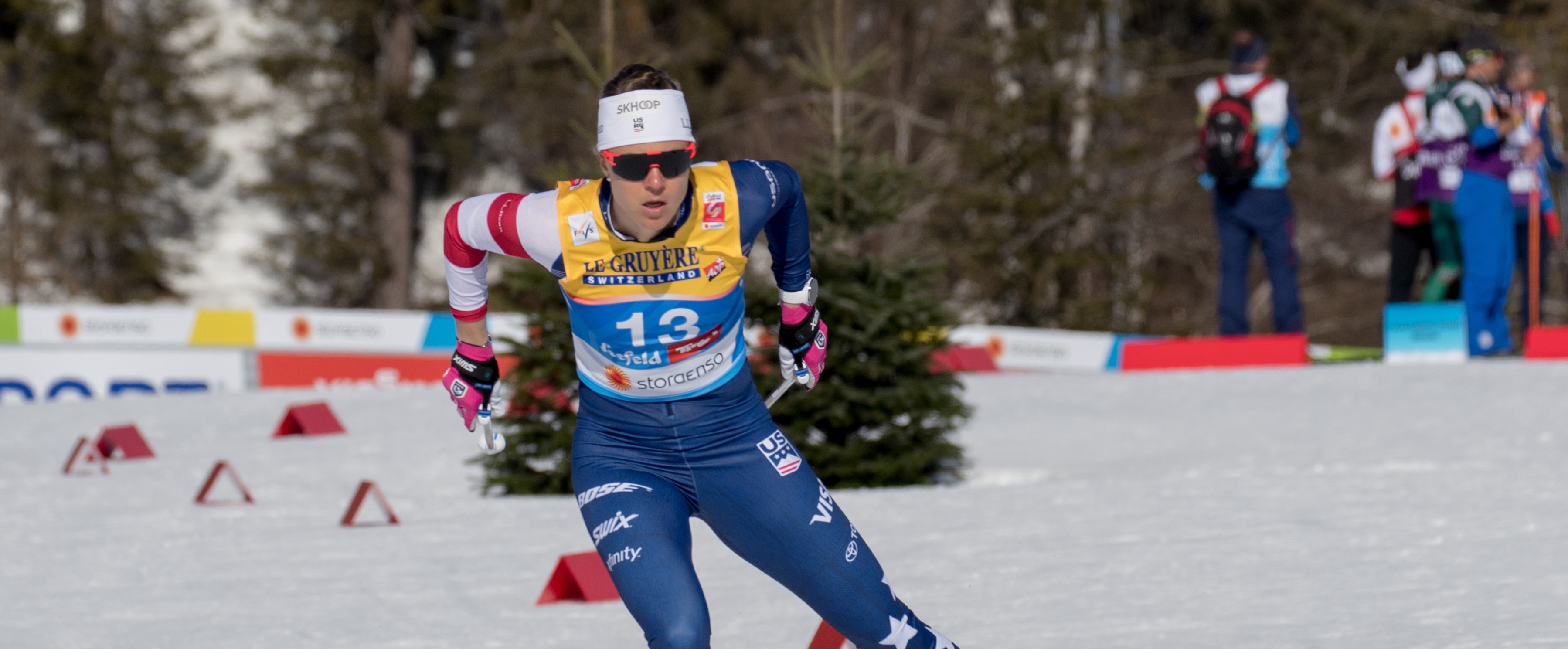 Sadie Bjornsen (Winthrop, Wash.) skied to a 10th-place finish, and Sophie Caldwell finished 11th, in the FIS Cross Country World Cup freestyle sprint in Falun, Sweden, Saturday.
Bjornsen, who had the fourth-fastest qualifying time, came into the event with optimal fitness heading into the finals races of the season.  Also qualifying for the heats were Sophie Caldwell (Peru, Vt.) in 14th, Jessie Diggins (Afton, Minn.) in 21st.
"It was one heck of a tricky sprint race out there today," said Bjornsen. "With tough snow conditions, course time was limited, which made for some interesting snow. Deep and punchy! My qualifier was a fun surprise and made me feel really good about my fitness right now."
There were many crashes on the downhill sections on a rapidly deteriorating track.  Diggins, considered one of the stronger downhill skiers, was leading her quarterfinal heat when she fell.  Caldwell also fell in her semifinal heat.
"My quarter-finals worked out perfect, and I felt great about my tactics and skills on the course," continued Bjornsen. "As I took off for the semi finals, the snow had started to refreeze, so it was unbelievably tricky skiing. I had myself in a perfect position leading over the top of the first climb and came out of the corner ready to fire away. Unfortunately, the Slovenian stepped on my ski, and I went down briefly. The stop, go, gave me enough of a flood in my legs that I wasn't able to make the gap back up."
The women's race was won by Stina Nilsson of Sweden, with Maiken Caspersen Falla of Norway in second and Maja Dahlqvist of Sweden in third.
Two U.S. men qualified for the heats with Simi Hamilton (Aspen, Colo.) in 16th, Kevin Bolger (Sun Valley, Idaho) in 26th.  Neither advanced past the quarterfinals. Norway swept the podium Johannes Hoesflot Klaebo of Norway in first, followed by Emil Iversen and Sindre Bjoernestad Skar.
The World Cup continues Sunday with a men's 15k freestyle and a women's 10k freestyle before heading to Quebec City, Canada, next weekend for the World Cup Finals
RESULTS
Men's Sprint Finals
Women's Sprint Finals
HOW TO WATCH
All times EST
*Same-day broadcast
Sunday, March 17
6:30 a.m. - Women's 10k - Falun, SWE - OlympicChannel.com & NBC Sports Gold
9:30 a.m. - Men's 15k - Falun, SWE - OlympicChannel.com & NBC Sports Gold
1:00 p.m. - Women's 15k - Falun, SWE - Olympic Channel-TV*
All streams are available via desktop (NBCSports.com/Live, NBCSports.com/Gold and OlympicChannel.com) as well as mobile, tablet and connected television platforms. The NBC Sports app, NBC Sports Gold app and Olympic Channel app are available on the iTunes App Store, Google Play, Windows Store, Roku Channel Store, Apple TV and Amazon Fire. Exclusive commercial-free coverage will be available for subscribers of the NBC Sports Gold Pass.