APU Wins SuperTour Mixed Relay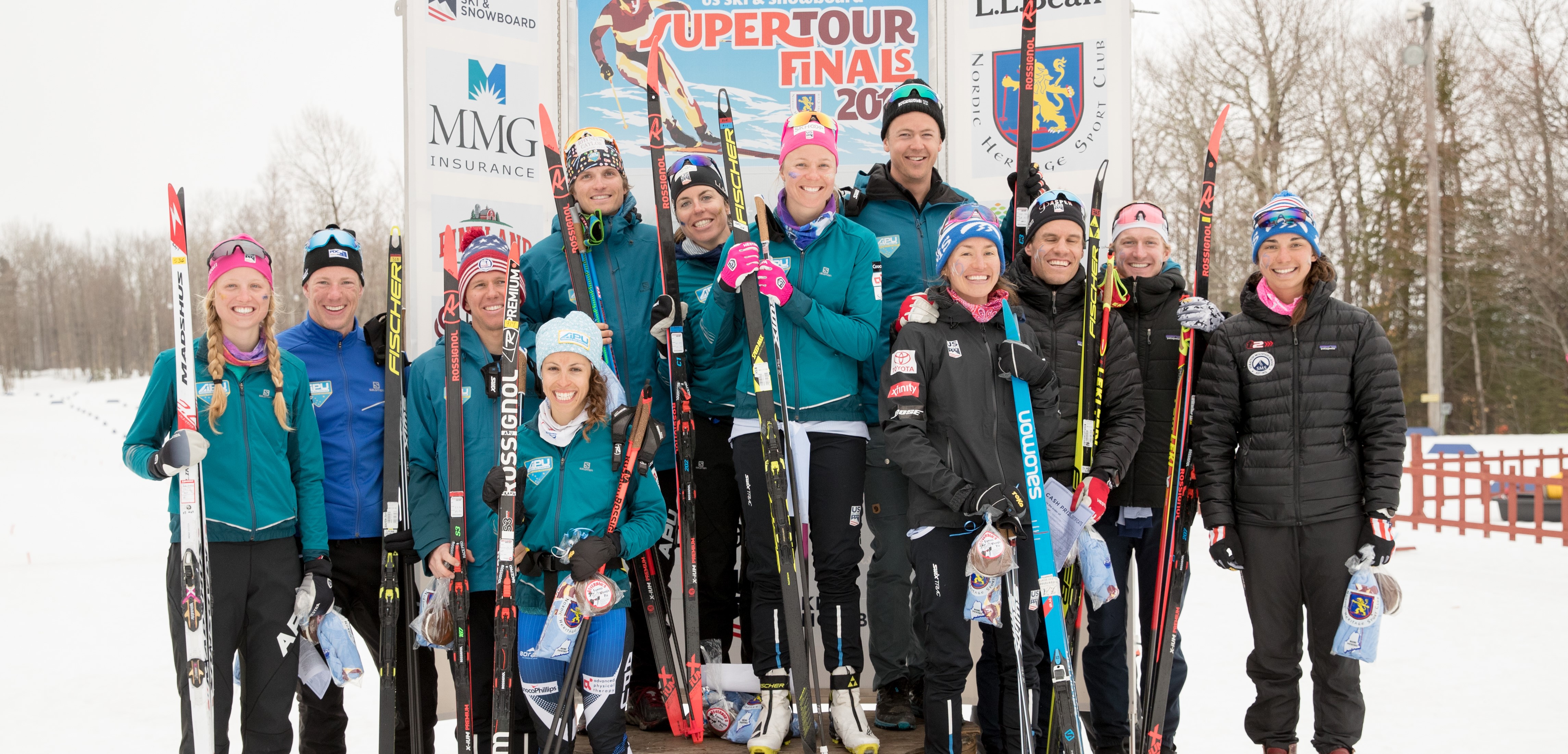 After a two-year drought, the APU team of Rosie Brennan (Park City, Utah), Eirk Bjornsen (Winthrop, Wash.), Sadie Bjornsen (Winthrop, Wash.), and David Norris (Fairbanks, Alaska) took the the mixed relay win at the L.L. Bean U.S. Nationals in Presque Isle, Maine. Considered by the athletes as the most important events, the relay did not disappoint, and APU went out charging from the gun.
While basking in the glow of a great win, the team members had this to say:
Sadie Bjornsen – "We had to really attack in all the legs and Stratton is a very dominant team as shown in the last two years, but this is always a fun event because it is so competitive. It looked like with this headwind it was going to be hard to do much damage, but thanks to Erik for changing that."
Erik Bjornsen – "We are all good friend between Stratton and APU and a lot of us are on the national team and train together, but you show up to the race today and you just glare at those guys and you want to beat them. They are not our friends today."
Rosie Brennan – "I had a small mishap, it was challenging out there and I just tired to stay as close as possible so Erik could do his thing."
David Norris – "It was great for Sadie to tag off with such a gap and I tried to ski steady and just enjoy the lead."
SMS T2 finished second with a team of Sophie Caldwell (Peru, Vt.) Kyle Bratrud (Eden Prairie, Minn.), Julia Kern (Waltham, Mass.) and Simi Hamilton (Apen, Colo.)
"It was a great day for our team, I think we all skied really strong legs, so to be second was a great accomplishment," said Caldwell.
The battle for third shaped up between APU 2 (Hailey Swirbul, Scott Patterson, Rosie Frankowski and Logan Hanneman) and Craftsbury Green Racing Project (Ida Sargent, Ben Lustgarten, Caitlin Patterson and Akeo Maifeld-Carucci) with the final podium position going to APU 2.
Skiing anchor leg was Hanneman who had this to say, "I led the first half of the first lap and then Akeo passed me. I didn't have much in the tank, so I was happy to let him lead. On the second lap we saw the Thunder Bay guy coming so Akeo went a little harder, and then on the big hill I went really hard and passed him coming into the rollers before the finish. I was just focused on getting on the podium."
The event has a well deserved day off Monday leading into the Men's 50k and Women's 30k National Championship on Tuesday to end the competition.
RESULTS