Americans Look to Learn from World Champs Dual Moguls for World Cup Finals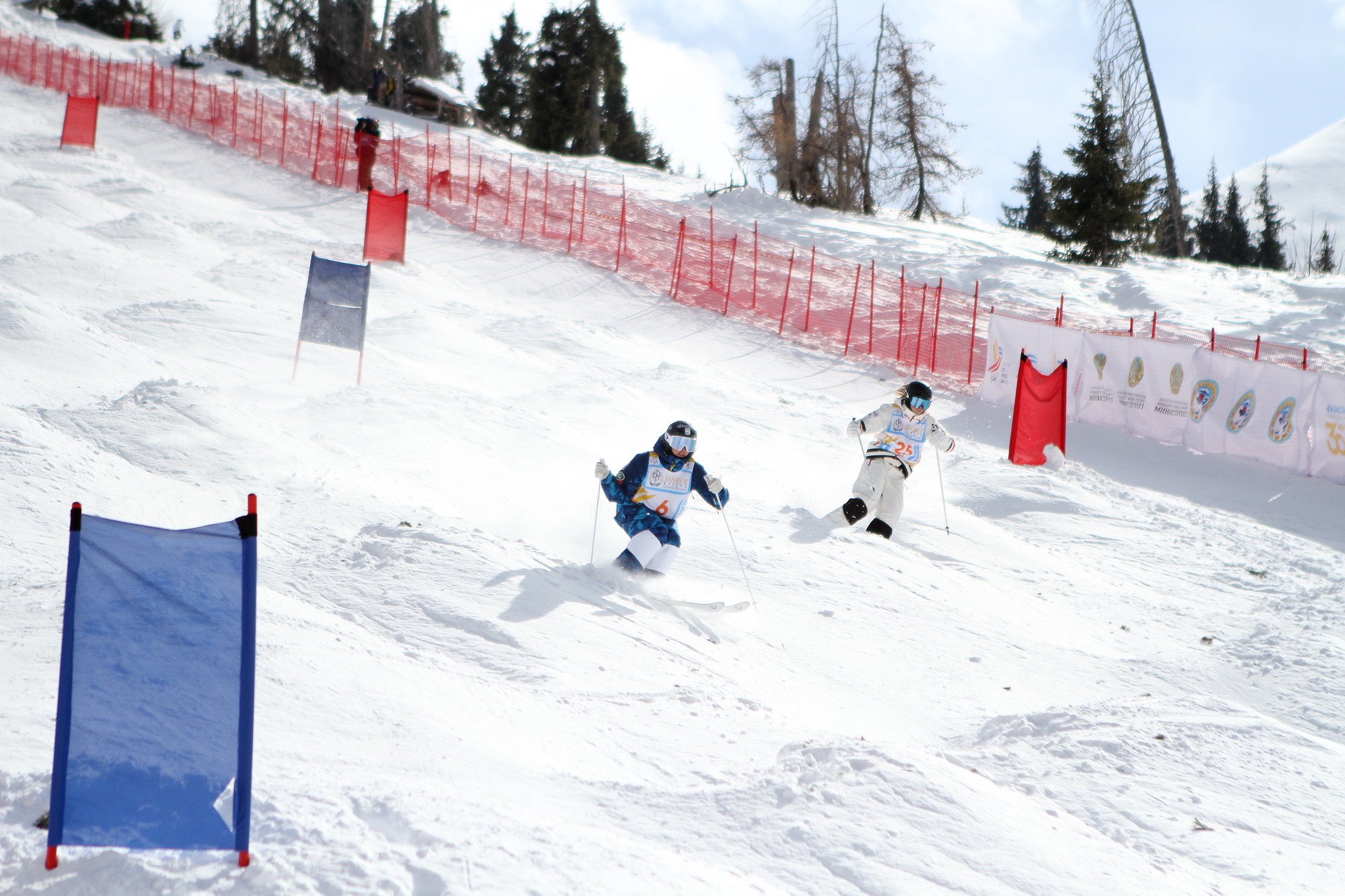 Tuesday's dual moguls competition at the FIS Freestyle World Championships in Almaty, Kazakhstan started out as a promising day for the Americans coming out of qualifiers. Four American women and two American men moved into the finals ready to compete for a chance to appear on the podium in their last competition prior to World Finals this weekend. 
Jaelin Kauf and Kai Owens were eliminated in the round of eight after close duals, as were Brad Wilson and Nick Page. Hannah Soar and Tess Johnson were able to move on to the quarter-finals. Despite throwing air packages equal to their competition, a few minuscule mistakes prevented the athletes from advancing into the big or small finals as they had hoped.
"Everybody set themselves up beautifully," commented Head Coach Matt Gnoza. "Going into the finals we had some great skiing in the qualifiers by the entire team. But duals took over at that point. Dual moguls is competitor versus competitor, and it came down to cleanliness today. We made some small mistakes exiting our jumps or some little baubles going into jumps, and it was the little things that added up to the victories today that just wasn't in the cards for us." 
At the end of the day, Anastasiia Smirnova and Viktoriia Lazarenko of Russia walked away gold and silver for the women. Anastasslya Gorodko finished with the bronze on home soil. Canada's Mikael Kingsbury conquered Australia's Matt Graham in the men's big final to take gold, while Japan's Ikuma Horishima beat out Canada's Brenden Kelly in the small final for bronze. 
Johnson had the best result of the day finishing fifth overall, followed by Soar in sixth, Owens in 10th, and Kauf in 12th. Wilson had the best result for the men, finishing in ninth, followed by Page in 10th, Dylan Walczyk in 18th, and Alex Lewis in 31st.
"These past two days have been pretty disappointing results-wise, but when I take a step back and look at the skiing I did, I'm actually really proud of myself," said Johnson. "This sport can be tough sometimes; it can be hard to separate results from performance, but at the end of the day, I put down some really good runs and that's worth celebrating!"
Gnoza acknowledged that experiencing some tough competition was important for the team headed into 2022. For athletes like Soar, Owens, Page, and Alex Lewis (eliminated in the round of 32), the opportunity to experience their first World Championships alongside veteran teammates like Wilson, Kauf, and Johnson is a priceless experience headed into an Olympic year, he said.
"The team is definitely looking forward to finishing strong in the World Cup finals," added Gnoza. "We'll take a couple of days off here in Kazahkstan and then return to training on Friday and Saturday and try and bring it again on Sunday. We know we're in the game. We know the athletes are capable of getting out there and getting the job done. And they'll rise to the occasion here, that's for sure."
RESULTS