2022 Masters Regional and National Championship Event Programs Now Available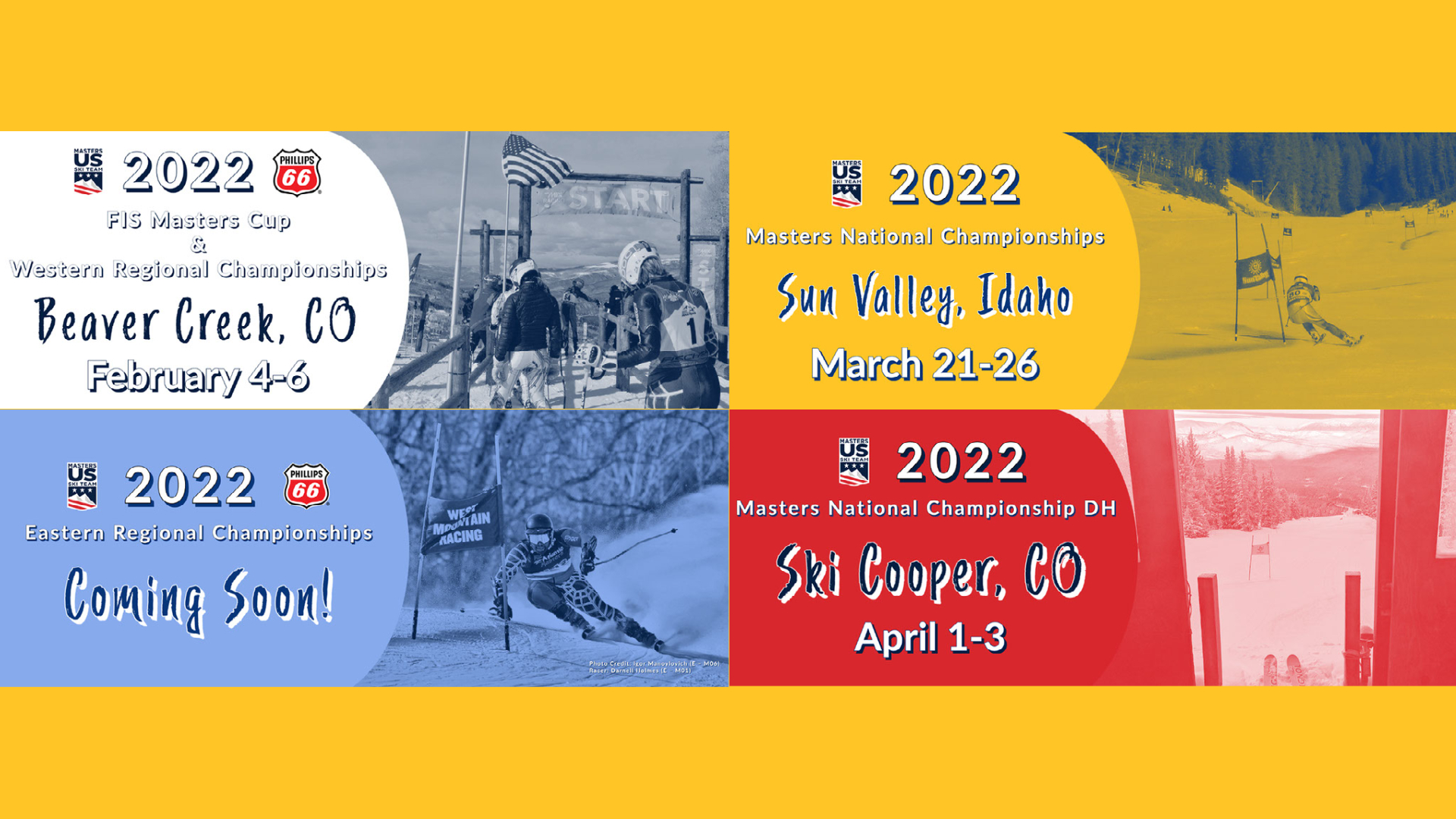 We are excited to announce the dates, locations, and information for several of the major events for the 2022 season! Be sure to book your lodging as soon as possible - after last season theres a lot of people booking early to make up for lost trips last year. See the Masters Events and Schedules Page of click on the event programs for full details for each event! We'll post information for the Eastern Regional Championships as soon as it becomes available!
We're excited to check out a new venue for the FIS Masters Cup. The Rocky Division has been racing there for many years and can't wait to share this awesome venue and race crew with you! Nationals will be back at Sun Valley - a favorite venue who last hosted the National Championships in 2015. Then we'll be off to Ski Cooper for the National Downhill - a master friendly course great for all abilities but a tricky one to master with bumps and rollers throughout.

Event Program  Registration (opens 12/1) 
  Mar. 21     GS/SL training
  Mar. 22     GS/SL training
  Mar. 23     Super G A/B Groups, Alpine Combined*  C/D Groups
  Mar. 24     Super G C/D Groups, Alpine Combined* A/B Groups
  Mar. 25     A/B Slalom, C/D Giant Slalom
  Mar. 26     A/B Giant Slalom, C/D Slalom
*Alpine Combined is 1-run SG followed by 1-run SL.

  Mar. 31  DH Camp
  Apr. 1     2DH Training Runs
  Apr. 2     2DH Training Runs
  Apr. 3     2DH Races (both count for National Speed Series)
                      DH1 National Championship DH
                      DH2 Rocky Division DH

Beaver Creek, CO is excited to host the 2022 Phillips 66 FIS Masters Cup/Western Regional Championships! The racing and the free-skiing are fantastic! 
Event Program  Registration (opens 12/1) 
  Feb. 3     SG training tentative (9am-12pm)/venue open to public in afternoon
                 Check-in 4-6PM at the Avon Comfort Inn (also on race morning 7-8AM)
  Feb. 4     2SG
  Feb. 5     2 one-run GS
  Feb. 6     SL