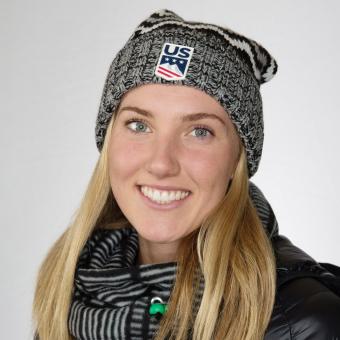 Nina O'Brien
Six-Time National Champion
As a 17-year-old National Training Group (NTG) athlete in 2015, Nina O'Brien wowed the crowd when she snagged the national title in giant slalom ahead of U.S. Ski Team member Paula Moltzan and veteran Megan McJames at U.S. Alpine Championships in Sugarloaf, Maine.
In 2016, O'Brien had a strong and consistent NorAm season, finishing fifth overall in the Cup standings. Add to that a top-15 finish in the alpine combined at Junior World Championships in Sochi, Russia. During the 2017 season, O'Brien had her debut World Cup start at the Beast of the East in Killington, Vermont. Having gone to Burke Mountain Academy in Vermont, she loved skiing in front of 30,000+ east coast fans, hungry for ski racing.
In 2018, O'Brien was a mainstay on the World Cup circuit, but really had her "arrival" on the NorAM circuit, where she was second in the NorAM overall standings, second in super-G standings, fifth in slalom, sixth in downhill and eighth in giant slalom. She closed the season with a double national title—in both super-G and slalom—at Sun Valley, Idaho.
A student at Dartmouth in the spring with close friends and teammates Alice Merryweather and Tricia Mangan—who also recently started a column in Ski Racing with Nina—O'Brien has set herself up for a bright future...both on and off the mountain.
Results
WORLD CHAMPIONSHIPS 
Teams: 2019
28th, GS, Are, SWE
34th, SL, Are, SWE
WORLD CUP
26th, GS, Kronplatz, ITA, 2019
23rd, SL, Killington, Vermont, 2018 (First World Cup Points)
First World Cup Start - GS, Killington, Vt., Nov. 26, 2016

NORAM
1st, Overall, 2019
1st, SL, 2019
1st, GS, 2019
1st, SG, 2019
2nd, Overall, 2018
2nd, SG, 2018
2nd, Overall, 2017
1st, AC, 2017
2, SG, 2017
3rd, SL, 2017
5th, Overall, 2016
U.S. ALPINE CHAMPIONSHIPS
1st, SG, Sugarloaf, Maine, 2019
1st, AC, Sugarloaf, Maine, 2019
1st, PSL, Waterville Valley, 2019
1st, SL, Sun Valley, Idaho, 2018
1st, SG, Sun Valley, Idaho, 2018
1st, GS, Sugarloaf, Maine, 2015

OTHER
12th, AC, Junior World Championships, Sochi, RUS, 2016
2x World Junior Championships team member (15-16)
World Cup debut, Nov. 26, 2016 Killington, Vt. (48th GS run 1)