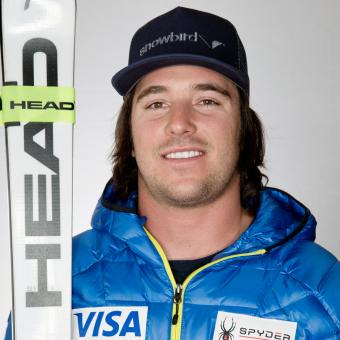 Without the bottomless powder at Snowbird, Jared Goldberg would not be a member of the U.S. Ski Team. "Well, I certainly wouldn't be a ski racer, that's for sure," he says. But by age 14 he was invested and it didn't take long for that to turn into racing at the elite level. 
The 2014 Olympic season could easily be described as a breakout year for Goldberg. In addition to making his first Olympic team, where he finished 11th in the alpine combined and 19th in giant slalom, Goldberg also notched solid World Cup numbers. Try 12th in the famed Lauberhorn downhill in Wengen and 11th in the Kitzbuehel combined. 
Beginning in the 2015 season, Goldberg showed consistency on the World Cup circuit, finishing regularly in the top 30. After sustaining a torn Achilles in the spring of 2016, Goldberg had a strong comeback year in 2017 and started the 2018 season off even stronger, grabbing ninth on the Saslong in Val Gardena's classic downhill, and three more top 20 results in Bormio and Wengen. 
FIRST TRACKS
Born in "Bean Town," Goldberg learned to ski at Killington, VT before his family moved to Utah when he was four. From then on it was all about free skiing at Snowbird. "I started racing when I was six," he said, "but we had so much snow that year, I mostly skied powder all winter." At 17 he joined Team Flow and started dialing the gates, eventually earning his first run on the U.S. Ski Team in 2010 with a berth on the U.S. Development Team.
OFF THE SNOW
Goldberg plays a ton of different instruments, mostly stringed. He travels all season with a ukulele and harmonica, but hopes to add a banjo and sitar to the collection. Also a big fan of tackling other activities on and off the mountain, like mountain biking and surfing. Goldberg's favorite break is Trestles in SoCal, and he enjoys time in Maui.
 
Team Info
Snowbird Sports Education Foundation
2014 Sochi
2018 Pyeongchang
Results
OLYMPICS
11th, SC, Sochi, 2014
19th, GS, Sochi, 2014
20th, DH, Pyeongchang, KOR, 2018
36th, AC, Pyeongchang, KOR, 2018
WORLD CUP
9th, DH, Kvitfjell, NOR, 2019
15th, AC, Bormio, ITA, 2017
9th, DH, Val Gardena, ITA, 2017
12th, AC, Wengen, SUI, 2016
Three top-20 finishes, 2016
15th, DH, Kvitfjell, NOR, 2015
14th, AC, Wengen, SUI, 2015
Multiple top-20s, 15th in SC standings, 2014
First points, 30th, SG, Beaver Creek, CO, 2012
Debut, SG, Lake Louise, CAN, 2012
WORLD CHAMPIONSHIPS
Teams: 2015, 2017
29th, AC, Vail/Beaver Creek, USA, 2015
3rd fastest DH run, AC, Vail/Beaver Creek, USA, 2015
20th, DH, Vail/Beaver Creek, USA, 2015
U.S. CHAMPIONSHIPS TITLES
2013, DH, Copper Mountain, CO
OTHER
3rd in GS at U.S. Championships, 2014
2nd in SG at U.S. Championships, 2013
3rd in SG at U.S. Championships, 2012
2nd Junior in 2011 U.S. Championships downhill
3rd Junior in 2011 U.S. Championships giant slalom
2010 U.S. Junior combined champion
Member of 2010 Junior World Championships Team