Nelson, Laurin Stepping Down, Whitcomb Moving Up For Davis U.S. Cross Country Team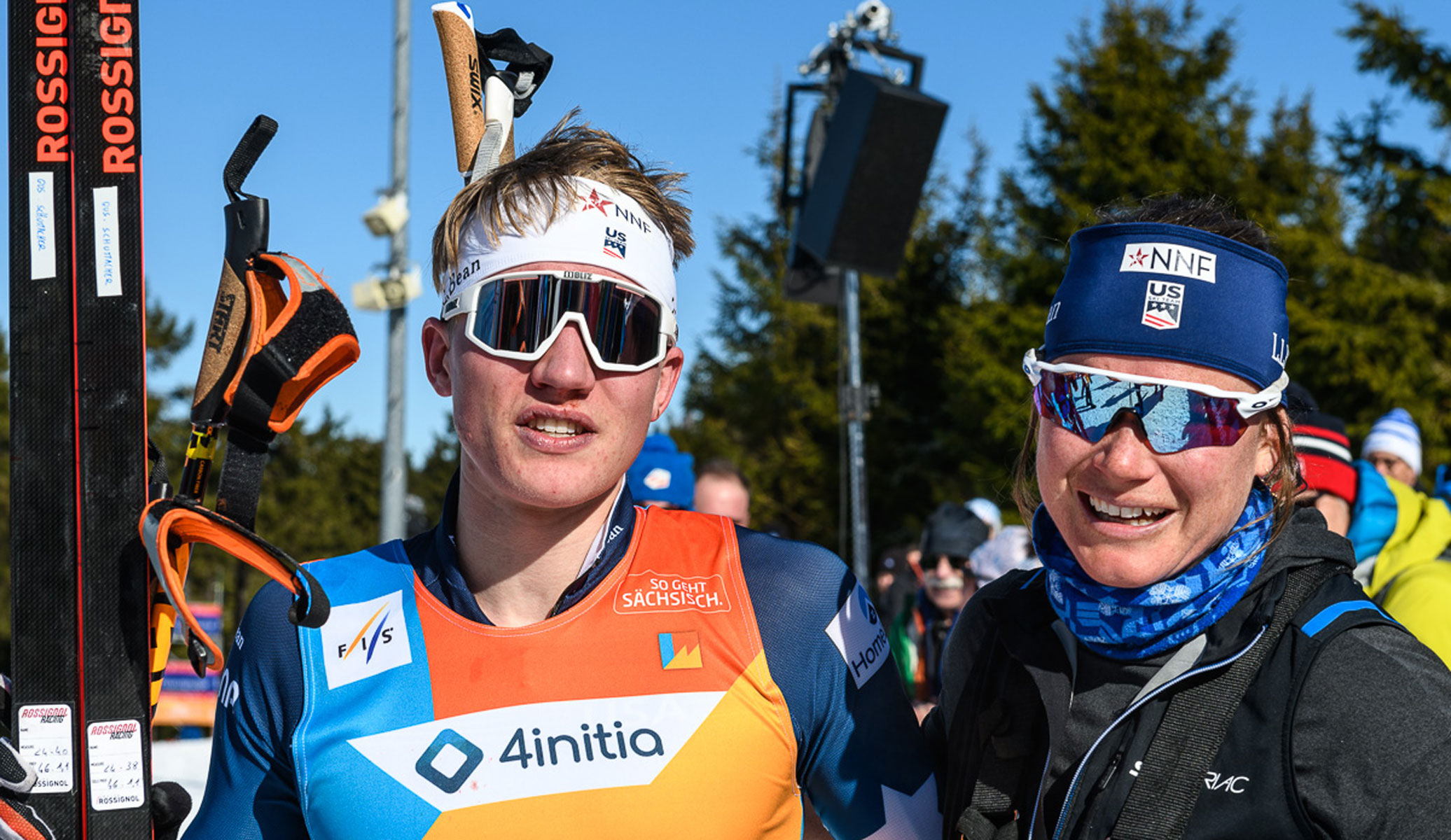 As with the completion of any season, there are always changes to staff and rosters moving forward, and the Davis U.S. Cross Country Ski Team is no exception. This past season brought many successes, and unfortunately an abrupt end to the season.
With those many successes this season, the hardest part was not having the opportunity to celebrate, or wish a fond farewell to each other, especially the two departing staff members - development team coach Bernie Nelson, and World Cup service tech Jean-Pascal Laurin. Both of them are highly respected and will be missed tremendously by the athletes and staff. 
While Bernie's tenure was just one season with the team, she left a lasting impression on the staff and athletes, as she brought strong leadership, passion, and youthful energy to the U.S. Ski Team.  
"I feel super lucky to have had the opportunity to work with Bernie this past year," said Novie McCabe, a member of the silver-medal winning Junior World Championship Team. "I learned so much from her in a pretty short amount of time. She took the time to get to know everyone on the team, as an athlete and a person and was happy to support each of us in whatever way we needed. 
"Sometimes it can be a bit hard to feel like a team with everyone living in different corners of the country, but Bernie helped give us a feeling of solidarity by presenting opportunities for us to feel like we were working as a team and helping each other reach our goals," Novie continued. "This had a profound impact on the team atmosphere, which was very positive and supportive. I think Bernie taught us all a lot this year about what it means to be there for your teammates, and how important it is to strive to be the best person that you can be if you want to succeed as an athlete."
"I think the biggest thing that shows how important Bernie has been for us is that before she came, I didn't really think that I needed another full-time coach," said 2020 Junior World Champion Gus Schumacher. "However, after working with her, I've realized how important having another person so invested in you can be. She put her heart and soul into this job...and made so many strong connections while coaching the team, I think mostly due to her ability to listen and hear what we as athletes need. I'm very sad to see her leave the team, but I'm happy she's making the right decision for herself, and happy that I got to know her."
On the World Cup side, JP brought a huge smile, witty personality and an incredible work ethic to the ski tech staff. He is stepping down from his post to dedicate more time to his quickly booming farming operation, and he will certainly be missed.
"In the five years I worked along with JP, there wasn't a day he showed up without a smile," noted Sadie Maubet Bjornsen. "With any high-level athletics, expectations, and nerves have an ability to zap the joy from the experience. With JP around, it was a guarantee that he was going to ensure his athletes were enjoying the process no matter the result."
"JP was a huge asset to our team and fit in perfectly as soon as he began working with us," added Sophie Cladwell. "You could always count on JP to meet you at the wax truck with a smile poking out from underneath his mustache. He kept the atmosphere light and happy while making some fast skis on top of that!"
"JP has been a critical catalyst in our World Cup service program, helping us move the needle on our glide program significantly, and always leading with hard work, innovation, and humor," said Davis U.S. Cross Country Ski Team Program Director Chris Grover. "Many times, we have had the fastest skis in the field. JP was instrumental in helping Kikkan and Jessie win the gold in Pyeongchang, and in achieving so many milestones in USA ski racing in the past years. In many ways, JP has also embodied the spirit of our service team, we are so sad to lose him, although we know we will see him in the coming seasons."
With Chris stepping up to the cross country program director position at the beginning of the 2019-20 season, Matt Whitcomb has been tapped to take over the head coach position that Chris also held throughout the past season.
"I'm very excited to see Matt take on the role of head coach for the Cross Country Team," Chris said. "Matt has 14 years of experience with the U.S. Ski Team, and he has been a leader within our program at every level, as our Head Development Coach, as our Women's Team Coach, and as a World Cup Coach, his knowledge of every element of the sport is world-class and his enthusiasm for the progress of USA athletes at every level is contagious. After 10 years in the Head Coach position, I am looking forward to sharing even more of the leadership duties with Matt."
"For nearly 15 years Matt has been a coach, friend, mentor, and leader to the many athletes and staff members who have been a part of the national team," added Simi Hamilton, who recently announced he will compete at least one more season on the World Cup level. "(His) passion for this sport like no one else I've ever seen and a knack for instilling that same passion in the athletes who are lucky enough to be coached by him. I can say without a doubt that if Matt had not been around as a coach when I was growing up, there is little chance that I would have continued to race past the collegiate level. He has been inspiring me to dream big and work as hard as possible to realize those dreams for the last 20 years of my life, and I can't imagine anyone more deserving or better suited to be named head coach."
"I'm honored to accept the role Chris Grover has held since 2010, and I am thankful he'll continue working in a leadership position as the team's director," Matt said. "A huge asset for our team is that we see long careers, for both athletes and staff. This longevity says it all: We have an environment that seeks to promote well-being. That's why I keep coming back. It has me as motivated as I was 14 years ago to work hard for my teammates and the U.S. ski community."