Masters Division Membership Renewal and Registration Now Open

After a successful transition last season for the New England Masters and Mid-Atlantic Masters onto the new registration platform at masters.adminskiracing.com (ASR), Midwest Masters, Intermountain/Northern Masters, Rocky Mountain Masters, and Far West Masters are transitioning to the new platform for the 2022-2023 season. To get started:
Create an account.
Create a racer profile on your account. In order to register for anything a racer profile must be created. (Click Racer Profiles on the Left - you can also link other racers here and help manage their registrations.)
Purchase a membership if needed for your division.
Register for races
Helpful Tips to Navigate Registration:
Make sure the website has the logo with Masters in the top left corner.  If you have an account from last season, enter the info and login. If you are new to ASR this year, click "Create new account" under the login button.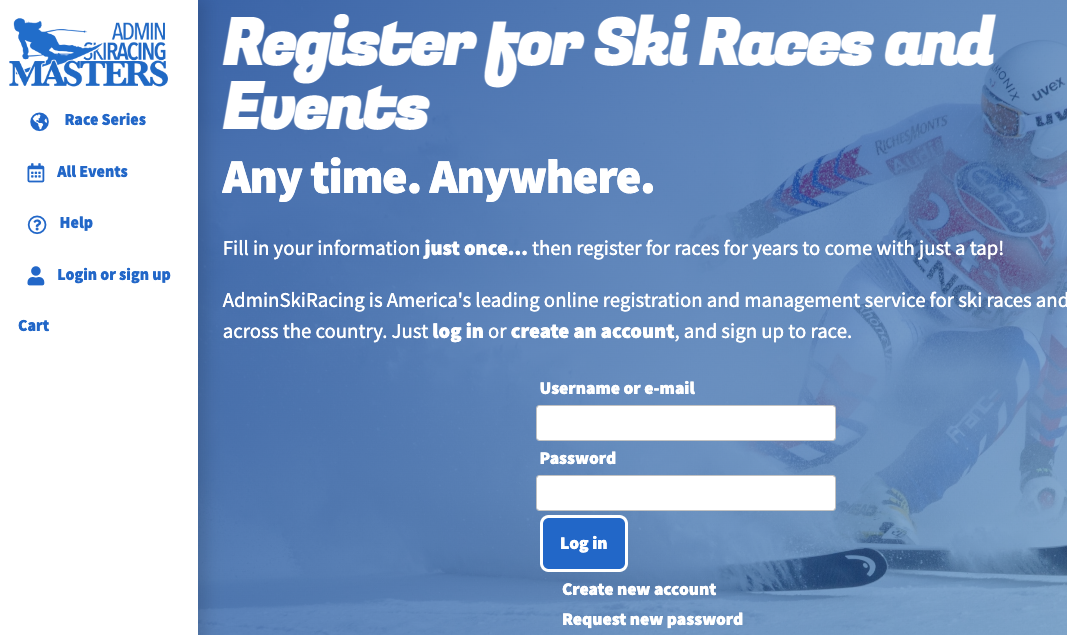 An active AdminSkiRacing account AND profile are required to register for ANY event. If you don't see any button to register, you likely haven't created your racer profile yet. Click "Racer Profiles" from the menu to check or create a profile.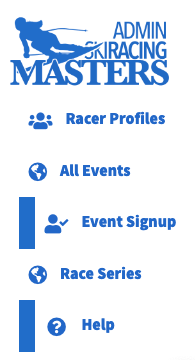 For race series, select what you consider your home series where you will race the most. If your races series does not use ASR and you wish to register for FIS Masters Cup, Nationals, or other race in those divisions, select TBD.
After you click the "Register" button four (4) things will happen:
          1.  A green notification will appear at the top of the page indicating the registration.

          2. The "Register" button will change to "Unregister". This means you are registered. 
                    To unregister from a race, select "Unregister".
          3. "You are registered" will appear under the spots left number.

           4. Confirmation Email - You will immediately receive an email confirmation from ASR.
You can click the race title to get more info on the race, see your name, and anyone else who has registered (i.e. the competition).
Race Info Sheets - Available over the coming weeks. When an Info Sheet is available for a race, a PDF icon will appear on the registration page. Click the icon to see the Info Sheet.
If you are having trouble creating a profile, or registering for a race,  please use the "Website Help" function in the bottom right of the page. This will connect users to a real person based in the U.S. that is there to help you. 
For the divisions below register for your local races as per the directions at the series specific websites. See usskiandsnowboard.org/masters/masters-regions for additional links and contacts.
Alaska - alyeskaskiclub.com/programs/masters
New York - nymasters.net
Southern - saraski.org
Pacific Northwest - pnwdivision.org/masters/calendar