Kim Wins, Gold Second At Dew Tour Pipe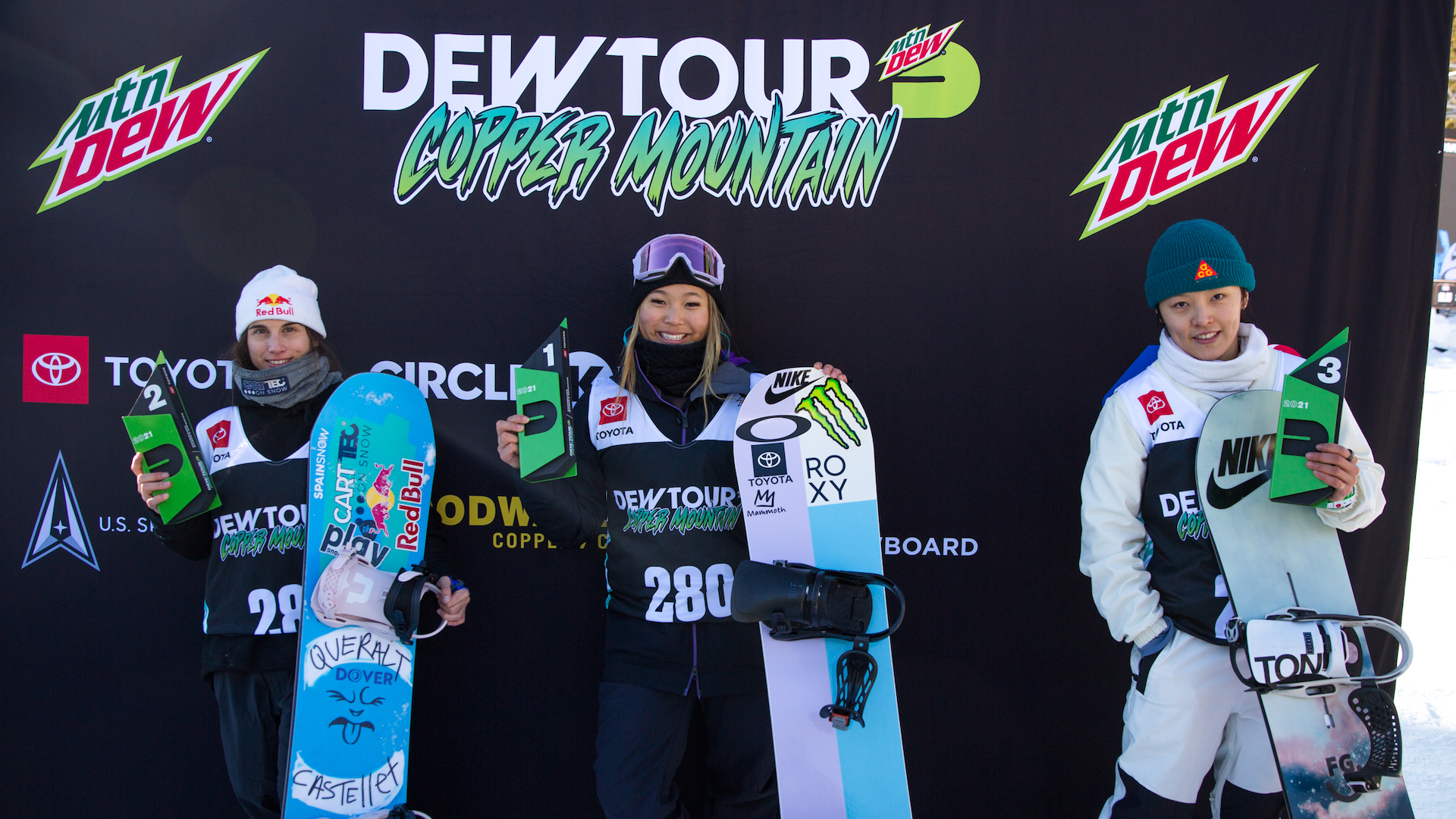 What a day for a halfpipe contest here at the Dew Tour. Four days of competition wrapped up with snowboard halfpipe finals under sunny skies Sunday.
Defending Olympic gold medalist Chloe Kim earned the day's top score of 96 on her third and final run. After uncharacteristically not landing her first two runs, Kim settled back into her progressive trajectory on her third run landing two technical 1080s.
Chloe dropped in with a frontside 1080 tail grab, into a Cab 900, into a switch backside 540, into a Cab 1080, ending with a frontside 540.
"That was so stressful, I hate when I'm in that situation where I come to the third and final run," said Chloe. "I'm just so grateful. I was actually thinking about backing off and not doing the Cab 1080, but I'm so happy I did it. Just putting myself in those high-stress situations especially with the Olympics coming up is pretty important. I'm so happy I was able to pull through."
When asked if she had any tricks she was planning to pull out today that she didn't get to, she shared: "Absolutely, I actually have three new tricks waiting for you guys. I'm just trying to figure out when I want to do them, but I think the Olympics will be the time."  
This first-place result follows her first-place finish at the 2021 U.S. Grand Prix at Aspen, also an Olympic qualifier.
U.S. Snowboard Team rider Maddie Mastro, today's first-place qualifier, came out blasting through the pipe on her first run, unfortunately taking a hard-hit midway down the pipe. Mastro finished in seventh. We're wishing her all the best for a quick recovery.  
Spain's Queralt Castellet took second and China's Cai Xuetong earned third place.  
Men's Superpipe 
In the men's field, U.S. Snowboard Team rider and 2014 Olympian Taylor Gold had a huge win today earning second place and his first podium of the season.
Taylor Gold dropped in on a mission earning his best score of 92 on his first run. Gold started off his stylish run with a McTwist Japan 540, launching into a frontside 1260 tailgrab, a double Michalchuk 1080, into a switch McTwist, finishing with a Cab 1080 with a chicken salad grab—going for maximum style points all the way down the pipe.
"I've been wanting to do that line for so long and honestly anytime I land that 'Chuck 10 clean, I've gotta do it," said Gold. The switch McTwist was exciting in the air—I'm really glad I landed it. Landing that run was insane, I'm so psyched."
Gold tried to improve on that run, adding in a Cab 1260, but couldn't bring it all together. He held onto the top spot all the way through the final round when Japan's Yuto Totsuka unseated him. An amazing finish for Gold!
Looking ahead, Gold says, "My plan is to keep the intensity with my riding. I'd like to add a couple of tricks—I'd like to make what I've already done smoother and bigger. Honestly, my biggest thing is I want that switch McTwist to be as big as everything else. That would make me really happy."
U.S. Snowboard Team rider and three-time Olympic Gold medalist Shaun White finished seventh, adding a crucial third result to boost his World Snowboard Points List standing. Shaun's run included a frontside 1440 and back-to-back 1260s, a solid showing for his final Dew Tour.
Seventeen-year-old Joey Okesson finished in ninth and Chase Josey, who was unable to continue the competition after taking a hard landing on the final hit of his first run, earned a tenth-place finish for the U.S. Team.
Japan's Yuto Totsuka came back from a third-place finish at the Toyota U.S. Grand Prix to finish in first. And teammate Ruka Hirano took the third-place podium.
Japan's Ayumu Hirano made history landing the first-ever frontside triple cork 1440 in halfpipe competition. Look for the triple cork evolution to continue unfolding at the final Olympic qualifier—the Toyota U.S. Grand Prix at Mammoth Mountain, January 3–9, 2022.  
RESULTS
Women's Snowboard Superpipe Presented by Toyota
Field of 8, 3 Runs
1. Chloe Kim (USA), 96.00
2. Queralt Castellet (ESP), 95.00
3. Cai Xuetong (CHN), 89.00
Men's Snowboard Superpipe Presented by Toyota
Field of 10, 3 Runs
1. Yuto Totsuka (JPN), 95.50
2. Taylor Gold (USA),92.00
3. Ruko Hirano (JPN), 89.00
Men's Snowboard Finals
Women's Snowboard Finals