Diggins Narrowly Misses Podium in Ulricehamn 10k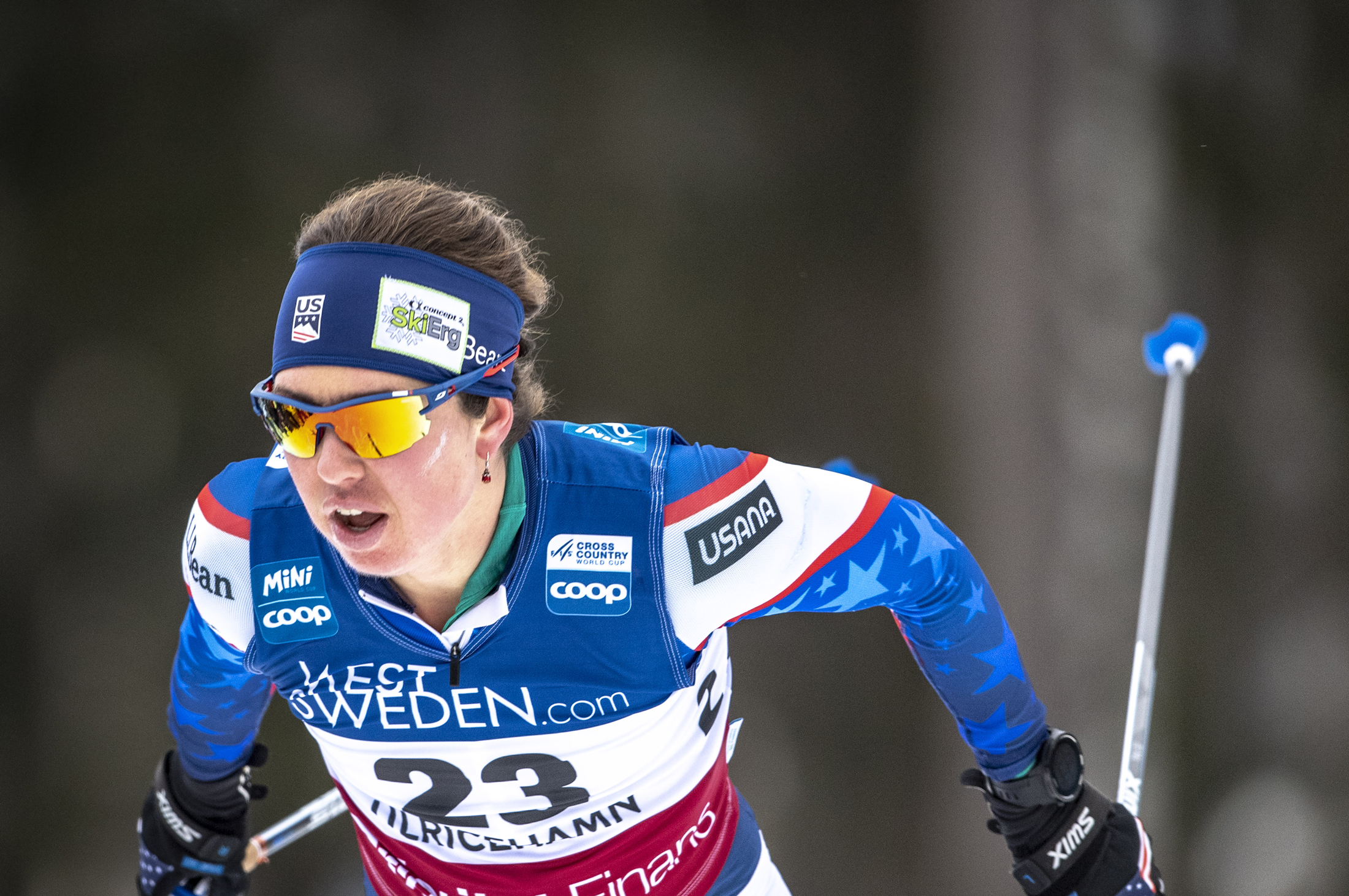 Jessie Diggins (Afton, Minn.) was the top American in Sunday's FIS Cross Country World Cup 10k in Ulricehamn, Sweden, finishing fourth. Sadie Bjornsen (Winthrop, Wash.) was 15th and Caitlin Petterson (Craftsbury, Vt.) was 23rd.
Norway's Therese Johaug, followed by fellow countryman Astrid Uhrenholdt Jacobsen in second and Ebba Andersson of Sweden in third.
"The atmosphere here is unreal," said Diggins. "I have never had the chance to race in front of 50,000 fans lining every inch of the course before, and it was just incredible energy out there! But the biggest boost of all came right before the race when we watched the World Junior Championship relays and cheered on the girls and guys teams. Seeing the guys win, skiing so well and so gutsy, gave me happy tears! I couldn't be more stoked for them and it got me really fired up to go as hard as I possibly could out there today."
When asked about her pre-race plan, Diggins continued, "I had been feeling really tired last week, so with some careful rest around the training this week I was really happy to be back to snappier form this weekend! It was nice to be feeling good and I had some great skis today."
"I went out hot and did my best to hold it. I felt really good and powerful out there," said Bjornsen. "On my second lap, heading up the second climb, my legs absolutely flooded to the gill, and unfortunately I bled some valuable time. I tried to bring myself together for the final kilometers of the race, and was excited to ski the last kilometer with Astrid (who was 3rd today)."
The men's race was won by Frenchman Maurice Manificat, followed Simen Hegstad Krueger of Norway with Didrik Toenseth completing the podium.
The weekend concludes Sunday with relays. The women's 4x5k team will include Bjornsen, Rosie Brennan (Park City, Utah), Patterson and Diggins. The men's 4x7.5k will include Erik Bjornsen (Winthrop, Wash.), Scott Patterson (Anchorage, Alaska), David Norris (Fairbanks, Alaska) and Ben Lustgarten (Burlington, Vt.).
RESULTS
Men's 15K
Women's 10k
HOW TO WATCH
All times EST|
Preliminary schedule subject to change
Sunday, Jan. 27
5:15 a.m. - Women's relay - Ulricehamn, SWE - OlympicChannel.com & NBC Sports Gold
8:15 a.m. - Men's relay - Ulricehamn, SWE - OlympicChannel.com & NBC Sports Gold
4:00 p.m. - Women's relay - Ulricehamn, SWE - Olympic Channel-TV*
10:00 a.m. -Men's and women's distance -  Lake Placid, NY Super Tour- Live Stream