Caldwell, Kern Fourth In Dresden Photo Finish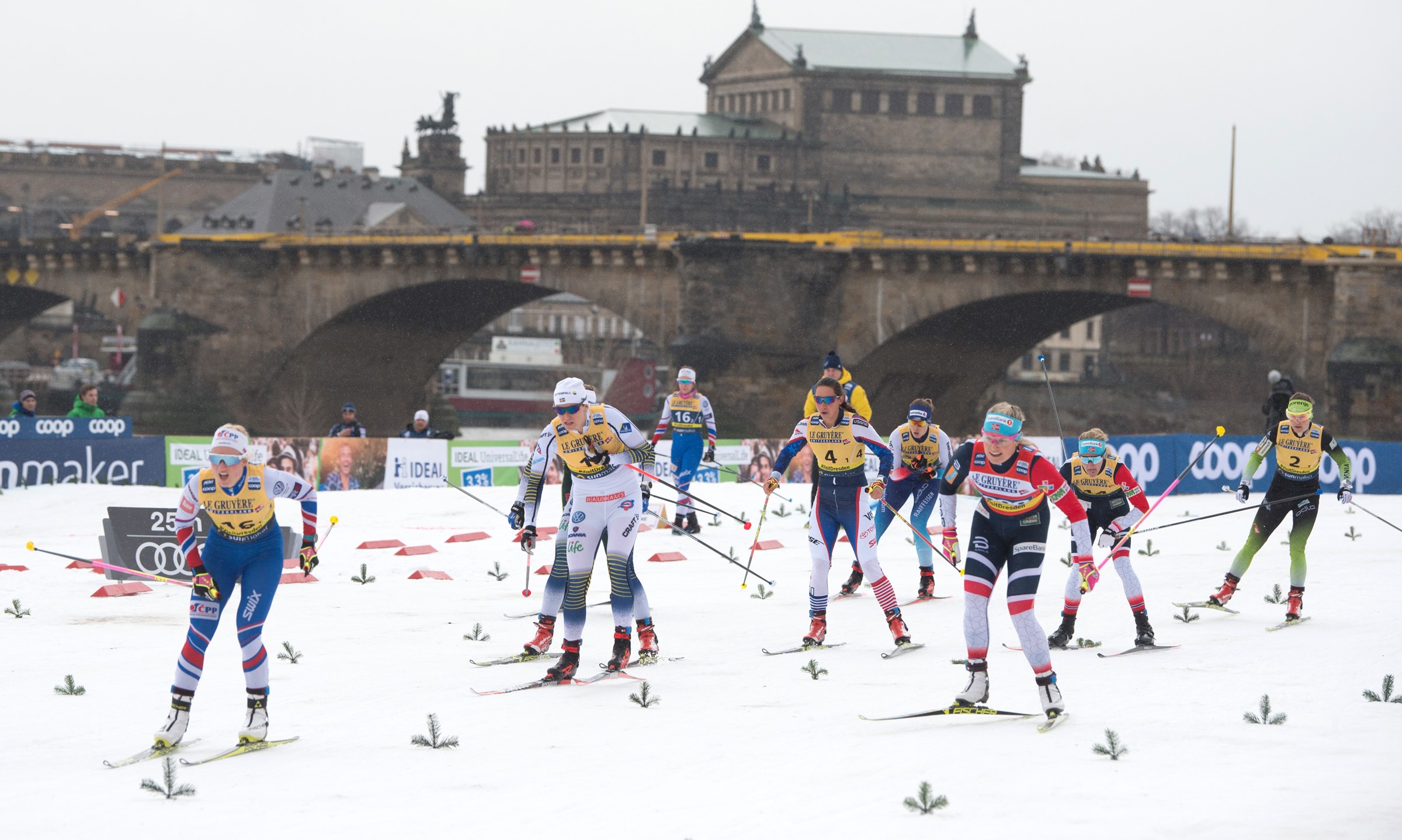 In a race where the second, third and fourth place teams all had the same official time, the U.S. team of Sophie Caldwell (Stratton Mountain, Vt.) and Julia Kern (Waltham, Mass.) placed fourth in the FIS Cross Country World Cup team sprint in Dresden, Germany, Sunday. Sweden II and Norway were the other nations in the same time with Norway edging out the U.S. for third.  The race was won by Sweden I, with Sweden II in second.
"That was a super fun day out there," said Caldwell. "Julia skied amazingly, and it was so cool for our team to be right in the mix. I tried to pace myself to catch the top three teams at the beginning of my last leg because I didn't want to implode, and once I caught them, I tried to conserve as much energy as possible.
"I learned from yesterday that it's better to be patient than be out on your own fighting the wind, so I gave one big final push in the finishing stretch and unfortunately it wasn't quite enough for the podium," Caldwell added.
"I think my race went well, I skied big, confident and aggressive so I could hold my position," said Kern. "My goal was to stay out of trouble today and I achieved that which I was happy about. There was a lot of jostling around with it being such a flat and fast course with a huge head wind, so it was a constant battle to hold your position in the draft and not get tangled up."
The second U.S. women's team of Ida Sargent (Craftsbury, Vt.) and Hannah Halvorsen (Truckee, Calif.) did not advance beyond the semifinals.
On the men's side the U.S. team of Erik Bjornsen (Winthrop, Wa.) and Andy Newell (Shaftsbury, Vt.) did not advance beyond the semifinals. The men's race was won by Norway I, followed by Norway II and Russia I in third.
The World Cup season continues Jan. 19-20 in Otepaa, Estonia, with a men and women's sprint, and a women's 10k and men's 15k individual start.
RESULTS
Men's Team Sprint Finals
Women's Team Sprint Finals
HOW TO WATCH
All times EST
Saturday, Jan. 19
6:55 a.m. - Men and women's sprint - Otepaa, EST - OlympicChannel.com & NBC Sports Gold
3:00 p.m. - Men and women's sprint - Otepaa, EST - Olympic Channel-TV*
Sunday, Jan. 20
3:30 a.m. - Women's 10k interval - Otepaa, EST - OlympicChannel.com & NBC Sports Gold
7:00 a.m. - Men's 15k interval - Otepaa, EST - OlympicChannel.com & NBC Sports Gold
7:00 p.m. - Women's 10k interval - Otepaa, EST - Olympic Channel-TV*