Bjornsen Wraps Up World Cup Finals In 11th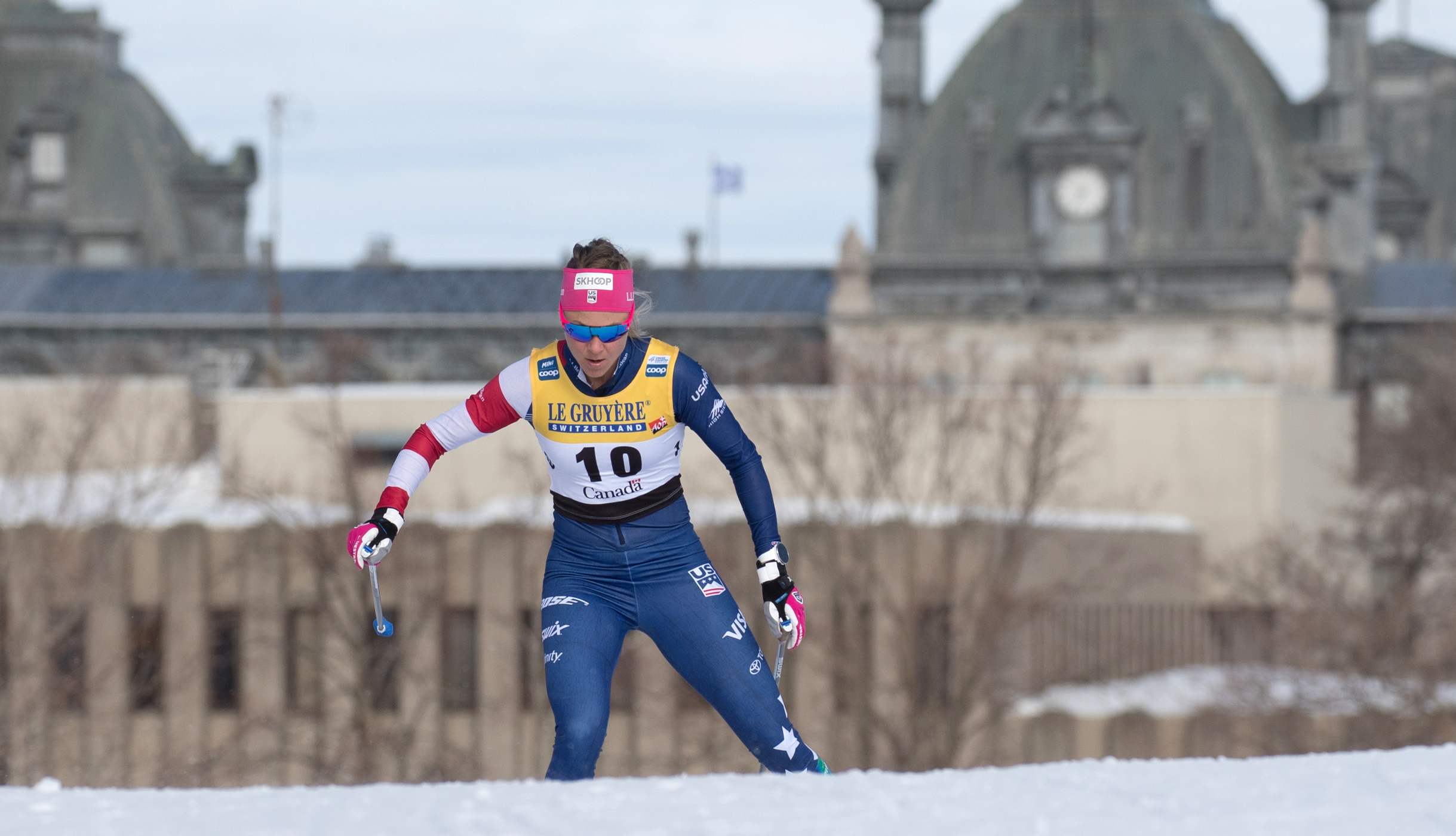 Sadie Bjornsen (Winthrop, Wash.) finished 11th overall Sunday in the FIS Cross Country World Cup Finals mini-tour in Quebec City, Canada, following her 13th-place finish in the 10k pursuit. Two American's skied to top-five finishes in the final stage with Simi Hamilton (Aspen, Co.) in third and Jessie Diggins (Afton, Minn.) in fourth.
"I was really happy with today, I maybe started out a little aggressive just trying to close the gap and paid for it on lap two," said Bjornsen. "On the last lap...I was able to hold off the group behind. It is nice to end the season with a good race and complete the season close to the top 10."
"That was a really fun way to end the season," said Diggins, who finished 14th overall in the three-day event. "Skating is always so fun because you can go as hard as you want to go and it was really fun to have the tools I needed to be able to use what energy my body had. Very satisfying."
Finishing her World Cup career at the Quebec City Finals was Ida Sargent (Craftsbury, Vt.).  "Today was really special to have so many people cheering my name and to have all my teammates in the finish area was just so amazing."
The women's overall was won by Stina Nilsson of Sweden, with Therese Johaug of Norway in second and Ingvild Flugstad Oetsberg, also of Norway, in third.
Erik Bjornsen (Winthrop, Wash.) was the top U.S. finisher 20th in the three-day mini tour.
"It was an interesting course with a little wind and relatively flat compares to some of the world cups, so it was important to be skiing with a group of guys," said Bjornsen. "I could see there were some guys skiing fast from behind, so I knew time of day was not going to be great, so tried to play it tactically. My 20th today was my best tour finish, so it was pretty exciting way to finish the season."
"It was really fun and fast skiing and my skis were awesome," said Hamilton. "You never really know how a pursuit will go because so much of it depends on the people you are with.  With the wind today, it was so good to be in someone's draft and starting in the front of my group I was guaranteed to be skiing with people."
Norway's Johannes Hoesflot Klaebo was the overall winner, followed by local favorite Alex Harvey of Canada and Alexander Bloshunov of Russia in third.
The World Cup season is now over, but many athletes will head to the SuperTour Finals starting Friday in Presque Isle, Maine.
RESULTS
Men's pursuit
Men's Winner of the Day
Men's Tour Final
Women's pursuit
Women's Winner of the Day
Women's Tour Final