Bjornsen Siblings Ski To 18th in Quebec City Distance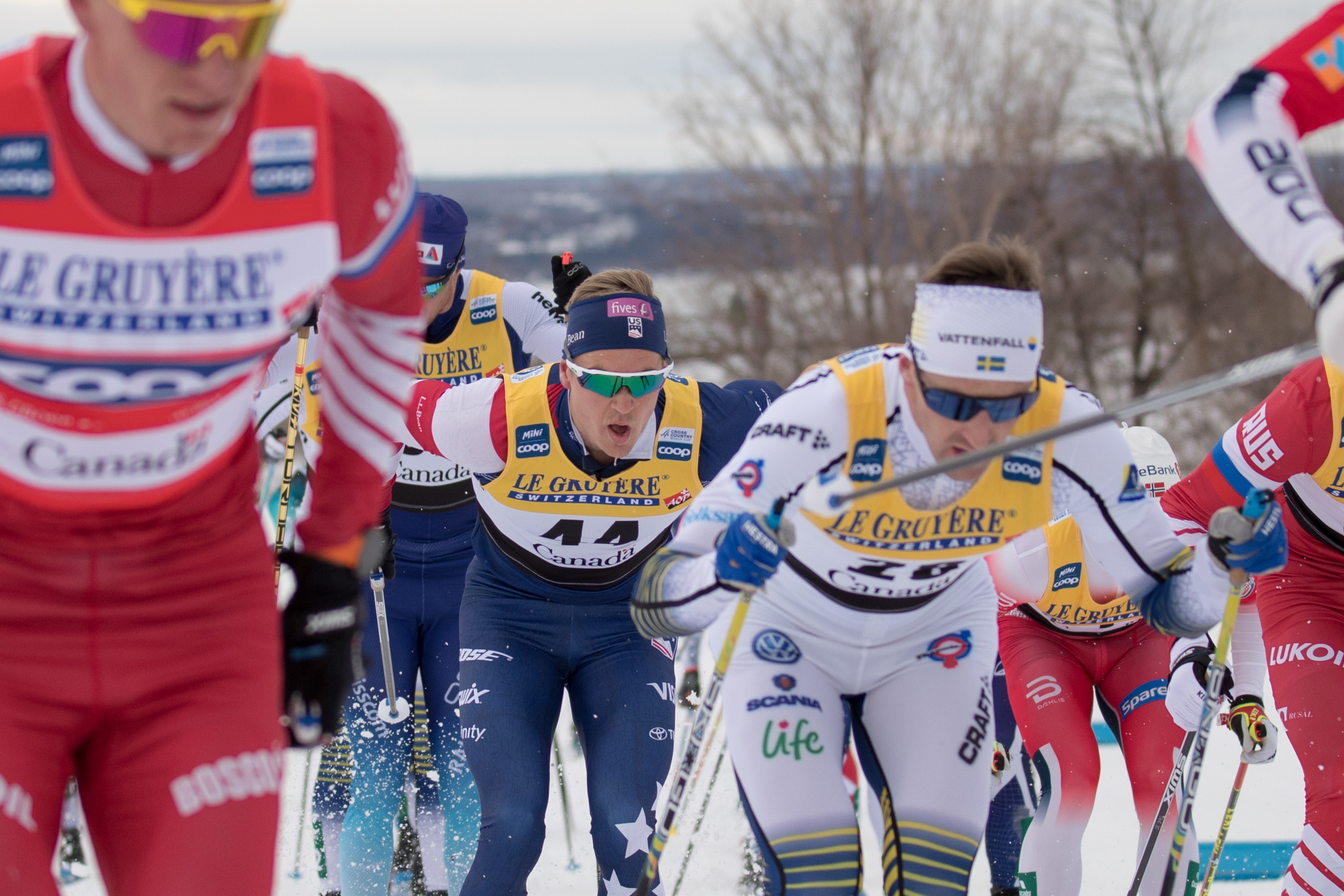 Sadie Bjornsen (Winthrop, Wash.) and Erik Bjornsen (Winthrop, Wash.) both led the U.S. Ski Team in 18th Saturday in the FIS Cross Country World Cup Finals classic distance Quebec City, Canada.  
In the women's 10k, Bjornsen lost her kick early in the race competing in difficult snow conditions, but fought hard to not lose too much time to the leaders in front of huge crowds screaming encouragement to the racers. Jessie Diggins (Afton, Minn.) was the second U.S. skier in 29th after a fall in the second lap.
"It was tricky out there, a little frustrating but the whole crowd and scene was fun," said Sadie Bjornsen. "I feel amazing right now in my skiing and unfortunate we didn't have much kick out there. Tomorrow should be fun and hopefully I have not lost too much time to those front girls, so I can try to ski with them because I am feeling incredible right now and would love to end the season with good distance race."
"Today was not a very good race for me, it was a good effort, but in the race I had no kick," said Diggins. "I caught a rut out there and fell but got up and fought hard to stay in the race."
The women's race was won by Stina Nilsson of Sweden, with Therese Johaug of Norway in second and Ingvild Flugstad Oetsberg, also of Norway, in third.
In the men's 15k, Erik Bjornsen skied with the lead group for the first lap taking the lead for a short time. Simi Hamilton was the second U.S. finisher in 39th.
"I am happy with my result," said Erik Bjornsen. "It was fun today, it may have been the first time I was leading a World Cup. I found a gap and just went for it and it felt easy to be in the lead for a bit."
"I didn't know what to expect as I have not done a distance classic race since Lillehammer," said Hamilton. "It was nice to have a good start position. The poling was by far the hardest part today, the poling trenches were so rotten. It is awesome being here with the home crowd."
Norway's Johannes Hoesflot Klaebo won the race, followed by local favorite Alex Harvey of Canada and Didrik Toenseth of Norway in third.
The World Cup Finals conclude Sunday with a men and women's pursuit.
RESULTS
Men's 15k
Women's 10k
HOW TO WATCH
All times EST
*Same-day broadcast
**Next-day broadcast
Sunday, March 24
9:30 a.m. - Women's 10k pursuit - Quebec City, CAN - OlympicChannel.com & NBC Sports Gold
10:45 a.m. - Men's 15k pursuit - Quebec City, CAN - OlympicChannel.com & NBC Sports Gold
4:00 p.m. - Women's 10k pursuit - Quebec City, CAN - Olympic Channel-TV*
All streams are available via desktop (NBCSports.com/Live, NBCSports.com/Gold and OlympicChannel.com) as well as mobile, tablet and connected television platforms. The NBC Sports app, NBC Sports Gold app and Olympic Channel app are available on the iTunes App Store, Google Play, Windows Store, Roku Channel Store, Apple TV and Amazon Fire. Exclusive commercial-free coverage will be available for subscribers of the NBC Sports Gold Pass.