Bjornsen Leads U.S. In Sixth at World Cup Finals Sprint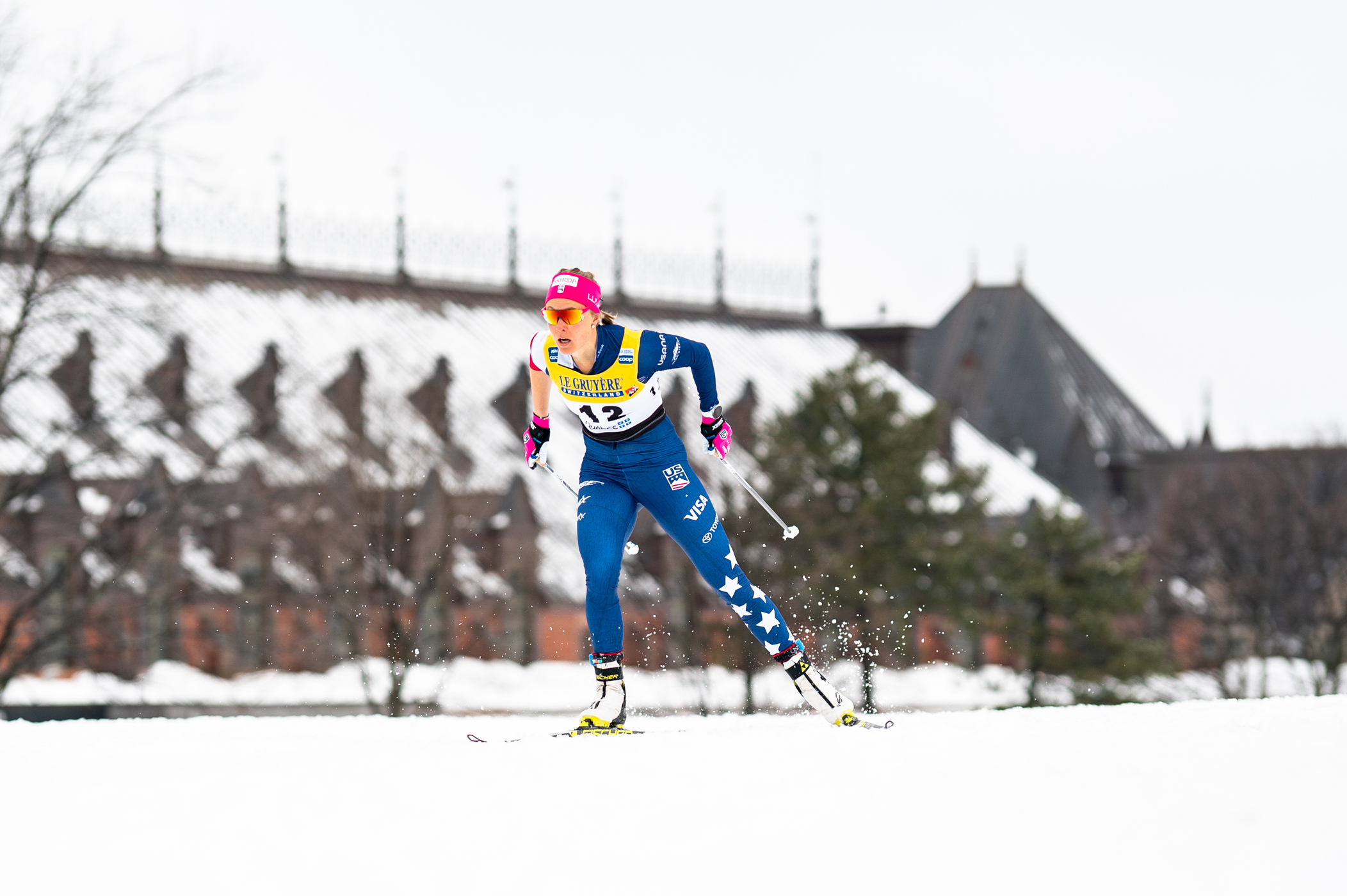 Sadie Bjornsen (Winthrop, Wash.) battled through a semifinal mishap and soft snow conditions to finish sixth in the FIS Cross Country World Cup Finals freestyle sprint Friday in Quebec City, Canada.  
Bjornsen was the fastest U.S. qualifier in fourth, followed by birthday girl Sophie Caldwell (Peru, Vt.) in seventh and Jessie Diggins (Afton, Minn.) in 15th. In the semifinals, Bjornsen was held up after Diggins and Sweden's Charlotte Kalla crashed. But she was able to recover and take one of the lucky loser positions to advance to the finals.
"It looked like Jessie and Kalla collided and my skies were stuck under them, so I had to just stand there and really hope they got up fast," Bjornsen said. "It was a huge surge to get back on the group. In the finals, I was definitely feeling that effort and just barely had anything left."
Sweden swept the podium with Stina Nilsson winning the race, Maja Dahlqvist in second, and Jonna Sundling in third.
"Believe it or not I really love these conditions," said Bjornsen. "It is what I train on all summer, so I have a lot of practice, but it was very soft."
"It was really tough conditions out there and really hard on the legs," said Caldwell. "I was really exhausted after the semi-finals, but the quarters felt good."
Two U.S. men qualified for the heats with Simi Hamilton (Aspen, Co.) in 11th, and Logan Hanneman (Fairbanks, Alaska) in 29th.
"I'm definitely satisfied with how today went, but also a bit frustrated for sure," said Hamilton. "I've been feeling really good as of late and I've had some good successes sprinting here in Quebec before, and it's always so incredible to race in front of a giant home crowd with tons of family, friends, and North American supporters out there. But the conditions were really tough for me today. The course broke down so much throughout the day, and I always struggle when it's even remotely soft and slow."
Hanneman crashed in the same spot on the first turn as Diggins and Kalla and did not advance. The men's race was won Johannes Hoesflot Klaebo of Norway, followed by Federico Pellegrino with Sindre Bjoernestad Skar completing the podium.
The World Cup Finals continues Saturday with mass starts in the men's 15k classic and a women's 10k classic.   
RESULTS
Men's sprint
Women's sprint
HOW TO WATCH
All times EST
*Same-day broadcast
Saturday, March 23
9:15 a.m. - Women's 10k mass start - Quebec City, CAN - OlympicChannel.com & NBC Sports Gold
11:00 a.m. - Men's 15k mass start - Quebec City, CAN - OlympicChannel.com & NBC Sports Gold
5:00 p.m. - Women's 10k mass start - Quebec City, CAN - Olympic Channel-TV*
Sunday, March 24
9:30 a.m. - Women's 10k pursuit - Quebec City, CAN - OlympicChannel.com & NBC Sports Gold
10:45 a.m. - Men's 15k pursuit - Quebec City, CAN - OlympicChannel.com & NBC Sports Gold
4:00 p.m. - Women's 10k pursuit - Quebec City, CAN - Olympic Channel-TV*