Beyond The Snow at Saas-Fee Training Camp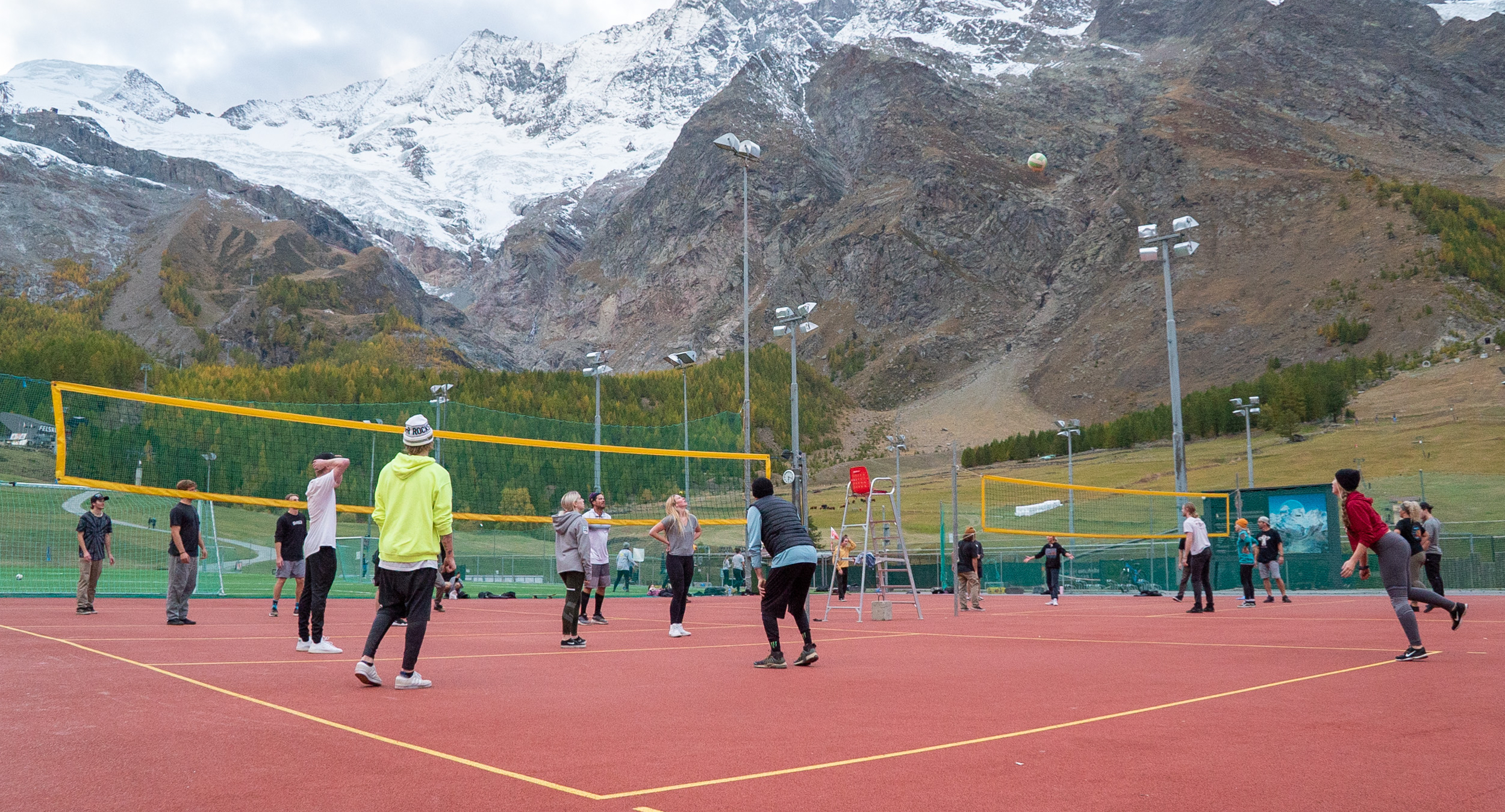 How do you become the "Best in the World" in a given sport? The answer is simple - practice as much as possible. However, when it comes down to defining "Best in the World" for members of the U.S. Freeski, Snowboard, or Snowboardcross Team, it is not as simple as having a strong work ethic and winning consistently.
"If everyone is moving forward together, then success takes care of itself."
- Henry Ford
Dedication to sport and finding success are critical elements to success, but being "Best in the World" also requires an athlete to be a great teammate...to make those around them better, while creating an environment that enables everyone to put their best foot forward.
Saas-Fee Training Camp at the world-class Stomping Grounds Park in Switzerland has introduced numerous activities to help create this culture of togetherness, while knocking down barriers between U.S. Ski & Snowboard athletes and teams. U.S. Pro Freeski Slopestyle Team member Darian Stevens, who recently made her return back to snow from injury, weighed in the multi-sport approach of camp. 
"There has been a lot of activities going on after skiing this camp," said Stevens. "We have been renting out the fields and playing a multitude of sports. Pretty much anything from football, spikeball, soccer, volleyball, and everything in-between. I have been participating in quite a bit of spikeball as I brought my own set from the states to play with. Since knee surgery, activities like soccer and spikeball have been a challenge, but my knee is finally feeling good enough to really get some good games going on."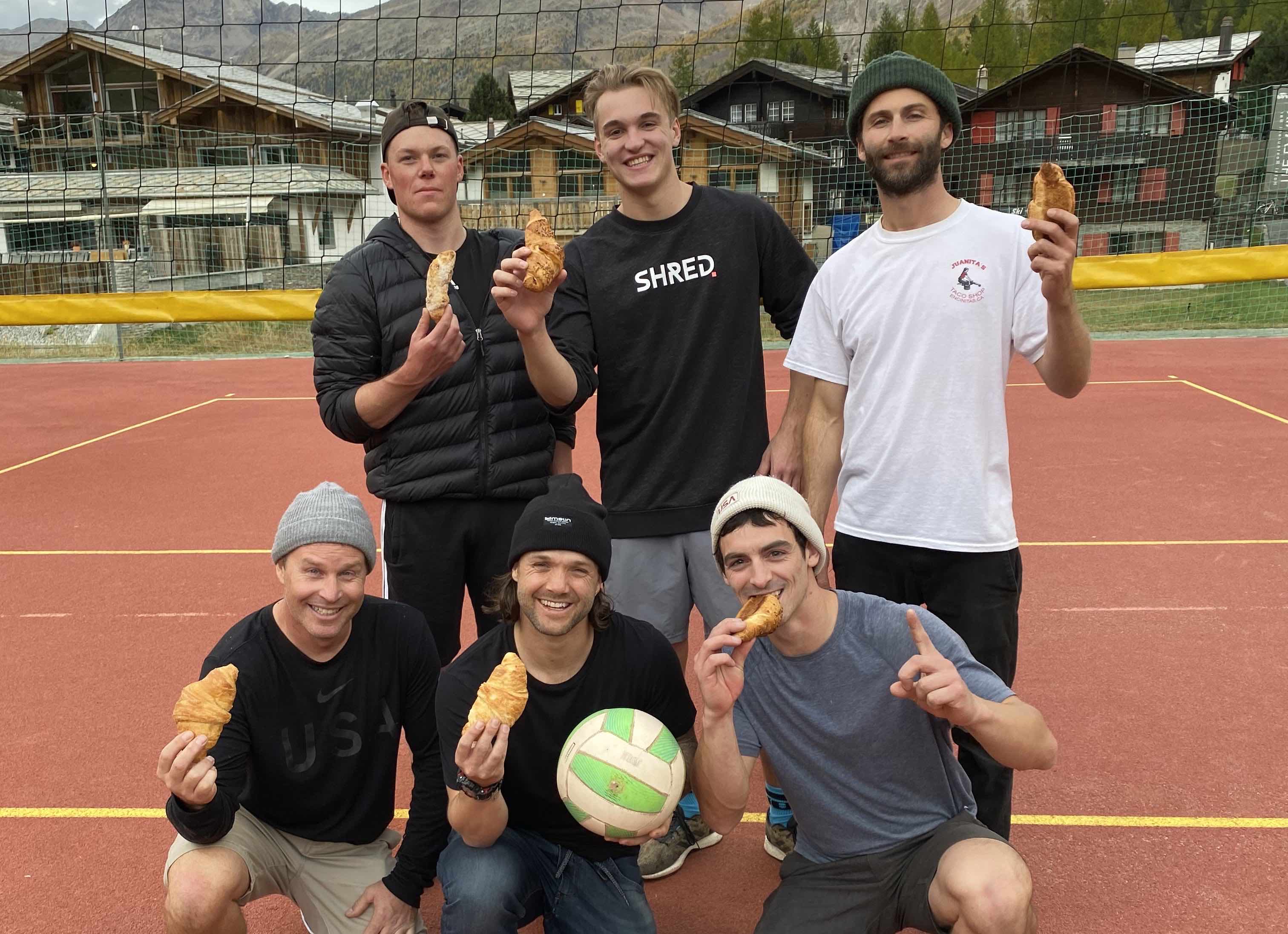 At the 2018-19 edition of Saas-Fee training camp, Stevens was part of a serious string of progression where Maggie Voisin landed her first double 1260, Julia Krass landed her first double 1080, and Stevens landed her switch bio 1080. While past camps have been successful for Stevens, she shared how training and spending time with members outside of just the freeski slopestyle crew has been beneficial. 
"It's been really cool to meet new people on this trip and get acquainted in a carefree environment with teammates that you aren't super familiar with," she said. "We've been doing a lot of activities in random groups, rather than by teams, which helps with intermingling. It's super fun to get together with a huge group of rad people, regardless of sport, all exceptional at what they do, coming together as one giant team. Since taking last year off due to injury, I haven't been around the whole team for quite some time, it feels great to be back in the mix."
Freeskiing and snowboarding may not be traditional team sports, but truly acting as a team, creating culture, and learning from one another has endless benefits. Head Freeski and Snowboard Team Coach Mike Jankowski explained the thought process and goals to this year's Saas-Fee Camp.
"Having all the different teams connect is super important," he said. Although they may use different equipment in their competitions, everyone shares a common passion and encounter similar challenges along the path to success. The ability to create those bonds between teams reminds everyone that they are not alone and can lean on each other through the best and worst of times. Additionally, as a team, we aim to grow and improve by understanding and respecting each other. Sometimes it is easy to get caught up in our own path,  but stepping out and gaining perspective can be critical to our collective success."
Follow U.S. Freeski, Snowboard, and Snowboardcross Team athletes at the Stomping Grounds Park Saas-Fee training camp below: 
INSTAGRAM
@usfreeskiteam
@ussnowboardteam
@thestompinggroundspark
FACEBOOK
@usskiandsnowboard