SBX World Cup Returns to Spain: 15 Americans set to Compete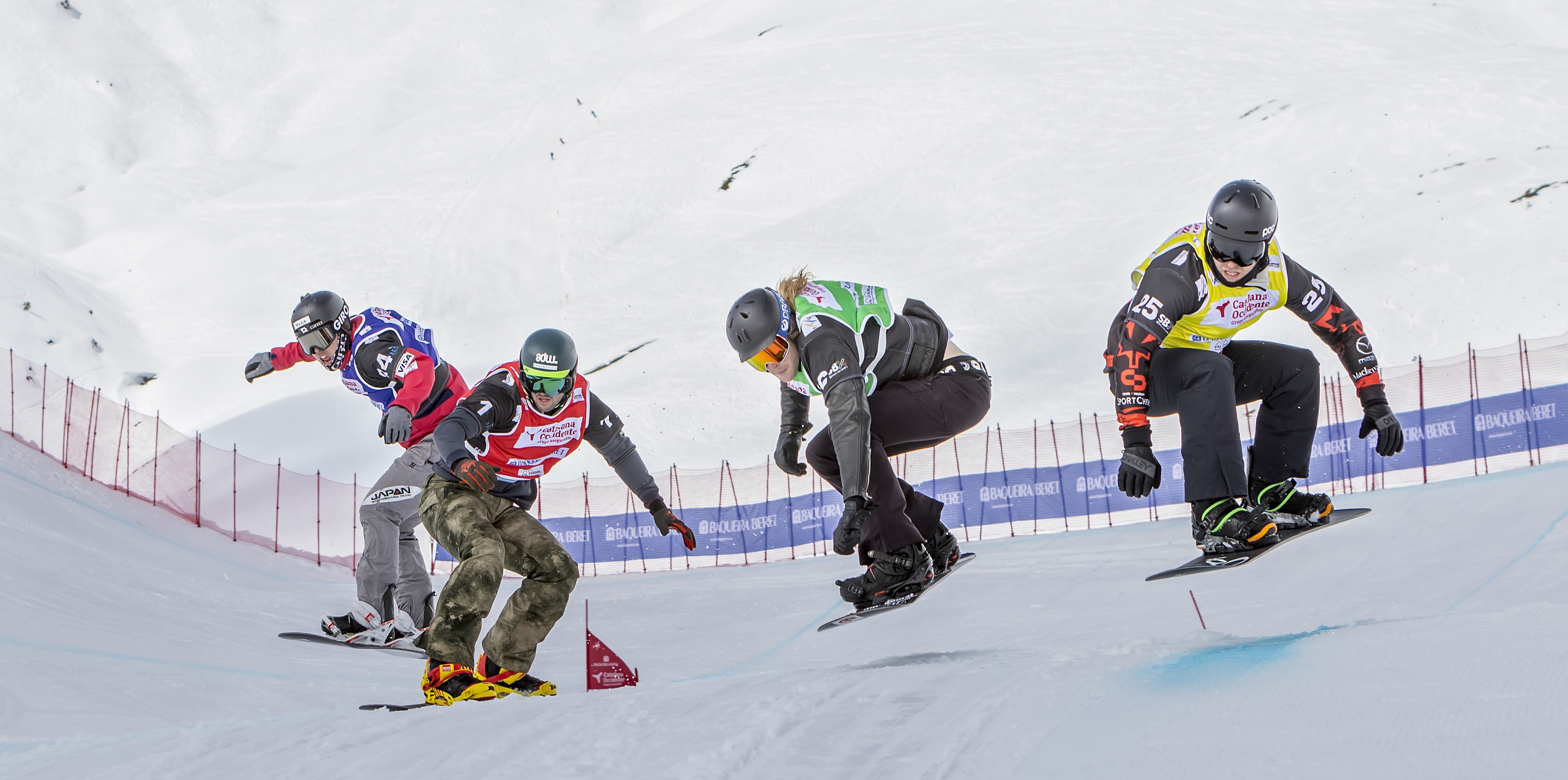 Fifteen American riders are set to race at the Baqueira Beret World Cup Snowboardcross event in Spain this weekend, March 1-2. The competition will replace the originally scheduled La Molina event. It will be the Snowboardcross World Cup's second visit to the largest and most-visited mountain resort in Spain after it stood in at the last minute to host the competition in 2015-16, when another Spanish resort was forced to pull out. U.S. Snowboardcross Team members are excited to head back to what historically has been a very exciting and challenging course.
"I'm really looking forward to racing again in Baqueira," said 2019 World Champion Mick Dierdorff (Steamboat Springs, Colo.). "We raced there a few years ago and it is an awesome resort and the course really tested our abilities with some big jumps and high speeds. I'm really excited for something similar this year. I can't wait to get back in the gate and hunt for that podium again."
According to FIS, the 2019 version of the course may offer a different approach as it's taking place on a new fall line. During an inspection prior to the season, FIS Snowboard race director Uwe Beier, along with technical advisor Alberto Schiavon, assessed the course slope, establishing a slightly adjusted line from the 2015-16 version of the Baqueira Beret event to better utilise the trail for snowboardcross action.
The U.S. has a very impressive roster ready to tackle the course including U.S. Snowboardcross Team members Dierdorff, Alex Deibold (Manchester, Vt.), Hagen Kearney (Norwood, Colo.), Jonathan Cheever (Saugus, Mass.), Nick Baumgartner (Iron River, Mich.), 2018 Junior World Champion Jake Vedder, as well as Development Team members Senna Leith (Vail, Colo.), Cole Johnson (Reno, Nev.) and Mikey Lacroix (Shrewsbury, Mass.). For the ladies, U.S. Snowboardcross Team members competing include six-time World Champion Lindsey Jacobellis (Stratton Mountain, Vt. ), Faye Gulini (Salt Lake City, Utah), Stacy Gaskill (Golden, Colo.), Meghan Tierney as well as Livia Molodyh (Hubbard, Ore.) and Nelly Steinhoff (Colfax, Calif.).
There is a huge level of interest in Europe in snowboarding following the 2017 Snowboard World Championships at Sierra Nevada, Spain. In addition, Spanish winter sports enthusiasts are still buzzing from the achievement of Regino Hernandez of Spain, who won bronze at the Pyeongchang 2018 Olympics. Expect riders to feed of this energy and put on a great show at the second to last snowboardcross World Cup event of the season. With seven Americans in the top twenty of the FIS Cup Standings, the battle for the overall World Cup title is on.
HOW TO WATCH
Subject to change
All times EST
SNOWBOARD
Saturday, February 2. 
7:30 a.m. - Men's and women's snowboardcross - Baqueira Beret, Spain FIS World Cup -  OlympicChannel.com & NBC Sports Gold.