"When I found out I had a spot at Dew Tour, I was shocked. It was super last minute, about 9 p.m. the night before. I grew up watching Maddie (Mastro), so riding with her in the competition was a little nerve-racking, but also really exciting."
3 Things You Didn't Know About Sonora Alba
1. The lights weren't too bright for Sonny's big Dew Tour debut as she landed frontside and backside 540's, as well as a few hand plants with skateboarding inspired style.
2. Maddie Mastro has been watching Sonny ride for about five years. she always thought Sonny had incredible potential and is a great all around rider.
3. Sonny won the 2020 U.S. Open Junior Jam with a score of 75.00. The 13-year-old crashed on her first of two runs before landing the winning run.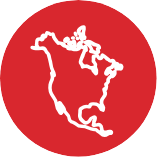 NorAm Cup
Two Top 5 Finishes, 2019
Sonora's Favorite Gear!
Check out and purchase Sonora's favorite U.S. Ski & Snowboard gear