Diggins and Patterson Top Americans in World Championships Skiathlon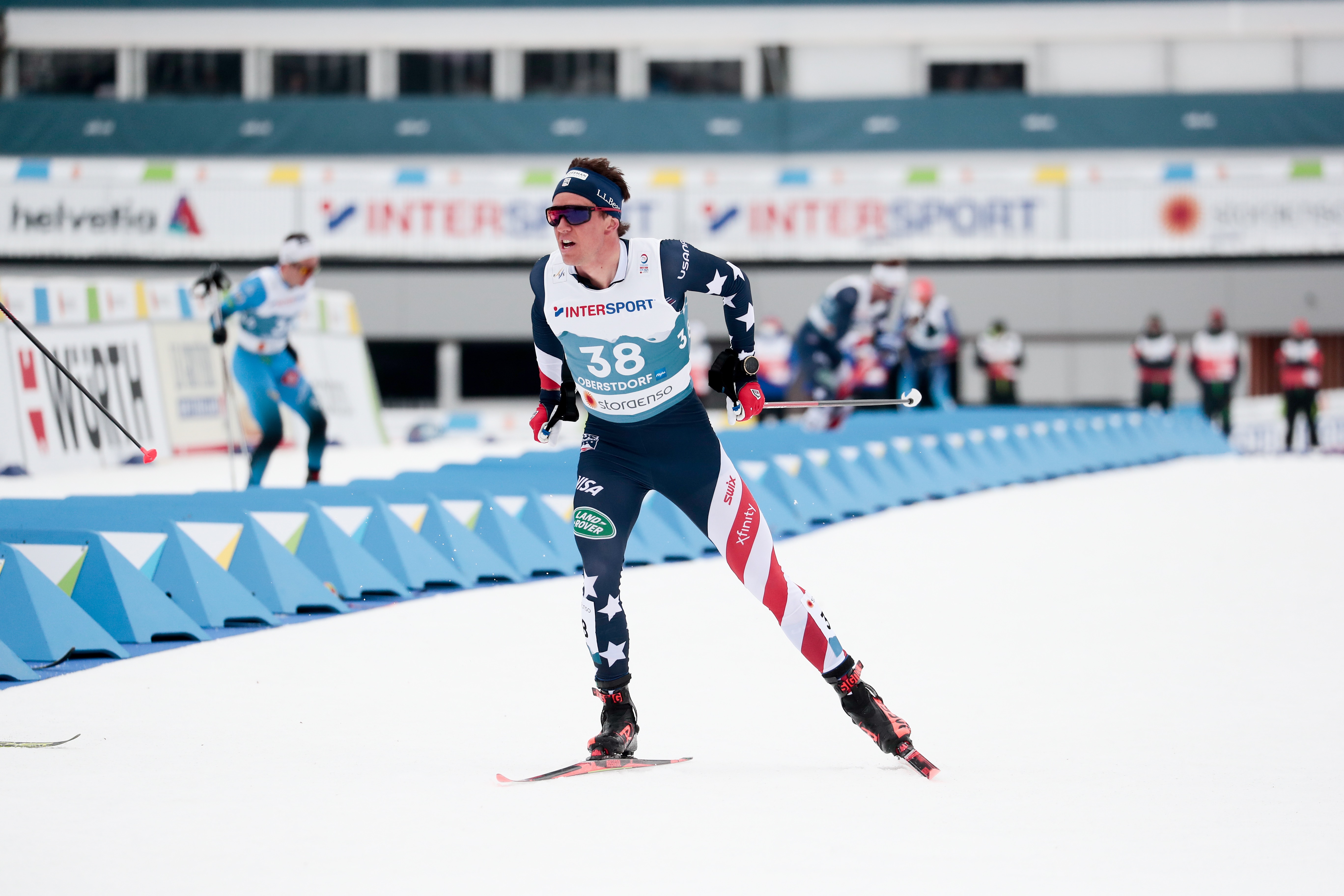 Scott Patterson was 14th and Jessie Diggins 15th to lead the way for the Davis U.S. Cross Country Ski Team in the skiathlon, the second event of the FIS Nordic World Ski Championships in Oberstdorf, Germany, Saturday.
It was an exciting race with Therese Johaug of Norway taking her fifth World Championship title in the event by a 30-second margin, even with a fall early on in the classic portion of the race. Frida Karlsson and Ebba Andersson of Sweden took silver and bronze. It was a sprint to the finish for the men, with Alexander Bolshunov of the Russian Ski Federation winning his first World Championships gold medal and Norwegians Simen Hegstead Krueger and Hans Christer Holund taking silver and bronze.
With cloudy weather cooling down the summer-like temperatures in Germany, Diggins put together a solid effort in both the classic and skate portions to finish 15th—her best skiathlon result at a World Championships. Young Sophia Laukli, a member of the Davis U.S. Cross Country Ski Team Development Team and the Middlebury College NCAA ski team, raced her first World Championships to 25th place. Laukli won a Junior World Championships medal in the relay in 2020 and just made her World Cup debut in Lahti, Finland, in January.
"I definitely felt like the energy was there," said Laukli. "It was a fun course for me—lots of hills and climbing. I was a little dreading some of the bigger climbs, but it definitely worked to my advantage. I felt pretty good, so that was awesome."
Katharine Ogden finished 32nd and Hailey Swirbul 37th.
On the men's side, Patterson looked strong and fast to nail a top-15 finish—his best individual World Champs finish in his career. "I'm psyched with that," he said. "It's the first race of World Champs—I haven't raced in a month. I felt good. I'm looking forward to some more racing. Without a pack, the 15k skate next could be better. I felt strong out there. I'm really excited for this week coming up."
Right behind Patterson was David Norris, who put up a good chase in the skate portion of the race to snag 17th place. "The first 3k of the skate I was still suffering from the final effort in the classic and then all of a sudden my legs got under me and I felt pretty free," he said. "It was the best I felt all season skating. That was awesome."
Rounding out the U.S. men, Hunter Wonders was 31st and Ben Ogden was 45th.
Next up, the U.S. will contend for medals in the team sprint on Sunday.
RESULTS
Women's World Championships skiathlon
Men's World Championships skiathlon
HOW TO WATCH
All Times EST
Saturday, Feb. 27
9:00 p.m. FIS World Nordic Combined Championships Women's HS106 and 5k - same-day broadcast, Oberstdorf, GER, Broadcast Olympic Channel
10:00 p.m. FIS World Ski Jumping Championships Men's HS106 - same-day broadcast, Oberstdorf, GER, Olympic Channel
Sunday, Feb. 28
4:00 a.m. FIS World Nordic Combined Championships Men's HS106 team event - LIVE, Oberstdorf, GER, Streaming Peacock
7:00 a.m. FIS World Cross Country Championships Men and Women's Team Sprint Finals - LIVE, Oberstdorf, GER, Streaming Peacock
8:00 a.m. FIS World Nordic Combined Championships Men's HS106 team event - same-day broadcast, Oberstdorf, GER, Olympic Channel
9:00 a.m. FIS World Nordic Combined Championships Men's 4x5k team event - LIVE, Oberstdorf, GER, Broadcast Olympic Channel
9:00 a.m. FIS World Nordic Combined Championships Men's 4x5k team event - LIVE, Oberstdorf, GER, Streaming Peacock
10:30 a.m. FIS World Nordic Championships Men's and Women's Team Sprint Finals - same-day broadcast, Oberstdorf, GER, Broadcast Olympic Channel
11:00 a.m. FIS World Ski Jumping Championships Mixed Team HS106 - LIVE, Oberstdorf, GER, Streaming Peacock
10:00 p.m. FIS World Ski Jumping Championships Mixed Team HS106 - same-day broadcast, Oberstdorf, GER, Broadcast Olympic Channel
Tuesday, March 2
7:15 a.m. FIS World Cross Country Championships Women's 10k freestyle - LIVE, Oberstdorf, GER, Broadcast Olympic Channel
7:15 a.m. FIS World Cross Country Championships Women's 10k freestyle - LIVE, Oberstdorf, GER, Streaming Peacock
1:00 p.m. FIS World Cross Country Championships Women's 10k freestyle - same-day broadcast, Oberstdorf, GER, Broadcast NBCSN
Wednesday, March 3
7:15 a.m. FIS World Cross Country Championships Men's 15k freestyle - LIVE, Oberstdorf, GER, Streaming Peacock
11:15 a.m. FIS World Ski Jumping Championships Women's HS137 - LIVE, Oberstdorf, GER, Streaming Peacock
Thursday, March 4
7:00 a.m. FIS World Nordic Combined Championships Men's HS137 - LIVE, Oberstdorf, GER, Streaming Peacock
7:15 a.m. FIS World Cross Country Championships Women's 4x5k relay - LIVE, Oberstdorf, GER, Streaming Peacock
9:15 a.m. FIS World Nordic Combined Championships Men's 10k - LIVE, Oberstdorf, GER, Streaming Peacock
Friday, March 5
7:15 a.m. FIS World Cross Country Championships Men's 4x7.5k relay - LIVE, Oberstdorf, GER, Streaming Peacock
11:00 a.m. FIS World Ski Jumping Championships Men's HS137 - LIVE, Oberstdorf, GER, Streaming Peacock
Saturday, March 6
4:00 a.m. FIS World Nordic Combined Championships Men's HS137 team sprint - LIVE, Oberstdorf, GER, Streaming Peacock
6:30 a.m. FIS World Cross Country Championships Women's 30k classic mass start - LIVE, Oberstdorf, GER, Streaming Peacock
9:00 a.m. FIS World Nordic Combined Championships Men's 2x7.5k team event - LIVE, Oberstdorf, GER, Streaming Peacock
11:00 a.m. FIS World Ski Jumping Championships Men's Team HS137 - LIVE, Oberstdorf, GER, Streaming Peacock
Sunday, March 7
7:00 a.m. FIS World Cross Country Championships Men's 50k classic mass start - LIVE, Oberstdorf, GER, Streaming Peacock