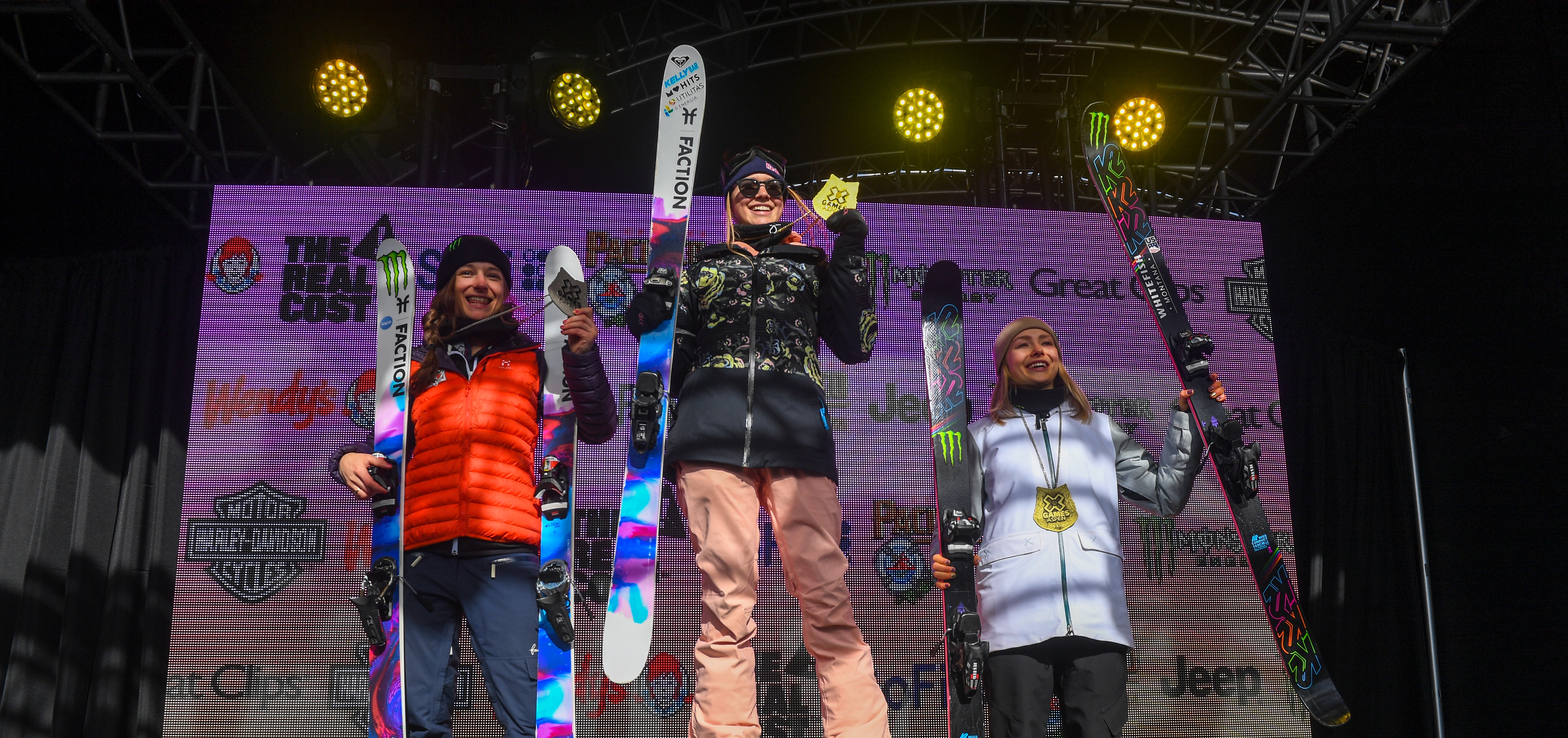 Maggie Voisin (Whitefish, Mont.) earned her fourth X Games medal on Friday with a third-place finish in the women's slopestyle competition in Aspen, Colo.
"We could not have asked for a more perfect day," said Voisin. "We have had great training all week, but the weather wasn't quite there yet. We woke up this morning with sunshine, a soft and fast course, it was just amazing. I'm really happy to have landed the double cork today as well. I tried it in Stubai, but wasn't able to put together a full run there. Moving into the World Championships next week, I would like to improve my grabs and work on locking them in a bit better. I feel like that's what got me today. The World Champs should be a lot of fun."
With a stacked field, beautiful weather, and a perfect course, fans watched as the sport of women's slopestyle freeskiing progressed before their eyes. There were multiple double corks, including Voisin's left side double cork 1260, numerous complete runs, and incredibly technical rail skiing. Voisin shared the podium with Estonian Kelly Sildaru, who took the victory with a score of 99.00 on her final run. Sarah Hoefflin of Switzerland finished second.
The women continued their day of competition with freeski big air under the lights in Aspen. After findings success earlier in the day, Voisin took to the course, but was unable to reach the podium for second time. Switzerland's Mathilde Gremaud took home the gold, Norway's Johanne Killi took silver, and Sildaru earned her third medal of the event with a bronze. Only two other athletes have medaled in three disciplines at the same X Games winter event (Joe Parsons in 2013 and Jennie Waara in 1997).
In men's snowboard big air, U.S. Snowboard Pro Team member and Olympian Chris Corning started out the jam session strong, but after falling on his attempt of the quad cork 1800, which won him the gold at the 2018 Cardrona, Zew Zealand World Cup in big air, he was unable to move into podium contention. 17-year-old Takeru Otsuka of Japan earned his second consecutive gold medal in X Games snowboard big air, while Canada's Mark McMorris finished second and Sweden's Sven Thorgren finished third.
Competition continues Saturday with the women's snowboard slopestyle final featuring U.S. Pro Team members and Olympians Hailey Langland (San Clemente, Calif.) and Julia Marino (Westport. Conn.).
The men's snowboard slopestyle final will follow with U.S. Pro Team members Judd Henkes (La Jolla, Calif.) and Olympic gold medalist Red Gerard (Silverthorne, Colo.). Although Chris Corning (Silverthorne, Colo.) qualified into finals in third place, he will sit out the final round of competition to rest for the FIS World Championships Feb. 1-10 after a fall during big air finals. The freeskiers will also take to the big air course with the loan American Alex Hall (Park City, Utah), representing U.S. Ski and Snowboard.
Day three of X Games will conclude with the women's snowboard superpipe final with Olympic gold medalist and defending X Games champion Chloe Kim (Torrance, Calif.), Arielle Gold (Steamboat Springs, Colo.) and Maddie Mastro (Wrightwood, Calif.). The U.S. ladies will be looking to defend their sweep of the podium from 2018. Stay tuned for an exciting day of competition.
HIGHLIGHTS
Maggie Voisin bronze medal run
RESULTS
Women's freeski slopestyle
Women's freeski big air
Men's snowboard big air
HOW TO WATCH
FREESKI
Saturday, Jan 26
10:00 p.m. - Men's big air - Aspen, Colo. - ESPN
Sunday, Jan. 27
2:00 p.m. - Men's slopestyle - Aspen, Colo. - ESPN2
SNOWBOARD
Saturday, Jan 26
1:00 p.m. - Women's slopestyle - Aspen, Colo. - ABC
1:00 p.m. - Men's slopestyle - Aspen, Colo. - ABC
8:30 p.m. - Knuckle Huck - Aspen, Colo. - @XGames
10:00 p.m. - Women's superpipe - Aspen, Colo. - ESPN
Sunday, Jan. 27
8:30 p.m. - Men's superpipe - Aspen, Colo. - ESPN