Halvorsen Joins Team To Start Davos World Cup Sprint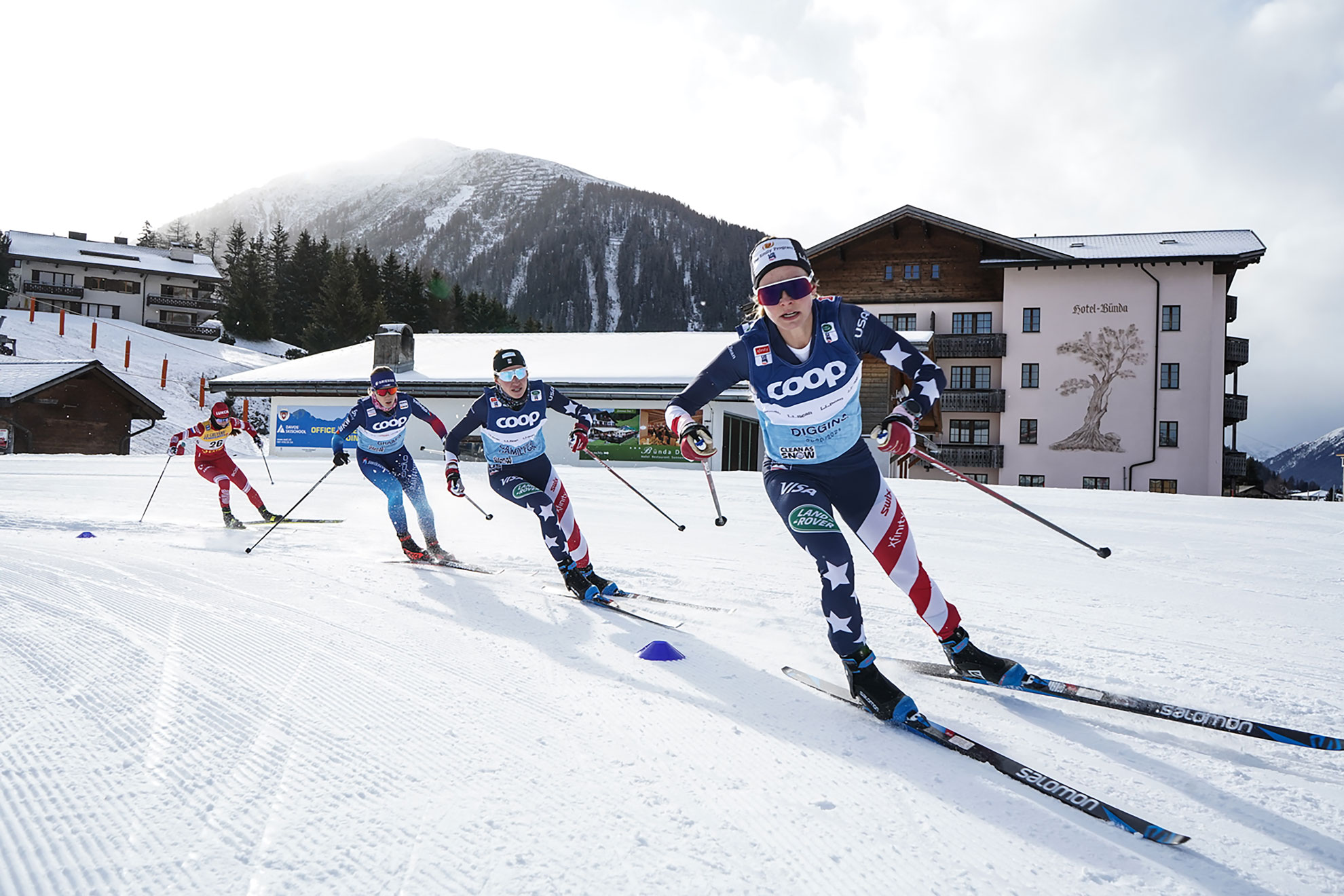 The Davis U.S. Cross Country Team returns to World Cup action this weekend and welcomes Hannah Halvorsen back to the team for her first World Cup start after suffering injuries in a season-ending accident last year.
Davos, Switzerland, will host men and women's freestyle sprint Saturday, and distance freestyle events Sunday—10k for the women and 15k for men. All events will be streamed live on NBC's Peacock platform, and The Olympic Channel and NBCSN will provide a same-day broadcast of both events. 
Starters for Saturday's freestyle sprint include Simi Hamilton, Kevin Bolger, Logan Hanneman, Gus Schumacher, Tyler Kornfield, JC Schoonmaker, Jessie Diggins, Sophie Caldwell Hamilton, Rosie Brennan, Julia Kern, Hailey Swirbul, and Hannah Halvorsen, who has spent the past 13 months recovering from injuries suffered when she was hit by a car walking across a downtown Anchorage street in Nov. 2019. 
"Just to be here and be able to put on a bib and step on the start line is a massive accomplishment," Hannah said. "I have worked hard to get here, but certainly not on my own as I have been supported by the entire nordic community. As I head into this race, I feel a lot of things, but most powerfully, I feel happy, proud, and grateful."
Heading into this weekend, Hannah has a couple of goals in mind. The first, to enjoy the friendship and comradery of her teammates, including seeing Jula and Katharine, who along with Hailey, were members of the 2017 bronze-medal winning Junior World Championship Team. And secondly, putting forth her best effort in Saturday's sprint. 
"I have felt strong and healthy in training, but I honestly have no clue how I will do result wise," she said. "I don't have expectations to earn a certain place, but I do expect myself to prepare mentally and physically to get on the start line ready to give my absolute best."
Rosie enters Saturday's race as the top U.S. woman on the overall World Cup Cross Country standings in fifth, following her fifth-place finish in the season-opening Ruka Triple. Jessie currently sits 15th overall and Hailey 29th. Jessie, Hailey, Julia, and Sophie all qualified for the heats at Davos last year, with Sophie finishing on the podium in third.
For Sunday's 10k freestyle, starters include Jessie, Julia, Rosie, Hailey, Katharine, and Caitlin Patterson. On the men's side, Simi, Kevin, and Gus will be joined by Scott Patterson, Ian Torchia, and Adam Martin. Heading into the weekend, Scott is the top-ranked American on the World Cup standings in 44th, followed by Gus in 46th.
Green Light for FIS Tour de Ski 
The FIS Tour de Ski was given green light as all health prevention plans of the local organizers in Val Müstair, Switzerland, Toblach, and Val di Fiemme, Italy, were approved by the respective governments. The Tour de Ski is scheduled for Jan. 1-10.
FIS Cross Country World Cup in Ulricehamn, Sweden, Rescheduled
To avoid additional international travel during January, FIS, together with the Swedish Ski Association and the Finnish Ski Association and all stakeholders, agreed that the Cross-Country World Cup competitions of Ulricehamn, Sweden, originally scheduled for January 16-17 will be rescheduled to February 6-7. 
U.S. Starters, World Cup Davos, Switzerland, Dec. 12-13
Saturday Freestyle Sprint
Women
Jessie Diggins
Sophie Caldwell Hamilton
Julia Kern
Hailey Swirbul
Rosie Brennan
Hannah Halvorsen
Men
Simi Hamilton
Kevin Bolger
Logan Hanneman
Gus Schumacher
JC Schoonmaker
Tyler Kornfield
Sunday Freestyle Distance
Women, 10k
Jessie Diggins
Rosie Brennan
Julia Kern
Hailey Swirbul
Katharine Ogden
Caitlin Patterson
 Men, 15k 
Scott Patterson
Simi Hamilton
Gus Schumacher
Ian Torchia
Adam Martin
Kevin Bolger
HOW TO WATCH
All times EST

Saturday, Dec. 12
7:45 a.m. FIS Cross Country World Cup Men and Women's Sprint - LIVE, Davos, SUI, Streaming Peacock
11:00 a.m. FIS Cross Country World Cup Men and Women's Sprint - Same Day Delayed Broadcast, Davos SUI, Broadcast Olympic Channel
Sunday, Dec. 13
4:45 a.m. FIS Cross Country World Cup Women's 10k - LIVE, Davos, SUI, Streaming Peacock
8:30 a.m. FIS Cross Country World Cup Men's 15k - LIVE, Davos, SUI, Streaming Peacock 
Monday, Dec. 14
12:00 a.m. FIS Cross Country World Cup Women's 10k - Next Day Delayed Broadcast, Davos, SUI, Broadcast NBCSN