Gerard First, Henkes Second at Mammoth Mountain Grand Prix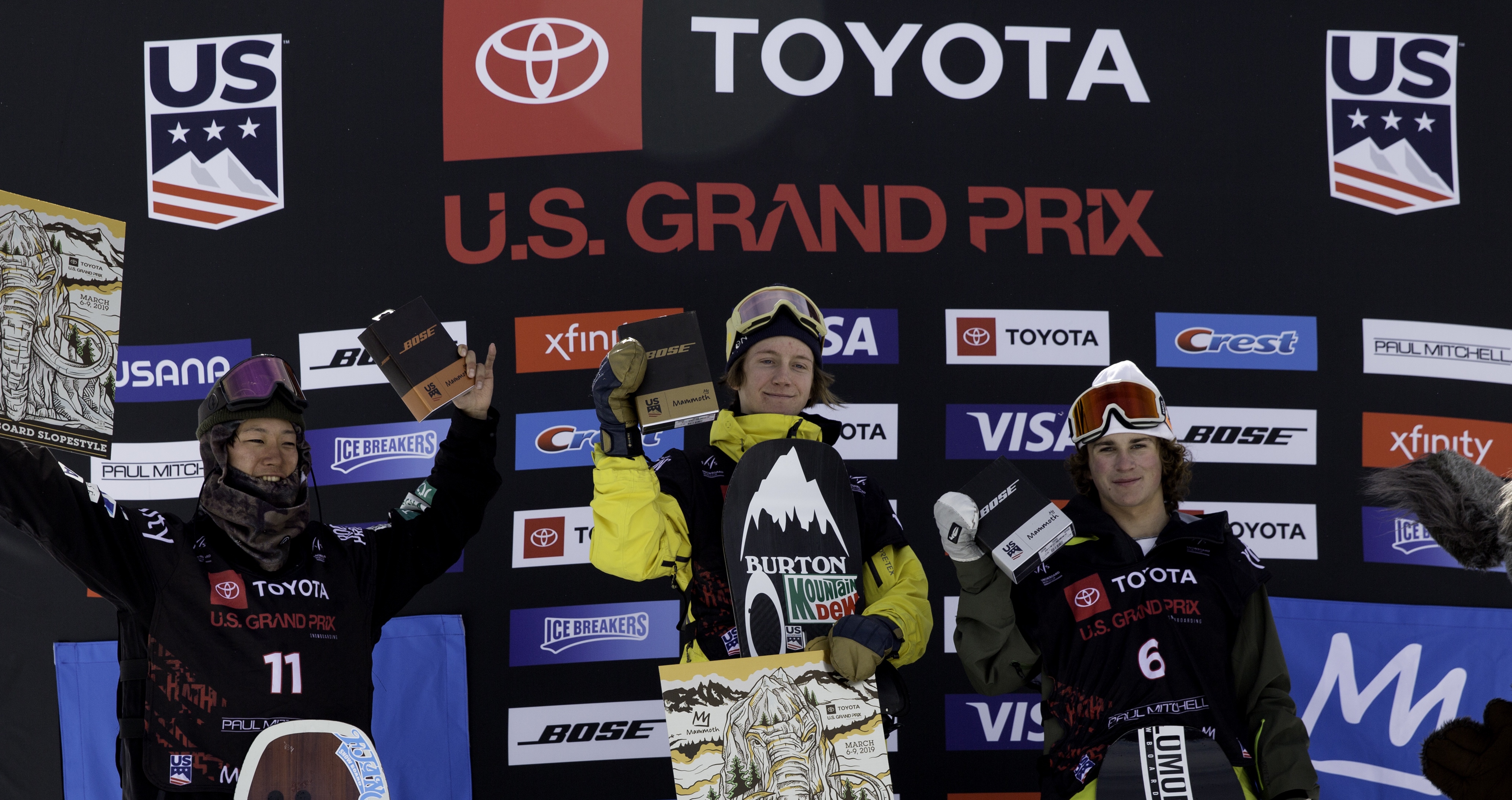 The final day of snowboard competition at the 2019 Toyota U.S. Grand Prix at Mammoth Mountain, Calif., launched with an impressive display by U.S. Snowboard Pro team member and Olympic gold medalist Red Gerard (Silverthorne, Colo.) in slopestyle finals. Fresh off a win a the Burton U.S. Open, Gerard landed his second run, complete with a backside triple cork 1440 on the last jump, to seal the top spot on the podium.
"I feel great," said Gerard. "We have had some bad weather here in Mammoth, so I was really psyched to get the contest done and have everyone get to ride in finals. The last two weeks have been insane. I could not ask for any more. The jumps were a little small, so there was a sense that you want to tone down your run, but the fact is in the finals you are competing against the best riders in the world, so I decided to throw the triple 1440 on the last jump."
Gerard was not the only U.S. Snowboard athlete to find success on Saturday as Judd Henkes (La Jolla, Calif.) also earned himself his first-ever World Cup podium, finishing second behind Gerard. Henkes also stomped a backside triple cork 1440 to close out his run.
"It feels really good man," said Henkes. "I was just stoked to put down a run. I was actually feeling really sick this morning and didn't want to compete, but I'm happy I did. Also, shout out to Mammoth. This is my home mountain and it's really cool to come out here and have success here on a great course. I know it was tough with the weather, but I'm really happy the contest got off."
Henkes also wrapped up a strong season that included finishing third at the 2019 FIS World Championships. In addition, Chris Corning (Silverthorne, Colo.) put down a strong run, finishing fifth, and securing the FIS World Cup slopestyle title and the coveted Crystal Globe.
"I am really happy to take home the globe," said Corning. "My goal coming here was to hold down that top spot and I'm stoked I was able to do that. This is my last contest of the year. I plan on going home riding some powder and get ready for summertime."
U.S. Snowboard Team alumnus Chas Guldemond (Truckee, Calif.) also competed for the first time this season and put on a show for his local California crowd.
"I am transitioning to the coaching and mentor side of the sport right now," said Guldemond. "All year people have asked me if I was competing and I kept telling them if I receive an invite, I won't turn it down. The other day I got the invite and put my kid in the car and headed down. Stoked to be putting down runs."
Gerard shared his thoughts on having Guldemond in the field as it clearly was a treat for all the current U.S. Snowboard Team members.
"It was awesome to ride with Chuck G," said Gerard. "I actually worked out with him all summer, so it was sick to compete with him. I thought he rode insane and honestly thought he was going to win."
As if the day couldn't get any better, Gerard's win earned him the U.S. Grand Prix National Championship award. Ruki Tobita of Japan finished second, and U.S. Snowboard Pro team member and Olympian Ryan Stassel (Anchorage, Alaska) finished a respectable ninth-place.
With the snowboard slopestyle World Cup season coming to a close, the U.S. Snowboard Team dominated the 2019 FIS Cup Standings claiming the top four spots. Behind the cup leader Corning was Henkes in second, Farrell in third and Stassell in fourth.
Following snowboard slopestyle, the men and women of the U.S. Snowboard Team would drop in for snowboard halfpipe finals. Chase Josey (Hailey, Idaho) finished in fourth place just outside of podium contention, and just in front of teammate Ryan Wachendorfer (Edwards, Colo.) in fifth. Josey's finish would earn him the title of U.S. Grand Prix National Champion. In addition U.S. Rookie Team member Jason Wolle (Winter Park, Colo.) finished in ninth.
"Finals have always been sort of an unattainable goal for me," said Wolle. "To finally see all the hard work pay off and land tricks I have been working in the final round of a World Cup competition makes this the best day ever."
Yuto Totsuka of Japan won the event, Patrick Burgener of Switzerland finished second and Derek Livingston of Canada closed out the podium in third. For the women, Cai Xuetong of China finished in first-place, Sena Tomita of Japan finished second and Verena Rohrer of Switzerland finished in third.
CUP STANDINGS
Men's snowboard slopestyle
Men's snowboard halfpipe
Women's snowboard halfpipe
RESULTS
Men's snowboard slopestyle
Men's snowboard halfpipe
Women's snowboard halfpipe