"With all the girls throwing down, I decided to step up my run and it paid off miraculously. I accomplished way more than I thought I would accomplish, so I am extremely happy."
5 Things You Didn't Know About Hailey Langland
1. In 2017, she landed the first ever Cab double cork 1080 to win X Games big air competition.
2. In her downtime, Hailey likes to make music--she plays ukulele, guitar, piano and is hoping to pick up the violin.
3. She made her first Olympic team at only 17 years old.
4. Hailey received the "Burton Rider's Choice" Award at the 2020 U.S. Open.
5. Hailey is known and respected as a master of snowboard style by the industry and her peers.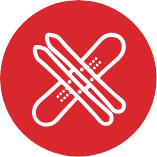 U.S. Grand Prix
2nd, SS, Aspen, CO, 2021 • 2nd, SS, Mammoth Mountain, CA, 2017