Gold Leads American Sweep at X Games SuperPipe Session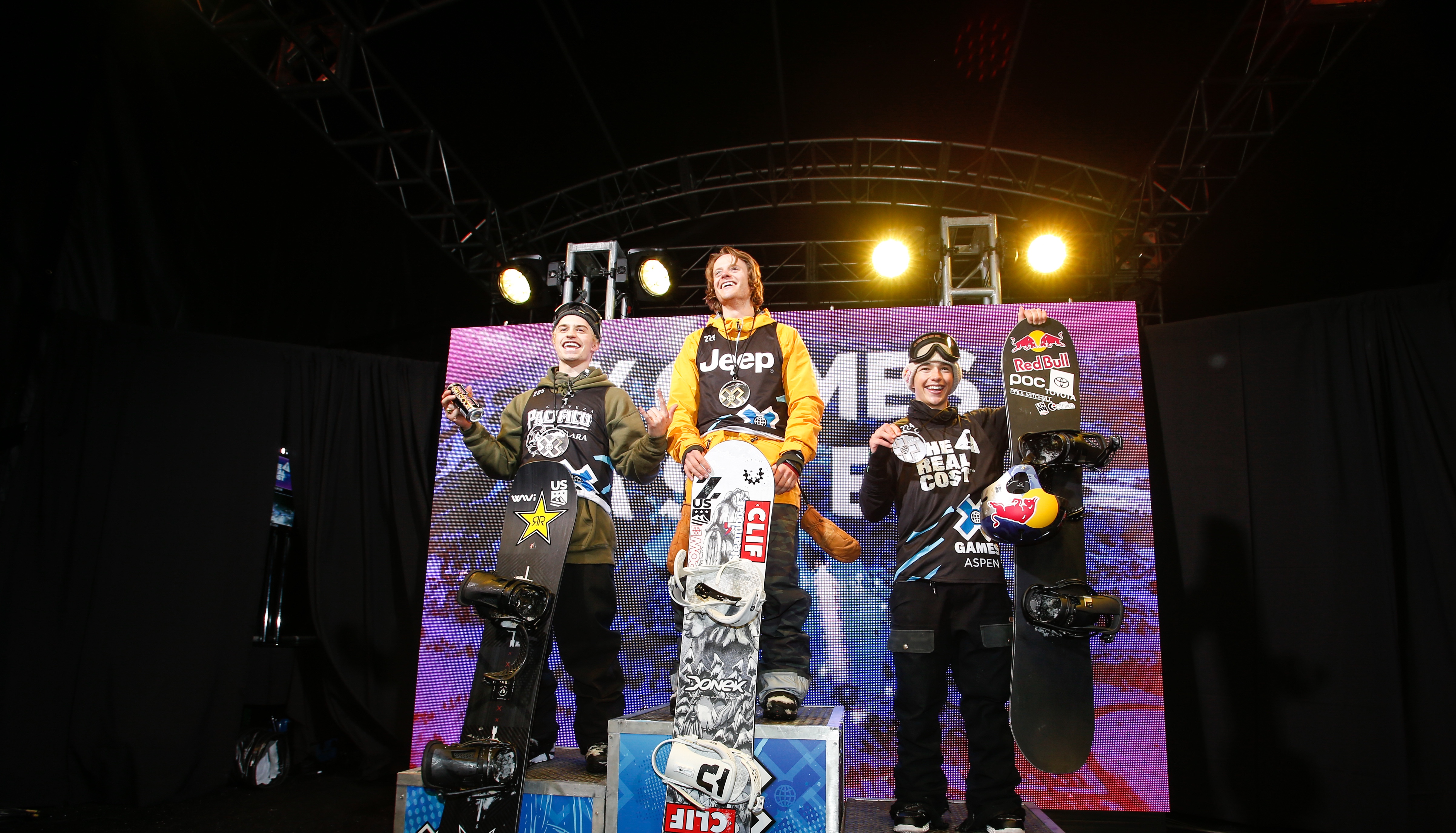 U.S. Snowboard Pro Team member Taylor Gold led an all American podium at the inaugural X Games snowboard superpipe session on the second night of X Games Aspen 2020. In a brand new competition where style, creativity, and fun are the name of the game, Taylor was able to let his true colors shine. It was a night full of hand plants, lip tricks, gator rolls, and pure joy for the riders. 
"The new format for X Games session really brought out everyone's creativity, which was super cool to be a part of," said Taylor. "It was easy to see that everyone was having a great time. I was really stoked to land my new trick because I wasn't able to put it down during the first event. Not to mention I was able to connect it with some tricks that I think are really fun."
U.S. Snowboard Pro Team members and teammates Jake Pates and Toby Miller earned silver and bronze respectively. 
"Last night was incredible," said Toby. "None of us knew what to expect with it being a new event. As soon as practice started I knew immediately that the event was gonna be a blast. Everyone rode incredible and showed how much fun you can truly have in a halfpipe. I could not be happier to have walked away with third place. Getting to share the podium with Taylor Gold and Jake Pates was a moment I will never forget!" 
The men's superpipe session, just like the knuckle huck competition, is a symbol of a new era in freeskiing and snowboarding where style and variety are king, and the number of spins and flips are secondary. Although today this is deemed as "new," it relates back to the core of both sports. In addition to these new competitions, the live-ranking jam-session format, which encourages athletes to do different runs with no scores involved, also caters to this new direction versus the previous format (best score out of three runs). Progression doesn't always need to be marked by an extra 180, but rather by the way athletes go about putting together an entire performance throughout their event. 
Stay tuned for more action from X Games throughout the weekend. See the full broadcast schedule below. 

RESULTS
Men's snowboard superpipe session

HOW TO WATCH
Subject to change
All times EST
@XGames - Streaming via YouTube, Facebook and Twitter pages.
*Same-day broadcast
**Next-day broadcast
FREESKI
Saturday, Jan. 25
1:00 p.m. - Men's Ski Slopestyle Finals - Aspen, Colo. - ABC
8:30 p.m. - Women's Ski SuperPipe Finals - Aspen, Colo. - @XGames
10:00 p.m. - Women's Ski SuperPipe Finals - Aspen, Colo. - ESPN
Sunday, Jan. 26
2:00 p.m. - Women's Ski Slopestyle Finals - Aspen, Colo. - ESPN2
8:30 p.m. - Men's Ski Superpipe Finals - Aspen, Colo. - ESPN
SNOWBOARD
Saturday, Jan. 25
1:00 p.m. - Women's Snowboard Slopestyle Finals - Aspen, Colo. - ABC
1:00 p.m. - Men's Snowboard Slopestyle Finals - Aspen, Colo. - ABC
10:00 p.m. - Men's Snowboard Big Air Finals - Aspen, Colo. - ESPN
10:00 p.m. - Women's Snowboard SuperPipe Finals - Aspen, Colo. - ESPN
Sunday, Jan. 26
2:00 p.m. - Snowboard Rail Jam - Aspen, Colo. - ESPN2
8:30 p.m. - Snowboard Knuckle Huck - Aspen, Colo. - ESPN