Aerials Midsummer Check In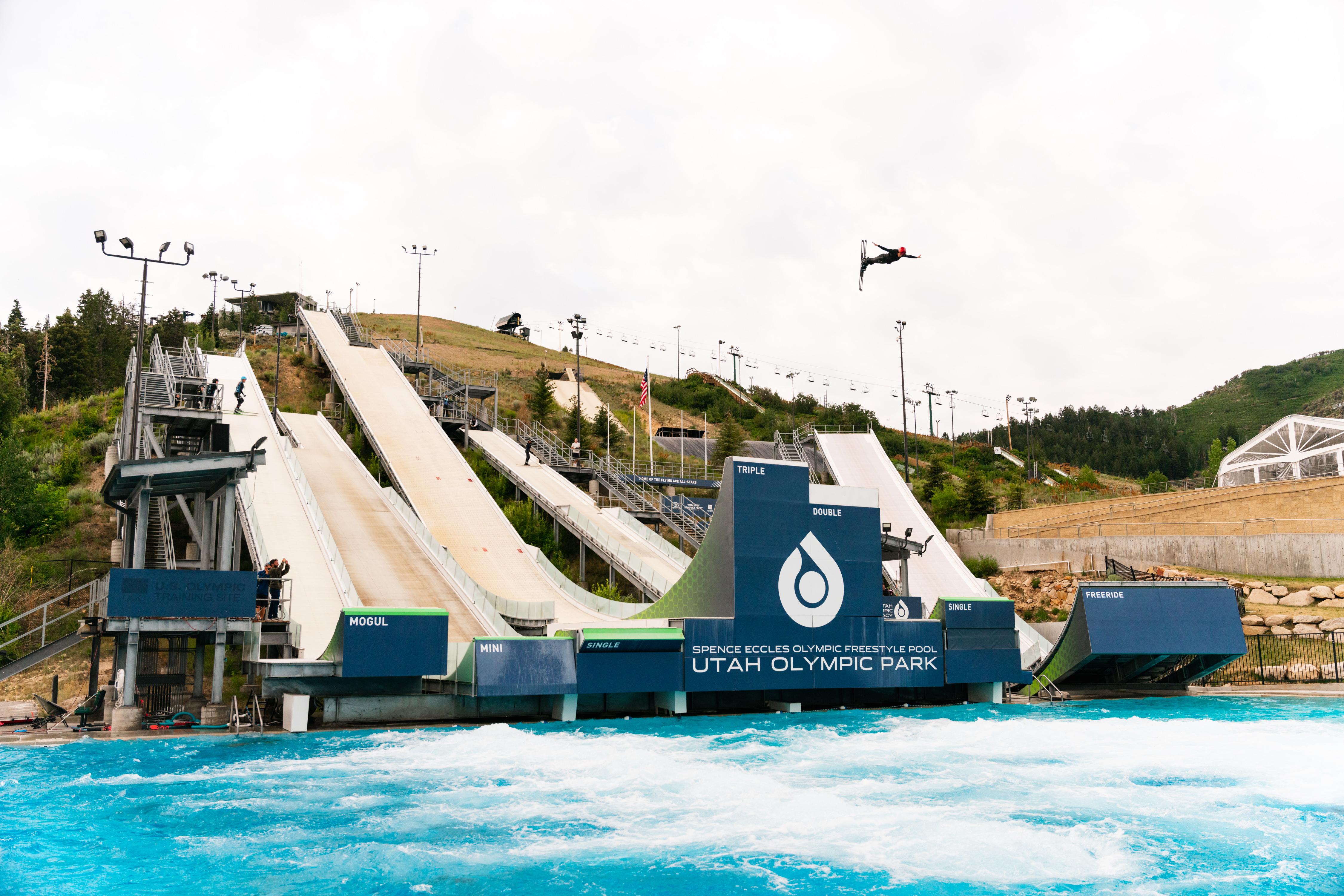 For the aerial skiers of the U.S. Freestyle Ski Team summer means wetsuits, drysuits, thousands of stairs and lots of chlorine as they train at the Spence Eccles Olympic Freestyle Pool at Official Training Site Utah Olympic Park. Athletes have been on the ramps and in the air since May, and just wrapped their August training block with a FIS-judged competition simulation.
At the start of every summer athletes have to reacquaint themselves with their craft. "Our first camp of the season everyone starts at the beginning," explained U.S. Freestyle Team Head Aerials Coach Vladimir (Vlad) Lebedev. "We have to remember how to jump in water, how the skis feel on the ramp surface, things like that. Everyone starts with singles, with our easy tricks, and progresses based on performance and quality. May and June are for building a solid foundation so we can get to the real work in July." 
The July and August camps' main focus is repetition of high degree of difficulty jumps. "You have to execute the jumps well, but you have to do it a lot," said Lebedev. Building mental fortitude and muscle memory is key in making an athlete competition-ready. "Not only knowing you can execute the trick, but knowing you have executed it many times before is what we want."
Lebedev reports that many athletes have added new tricks to their arsenals and the whole team is looking really good. 
Three-time Olympian Ashley Caldwell is working on the trick that earned her a World Record, a full double-full full, also known as The Daddy - the highest degree of difficulty trick in women's aerials. "For Ashley, we are focusing on getting those numbers in," said Vlad. "She knows what she has to do and she is putting in the work to make this part of her competition program coming into the 2021-22 season."
Several women brought new tricks to water as part of their 2021-22 competition plan. Winter Vinecki, who had a breakout season in 2019-20 with three podiums and finished second in the overall standings, is working on a full double-full. Both Megan Smallhouse and Kaila Kuhn brought double-full fulls to water. 
Megan Nick, who earned two World Cup wins last season, is not bringing anything new to her repertoire but is focused on her quality for her full double-full and double-full full, also known as Millers. Dani Loeb and Karenna Elliott are working through their program as well. 
On the men's side both Chris Lillis and Justin Schoenefeld are training quints - quintuple twisting triple backflips. Lillis became the first American since Jeret "Speedy" Peterson to compete a quint, and the feat earned him two World Championships medals in 2021. Eric Loughran is working through his entire jump package.
Last season marked Quinn Dehlinger's first competing off of the triple kicker. He is putting in the work this summer to increase his numbers. "It usually takes about three seasons to see a male athlete compete off of the triple and achieve podiums, it's all about numbers and time," explained Lebedev. "Quinn is looking really good right now, he is super motivated."
"This summer's training has been going as well as I could have hoped for," Dehlinger said. "During this summer I have been working on new triples like full double-full full and full full double-full. This will hopefully make me competitive for this upcoming winter on the World Cup tour. Looking forward to the rest of the summer I am just trying to be more consistent with all of my training."
The team has been training alongside the Canadian Aerials Team all summer and on August 28 and 29 the two nations held a water ramp competition simulation with FIS judges. The simulation followed Olympic format and athletes performed their Olympic jump plan.
"Competition simulations are extremely important and valuable training tools," said Lebedev. "During regular training you have unlimited jumps and time. But that's not what it's like when you're on the World Cup circuit and training. You have limited time and limited jumps. It's important to mock out the strategies we will use in season."
Lebedev is proud of the work his athletes have put in this summer so far. Looking ahead to September, athletes will all still be working on their hardest tricks, but will hone in on quality more than repetition. "In general all of the athletes have shown good improvements," he said. "The team is looking strong and everyone is extremely motivated for this upcoming Olympic season."
To support the U.S. Freestyle Aerials Ski Team, please click here for more information.