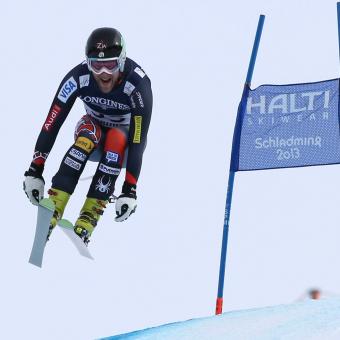 Will Brandenburg comes from a family of competitive swimmers, but he'd rather be racing outside. After breaking out as a junior in 2007, he caught the injury plague for a few seasons. He then worked his butt off to land a coaches discretion spot for the 2010 Olympic super combined. He didn't disappoint, turning a 19th in the opening downhill into the second-fastest slalom run, behind teammate Ted Ligety and ahead of gold medal winner Bode Miller, to finish the race in 10th.
Harder on himself than any coach, Brandenburg opened the 2013 World Cup season with a promising top 15 in Levi, Finland. Then, unfortunately, he got the DQ bug. While Brandenburg won sections and made some of the cleanest, tightest turns of any slalom racer on tour, he couldn't put it together all the way to the finish.
FIRST TRACKS
Brandenburg was on skis at 11 at Ski Bluewood in nearby Walla Walla, WA. "It was free to ski," says Brandenburg, "but it wasn't free to go to the babysitter."  He played Little League baseball and High School football, but snow won him over and he began training full-time with ski racing as a freshman. His freshman year also marked his first trip to Europe for the prestigious Topolino races in Italy. He joined the U.S. Ski Team program in 2006.
OFF THE SNOW
Brandenburg played everything when he was a kid and still loves to shoot hoops, which feeds his passion for watching Gonzaga basketball. "I went to the same elementary school as [ex-Gonzaga star] Adam Morrison; I was there when he was in high school." Brandenburg is a gym rat. For him, it was all about building strength and endurance.
Results
OLYMPICS
10th, SC, Vancouver, CAN, 2010
WORLD CHAMPIONSHIPS
Teams: 2011, 2013
WORLD CUP
6th, SL, Kranjska Gora, SLO, 2012
First points, 24th, SL, Adelboden, SUI, 2011
OTHER
2007 Ski Racing Magazine Junior of the Year
5th in DH at 2007 Junior Worlds