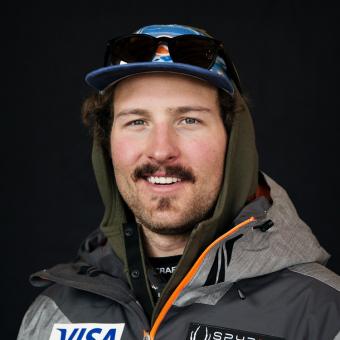 Aspen local Wiley Maple has the body for hockey and was originally headed in that direction when skiing provided him a slap-shot opportunity to ski with the U.S. Development Team. 
Though Maple has struggled with injuries, he is a consistent points scorer on the World Cup circuit. His 2016 season was highlighted by three top-30 finishes including a 24th in super G at the Olympic test event in Jeongseon, South Korea. On top of that, Maple won his second consecutive U.S. National downhill title on home turf in Aspen to cap off the season, on a course he's very familiar with, known as "America's Downhill." Maple, however, would miss the entire 2017 season — which included the World Cup Finals in his hometown of Aspen — due to injury.
Maple has had multiple back surgeries, but his main ailment has long been his patella, or kneecap, which he has, again, had multiple surgeries on. Prior to joining the U.S. Ski Team for its annual fall training camp in summer 2017 in La Parva, Chile, Maple had not been on snow in nearly a year and a half. The tough-as-nails, no BS Aspen local worked his way back to the World Cup circuit, motivated by Aspen native and friend/mentor John "Johno" McBride, who rejoined the U.S. Ski Team coaching staff as head coach of the speed team. In 2018, he snagged three top 30 finishes in super-G and downhill and made it to his first career Olympics. 
FIRST TRACKS
Growing up in one of America's quintessential ski towns was a good indication that Maple would find his way onto the slopes. It helped that his parents, real estate manager Mike and architect Julie, were big time skiers. He comes from a skiing family—his grandparents met at the Columbia Icefields in Alberta, Canada and relocated to Aspen, Colorado to set up shop in the mountains. His father excelled in ski racing and went on to lead CU to NCAA titles when he was there. Plus, younger sis Alexandra is pretty good, too. She went the college route and skied for the University of Colorado…just like dad. Solid junior results earned Maple a spot in the U.S. Development program in 2009 and he's been focused on World Cup ever since.
OFF THE SNOW
Maple, like his name, is the man with the wily hair. When not skiing, he's skiing some more. An Aspen native, Maple loves to ski first lift to last lift. When the snow's not flying, you'll find Maple running around hiking, biking, climbing and just playing in the mountains around Aspen or surfing the bowls at the local skate park. Aside from sports, he likes hanging out with good people and kicking back to a little classic rock or bluegrass.
Team Info
Aspen Valley Ski and Snowboard Club
Results
OLYMPICS
30th, DH, PyeongChang, KOR, 2018

WORLD CUP
22nd, DH, Kitzbuehel, AUT, 2018
29th, SG, Kitzbuehel, AUT, 2018
24th, DH, Bormio, ITA, 2017
24th, SG, Jeongseon, KOR, 2016
23rd, DH, Garmisch-Partenkirchen, GER, 2016
25th, SG, Kitzbuehel, AUT, 2016
17th, DH, Saalbach, AUT, 2015
22nd, DH, Lake Louise, CAN, 2015
First points, 29th, SG, Val Gardena, ITA, 2012
Debut, DH, Wengen, SUI, 2011
OTHER
Two-time U.S. National Downhill champion, 2015-16
1st, DH, Val d'Isere, FRA – Europa Cup, 2013
2011 NorAm downhill champion
Three-time Junior World Championships Team member
2008 National Junior Championships downhill gold