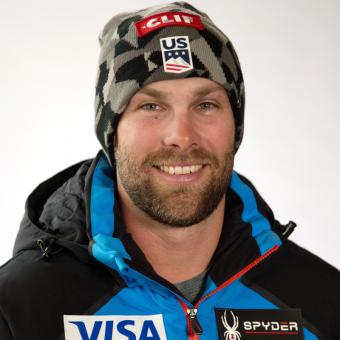 2015 World Championships silver medalist Travis Ganong knows how to pick a line down a racecourse and in the backcountry, but it was the line set by his older sisters, Megan and Ali, that helped reel him into ski racing. He launched his World Cup career in 2010 and has quickly become a leading member of the future downhill greats club.
Teammate Steven Nyman called it in Dec. 2012 when he told Ganong "you've got next" after Nyman won the famed Saslong downhill (for the second time) in Val Gardena, Italy. Ganong believed in Steven by warming up for the Olympics with downhill seventh and super G sixth in Kitzbuehel, a personal best World Cup weekend. He then trumped his own deck in Sochi by notching fifth in the Olympic downhill to lead the U.S. Ski Team, which included heavy favorite Bode Miller. The taste was sweet, but Ganong wanted top three and knew he had the ability to make it happen. So he did. Just one week after the Olympics, the young man from Squaw Valley finished third in a World Cup super G in Kvitfjell, Norway to cap his best ever World Cup season and safely stake his claim as one of the next great American downhillers.
Ganong really did have next—just after teammate Nyman snagged his hat-trick victory in Val Gardena, Ganong made the big leap to the top of the podium this season, snagging the victory at the Santa Caterina downhill. From there, Ganong went on to crush it at Vail/Beaver Creek World Championships, with a second place finish in front of a massive crowd and ended up a career-best 11th ranked in the downhill standings. Ganong started the 2016 season off with a bang in Lake Louise, finishing 3rd in downhill and 4th in super G. He would go on to snag six top 10 World Cup finishes. In the 2017 season, Ganong snagged his second career World Cup victory on a gnarly, real-deal Garmisch downhill track. Unfortunately, in the 2018 season leading up to the Olympics, Ganong suffered a knee injury in Bormio and was unable to make his second Olympic bid. He is back on snow this summer and is looking forward to the upcoming World Championship season. 
FIRST TRACKS
Growing up minutes from Squaw Valley, he found himself in the Mighty Mites peewee program as a tyke. He devoured the opportunity. "Cliffs, chutes, pillow-lines, arcin' turns down the Dog Leg! I couldn't get enough," he recalls. With his sisters showing the way, he got into the race program. He pointed to his sister Megan's time on the U.S. Ski Team and said he wanted to follow her lead.
OFF THE SNOW
There isn't much 'off snow' for Ganong, who is the first to grab his fat boards on a race cancelation day. Big Mountain skiing is what it's all about and what a better place to learn than Squaw Valley. "I love freeskiing and big mountain skiing just as much as racing, and they both kind of help out the other." 
 
Team Info
2014 Sochi
2018 Pyeongchang
Results
OLYMPICS
5th, DH, Sochi, RUS, 2014
23rd, SG, Sochi, RUS, 2014
WORLD CHAMPIONSHIPS
Teams: 2011, 2013, 2015, 2017, 2019
25th, DH, St. Moritz, SUI, 2017
14th, SG, St. Moritz, SUI, 2017
2nd, DH, Vail/Beaver Creek, USA, 2015
18th, SG, Garmisch-Partenkirchen, GER, 2011
24th, DH, Garmisch-Partenkirchen, GER, 2011
WORLD CUP
8th, SG, Aspen, Colo., 2017
8th, DH, Kvitfjell, NOR, 2017
1st, DH, Garmisch, GER, 2017
7th, DH, Val Gardena, ITA, 2017
7th, SG, Val d'Isere, FRA, 2017
Ranked 11th in DH, 19th in SG, 2016
6th, DH, St. Moritz, SUI, 2016
6th, DH, Garmisch-Partenkirchen, GER, 2016
4th, SG, Lake Louise, CAN, 2016
Career best SG finish, 4th, Lake Louise, CAN, 2016
3rd, DH, Lake Louise, CAN, 2016
Ranked 11th in DH, 27th in SG, 2015
Career first victory, Santa Caterina, ITA, 2015
Career first podium, 3rd, Kvitfjell, NOR, 2014
Ninth in downhill standings, 2014
18th in downhill standings, 2013
Has scored points on all of the world's top downhill tracks
Career first World Cup points in Kvitfjell, Norway, 2010
U.S. CHAMPIONSHIPS TITLES
2013, SG, Squaw Valley, CA
2010, DH, Aspen, CO
2010, SG, Aspen, CO
OTHER
Second in 2010 NorAm DH points
Three-time member of Junior Worlds Team