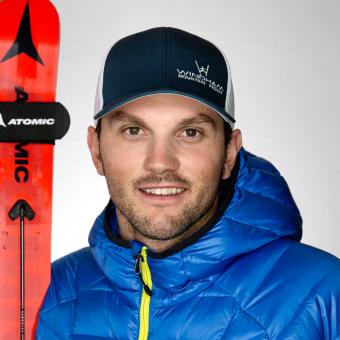 An East Coaster by birth, Tommy Biesemeyer knows what it's like to race on icy conditions. A product of the New York Ski Education Foundation, he started racing at Whiteface, but he quickly moved into to the U.S. Ski Team food chain, making his World Cup debut in 2011.
Try telling an alpine ski racer who specializes in speed to move slowly. It's not easy. Tommy "BZ" Biesemeyer (Keene, NY) is no exception. After sustaining an ACL and MCL injury in 2014, Biesemeyer had to come to terms with the fact that he had pain that never really went away. Now, Biesemeyer has done the work and put in the time the right way: by moving slowly.
The time off wasn't so bad for Biesemeyer. He was able to acknowledge that ski racing isn't everything in life, and made new friends, worked on a college degree at the University of Vermont—all which made him appreciate skiing in a bigger way. Brunner encouraged Biesemeyer to explore life outside of skiing. "It's important to accept the injury and to become stronger, but it's equally important to try to take something positive out of it and to not take things for granted and see the bigger picture," Brunner emphasized. "You should work hard and live your dream, but if that dream doesn't come true, there is plenty of interesting, fulfilling stuff out there."
Through it all, Biesemeyer would like to especially thank his sponsors for their support during these tough two years battling with an injury. "They all stood by me and supported me through the years I wasn't able to race and I just resigned with Windham Mountain," said Biesemeyer. "They're my biggest sponsor, and I am happy to have them in my corner."
The hard work paid off for Biesemeyer in 2016, who—in his comeback race at Birds of Prey—snagged 11th in super G on a historic day for the men's speed team (with 4 in the top 11). He'd go on to score more World Cup points at the Olympic test event in Jeongseon, Korea, with 21st and a 28th place finish in Hinterstoder, Austria. That's not enough for this fierce competitor, though. Look for him to work his way into the top 15 in the 2017 season. At nearly 210 lbs, Biesemeyer is stronger than he's ever been and his knee is feeling good.
FIRST TRACKS
Biesemeyer began skiing at three and had his first race at age seven when he joined the famed New York Ski Education Foundation program at nearby Whiteface Mountain, the host of the 1980 Olympic Winter Games. At 12, Biesemeyer hit the road for J3 and J4 races, but always had his sights set on making the U.S. Ski Team. A victory at the '03 Junior Olympics started him down that path.
OFF THE SNOW
BZ studies at the University of Vermont, and he's into living the Park City life during the summers, grinding away in the gym at the Center of Excellence, mountain biking, bagging peaks with teammates, and more. He's also honed his German language skills - sprechen sie deutsch? BZ does.
 
Team Info
New York Ski Education Foundation
Results
WORLD CHAMPIONSHIPS
Teams: 2013
13th, SG, Schladming, AUT, 2013
WORLD CUP (highlights)
16th, DH, Kitzbuehel, AUT, 2018
18th, SG, Val Gardena, ITA, 2018
20th, SG, Lake Louise, CAN, 2018
19th, SG, Kvitfjell, NOR, 2017
15th, DH, Garmisch, GER, 2017
23rd, DH, Kitzbuehel, AUT, 2017 
8th, SG, Santa Caterina, ITA, 2017 - career best finish
21st, SG, Jeongseon, KOR, 2016
11th, SG, Beaver Creek, USA, 2016
25th, SG, Beaver Creek, USA, 2014
18th, SG, Beaver Creek, USA, 2012
First points, 30th, SG, Crans Montana, SUI, 2012
OTHER
2011 NorAm overall and super combined champion
2011 silver medal in super G at U.S. Championships
2009 World Junior Championships, 11th in SG